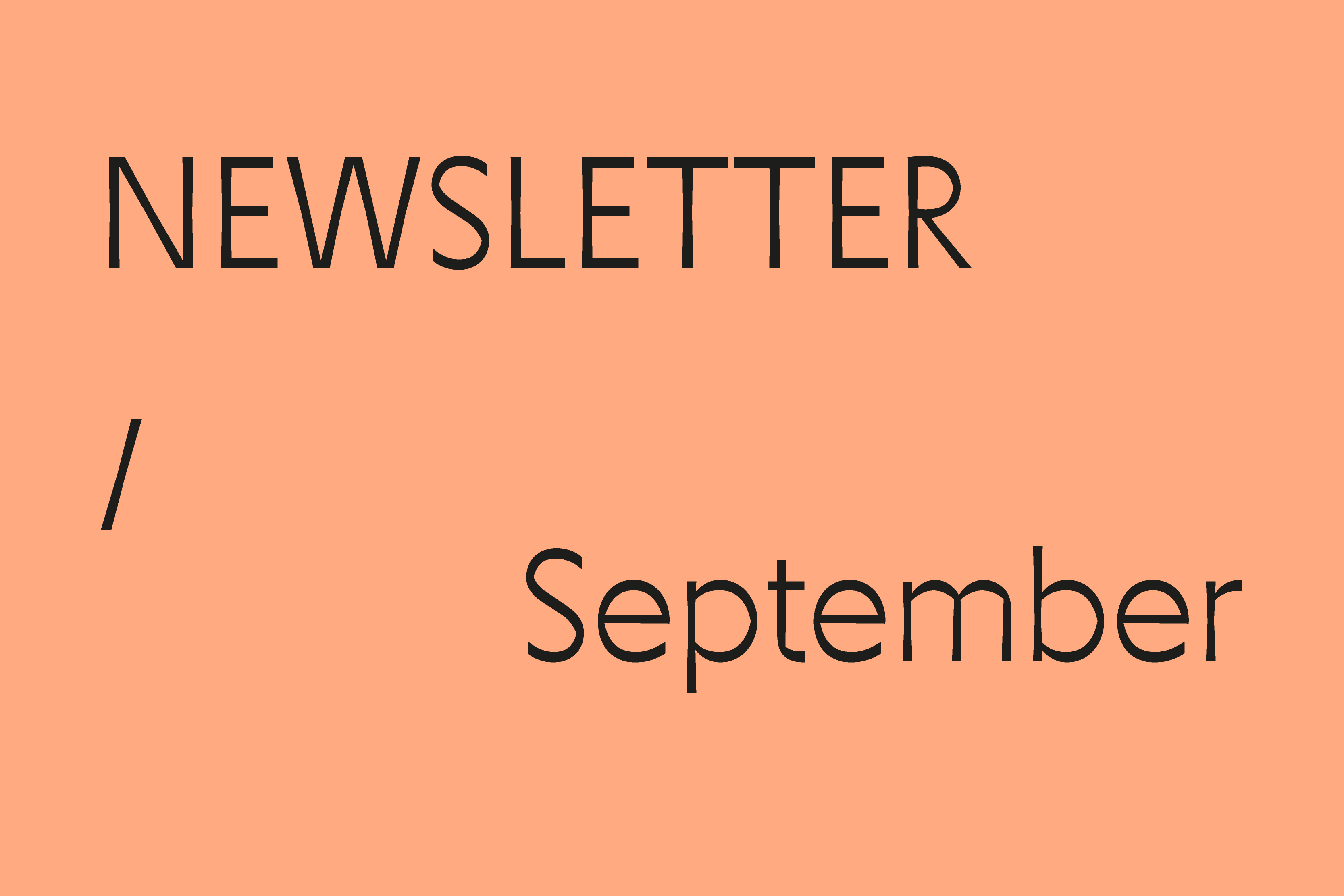 30 August 2021
Newsletter September 2021
Sariev's newsletter for September 2021 is out now.
View it in your browser here, including images and more info.
GALLERY NEWS
Dear friends,

I am pleased to inform you that after 17 years in the art domain and Sariev Gallery, it is my intention to indulge in my well-deserved rest, including personal activities and long-term interests. I feel happy to say that throughout all these years of working together we have gone through a number of stages and have produced an active, recognizable and influential model that generates meaning, conditions, motivation and a broad context for the existence and development of art, both now and in the future.

Thank you for your support and for being by our side!

News about the development of the gallery after my retirement coming soon.

Cordially yours,
Katrin Sarieva
-
UPCOMING SHOW
FUTURE UNFORGETTABLE
multi-genre situation
September - December 2021

Future Unforgettable - Phase I
September - October 2021
Main exhibition: 10 September – 29 October

Opening: 10 September, Plovdiv

More information - coming soon!

curated by Vesslina Sarieva

-
The name Future Unforgettable is inspired by the drawing of Krassimir Terziev, "Project for "Future Unforgettable"", 2018, marker on paper, 28 x 35.5 cm, Collection: Vesselina Sarieva
-
ARTISTS UPCOMING
Rada Boukova
CORPS NOUVEAUX
group show
curated by Marguerite Pilven
30 September - 20 November, 2021
Artists: Bruno Botella • Rada Boukova • Laurie Dall'Ava • Nicolas Darrot • Isabel Duperray • François Fleury • Paul-Armand Gette • Ann Guillaume • Michel Journiac • Jessica Lajard • Thomas Lanfranchi • Alwin Lay • Olivier Leroi • Martin McNulty • Robin Meier • Lucie Picandet • Inès P. Kubler • Nathalie Regard • Agata Rybarczyk • Jean-Luc Verna
CAC La Traverse - Centre d'art contemporain
9, rue Traversière
94140 Alfortville
France
https://www.cac-latraverse.com/
-
Luchezar Boyadjiev

Spirit Labor: Duration, Difficulty, and Affect
group show
Curated by Snejana Krasteva and Andrey Misiano

10 September, 2021 - 30 January, 2022

Curated by Snejana Krasteva and Andrey Misiano

Artists: Chingiz Aidarov, Vyacheslav Akhunov, Yuri Albert, Nikita Alexeev, Luchezar Boyadjiev, André Cadere, Eugenijus Antanas Cukermanas, Gino De Dominicis, Duan Yingmei, He Yunchang, Hamlet Hovsepian, On Kawara, Koh Nguang How, Vitaly Komar, Elena Kovylina, Andrey Kuzkin, Tetsuya Noda, Roman Opałka, Nam June Paik, Ghenadie Popescu, RASSIM®, Yoshiko Shimada, Mihai Stanescu, Fiete Stolte, Sun Furong, Melati Suryodarmo, Tehching Hsieh, Vyacheslav-Yura Useinov, Alexander Yulikov, Zhou Bin
Garage Museum of Contemporary Art
9/32 Krymsky Val st.,
119049, Moscow,
Russia
https://garagemca.org/en
-

Pravdoliub Ivanov

HUMORESQUE
humorvoll - grotesk - skurril
prints, pictures, objects
group show

curator: Toni Kurz

22 August - 9 October, 2021

Artists: Andrej Basanez / Peter BRAUNSTEINER / Jacques CALLOT / Honoré DAUMIER / Herbert FISCHER / Johann FISCHER / Erich FITZBAUER / Francisco de GOYA / Fritz von HERZMANOWSKY-ORLANDO / Pravdoliub IVANOV / Margret KOHLER-HEILINGSETZER / Karl KORAB / Harald MITTERMANN / Richard MÜLLER / Franz PART / Tita do REGO SILVA / Heinrich REISENBAUER / RIXDORFER / Norbert Christoph SCHRÖCKENFUCHS / Markus VALLAZZA

Kunstverein Horn
Kunsthaus Horn 3580 Horn, Wiener Straße 2
Austria
www.kunstvereinhorn.jimdo.com
-

Nedko Solakov

An Incomplete & Unreliable Guide to Social Media War Room
group show

curated by Valentinas Klimašauskas

4 September - 9 October, 2021

Andreas Angelidakis, Jakub Choma, Olivia Coeln, Anna Daučíková, Paul de Reus, Anna Jermolaewa, Jakob Lena Knebl, Yarema Malashchuk & Roman Himey, Ulyana Nevzorova, Ocean Earth, Goda Palekaitė, Jaakko Pallasvuo, Agnieszka Polska, Artūras Raila, Daniil Revkovsky & Andriy Rachinsky, Nina Sarnelle, Nedko Solakov

GEORG KARGL FINE ARTS
Schleifmühlgasse 5
AT-1040 Vienna
www.georgkargl.com
-
Valio Tchenkov

En Passant – im Vorübergehen
group show

Opening: Thursday, 9 September, 2021, 7 p.m.
Duration of the exhibition: 10 September - 13 November, 2021

Artists: Matthias Gredler (Violoncello), Gregor Hübner (Violine), Jiyoun Lee (Zeichnung, Objekte), Karin Peulen (Kunst auf Papier), Valio Tchenkov (Malerei), KP Werani (Viola), Doris M. Würgert (Fotografie).
BELLEPARAIS-raumfürkunst
Schellingstraße 54 80799München
https://www.belleparais.com/
-

Voin de Voin

CURATING IN CONTEXT 2021
International Summer School
Second Online Edition

Curating in Context is co-curated by Biljana Tanurovska–Kjulavkovski and Slavcho Dimitrov.
29 August - 4 September, 2021

2 September, 2021 / 16.00 -16.45 / ARTISTS AND CURATORS' TALKS - Talk 2 Voin de Voin, performer - presentation of his artistic work

Full program here
Facebook event here

Lokomotiva – Centre for New Initiative in Arts and Culture
Skopje, North Macedonia
https://www.lokomotiva.org.mk/
https://curatingincontext.com/
-
UPCOMING FAIR
Sariev at Liste
Showtime Online 2021
https://showtime.liste.ch/

After All
Sariev presents artist project by Martina Vacheva

Preview: 15 – 17 September 2021
Public: 18 – 30 September 2021

More information here
-
ARTISTS NEWS

Bulgarian artists at Kunsthal 44Møen

"Brittle Power" is an exhibition and educational program to present Bulgarian contemporary art. The educational program in the framework of "Brittle Power" included artists talks, book presentations, conversations and debates with the curators and artists of the show.

Artists: Rada Boukova, Luchezar Boyadjiev, Pravdoliub Ivanov, Vikenti Komitski, Rudi Ninov, Nedko Solakov, Mariana Vassileva, Sibin Vassilev

Curated by René Block and Vesselina Sarieva

The exhibition can be seen until September 5, 2021

More information here.
-
RECOMMENDED EVENT
4algapunk
group show by Lexi Fleurs and Mitch Brezounek

September 3, 2021 - September 26, 2021

Curated by Valko Chоbanov

Opening: September 3, Friday, 19:00 h.
FLUCA – Austrian Cultural Pavilion
36 Otets Paisiy St, Plovdiv, Bulgaria
-
For its sixth season in 2021 FLUCA – Austrian Cultural Pavilion, Open Arts Foundation and Vesselina Sarieva invited Valko Chobanov as curator. He is a visual artist who also practices as an independent curator. In 2020, on the stage of FLUCA, he realized the exhibition "particular impulse".
FLUCA – Austrian Cultural Pavilion is a long-term cultural project – an initiative of the Open Arts Foundation (Plovdiv), the Austrian Embassy in Sofia, supported by the Austrian Federal Chancellery and the Municipality of Plovdiv.
In 2021 FLUCA is supported by the National Culture Fund – Annual Program for Support of Professional Organisations in the Field of Arts.
Partners of Fluca – Austrian Cultural Pavilion are traditionally artnewscafe and Sariev gallery, Plovdiv.
-
VIDEO ARCHIVE
The third teaser for FLUCA season 2021 documentary
At Liberty with the Time Frame by Aaron Roth

Watch the video here
The full version of the film will be available at the end of season six of FLUCA - Austrian Cultural Pavilion
-
RECENT MEDIA
Martina Vacheva at SARIEV Gallery
Art Viewer
link
-
What is the visual code of the transition according to Aaron Roth?
interview with Aaron Roth

Impressio
read the interview
[in Bulgarian]
-
Velizar Dimchev "recycles" elite art in Fluca
Dnes.bg
read the article
[in Bulgarian]
-
ARTISTS' EXHIBITIONS - ON VIEW
Rada Boukova, Luchezar Boyadjiev, Pravdoliub Ivanov, Vikenti Komitski, Rudi Ninov, Nedko Solakov

Brittle Power
group show and educational program

Rada Boukova, Luchezar Boyadjiev, Pravdoliub Ivanov, Vikenti Komitski, Rudi Ninov, Nedko Solakov, Mariana Vassileva, Sibin Vassilev

Curated by René Block and Vesselina Sarieva

June 5 - September 5, 2021

The project is supported by the National Culture Fund - Annual Program for Support of Professional Organizations in the Field of Arts, Augustinus Fonden, 15. Juni Fonden and Vordingborg Kommune in partnership with Open Arts Foundation.

Kunsthal 44 Møen
Fanefjordgade 44, Møen
Denmark
http://www.44moen.dk/en/exhibition/brittle-power/
-

Luchezar Boyadjiev

90s: Scars
group show

July 27 - September 27, 2021

Artists:
Maja Bajević (BA), Emese Benczúr (HU), Luchezar Boyadjiev (BG), Catalina Bucos (MD), Boris Cvjetanović (HR), Jiri Černický (CZ), Vlasta Delimar (HR), Ivan Faktor (HR), Alban Hajdinaj (AL) , Albert Heta (KS), Lukáš Jasanský & Martin Polák (CZ), Kai Kaljo (EE), Oleg Kulik (RU), LED Art (RS), Antun Maračić (HR), Yerbossyn Meldibekov (KZ), Ilona Németh (SK), Dan Perjovschi (RO), Tadej Pogačar (SI), Kiril Prashkov (BG), RIGUSRS – Alenka Pirman, Vuk Ćosić, Irena Woelle (SI), Alexandr Roitburd (UA), Arsen Savadov (UA), Gentian Shkurti (AL), Nebojša Šerić Šoba (BA), Grupa ŠKART (RS), Slaven Tolj (HR), Igor Toševski (MK), Gyula Varnai (HU), Vadim Zakharov (RU)

Curator: Janka Vukmir

Organisation:
Institute for Contemporary Art, Zagreb
MMSU – Museum of Modern and Contemporary Art, Rijeka

MMSU – Museum of Modern and Contemporary Art, Rijeka
Krešimirova ulica 26c
Rijeka, Croatia
https://mmsu.hr/en/
-

Pravdoliub Ivanov

MIXED ZONE. DIALOGUES BETWEEN ART AND DESIGN
group show
May 12, 2020 - December 31, 2021
NEUES MUSEUM
STATE MUSEUM FOR ART AND DESIGN NUREMBERG
Entrance: Klarissenplatz
Luitpoldstrasse 5
90402 Nuernberg
Germany
https://www.nmn.de/en/
-

Vikenti Komitski

Thorny Summer
group show

July 30 – September 3, 2021

Vikenti Komitski, Jazoo Jang, Francisco Montoya Cazarez and Ties Ten Bosch.

Curator: Radoslav Mehandzhiyski

Little Bird Place
7 "11-th August" Street
Sofia
https://littlebirdplace.com/
-

Rudi Ninov

Una Boccata d'Arte 2021
20 artisti 20 borghi 20 regioni

Rudi Ninov
Colour Notes in Epilogue

The village of Portico e San Benedetto
Emilia Romagna

June 26 - September 26, 2021

A Fondazione Elpis project in collaboration with Galleria Continua

Portico e San Benedetto
Emilia Romagna, Italy
https://www.unaboccatadarte.it/en/editions/ba2021/
-

Nedko Solakov
After the Wall
group show

The collection is a part of New art from wall to wall, MoMA

November 2020 – 2023

MoMA, Floor 2, 208 The David Geffen Wing
11 West 53 Street, Manhattan
New York
https://www.moma.org/
-

Nedko Solakov

Trees for memories
group show

Curator Mattijs Visser

June 3 - October 24, 2021

Villa Empain
Avenue Franklin Roosevelt, 67
1050 Brussels
Belgium
https://www.villaempain.com/en/
-

Nedko Solakov, Martina Vacheva

Diversity United. Contemporary European Art
group show

Curators committee

June 9 - September 19, 2021

Tempelhof Airport
Platz der Luftbrücke 5, Berlin
Germany
diversity-united.com
-

Kamen Stoyanov

OSTRALE Biennale O21, Breathturn
13. International Exhibition of Contemporary Arts

Curators: Loose Associations (Nataša Bodrožić, Ivana Meštrov), Patricija Gilyte (Kaunas 2022), Krisztian Kukla (Art Quarter Budapest)
Production and coordination: OSTRALE- Center for Contemporary Art, Dresden

July 1 - October 3, 2021

Kamen Stoyanov is participating with the short films IN-VISIBLE, 30min, 2019 and UP AND TROUGH,10min, 2020

Robotron-Kantine
Zinzendorfstraße 5, 01069 Dresden
Germany
https://www.ostrale.de/