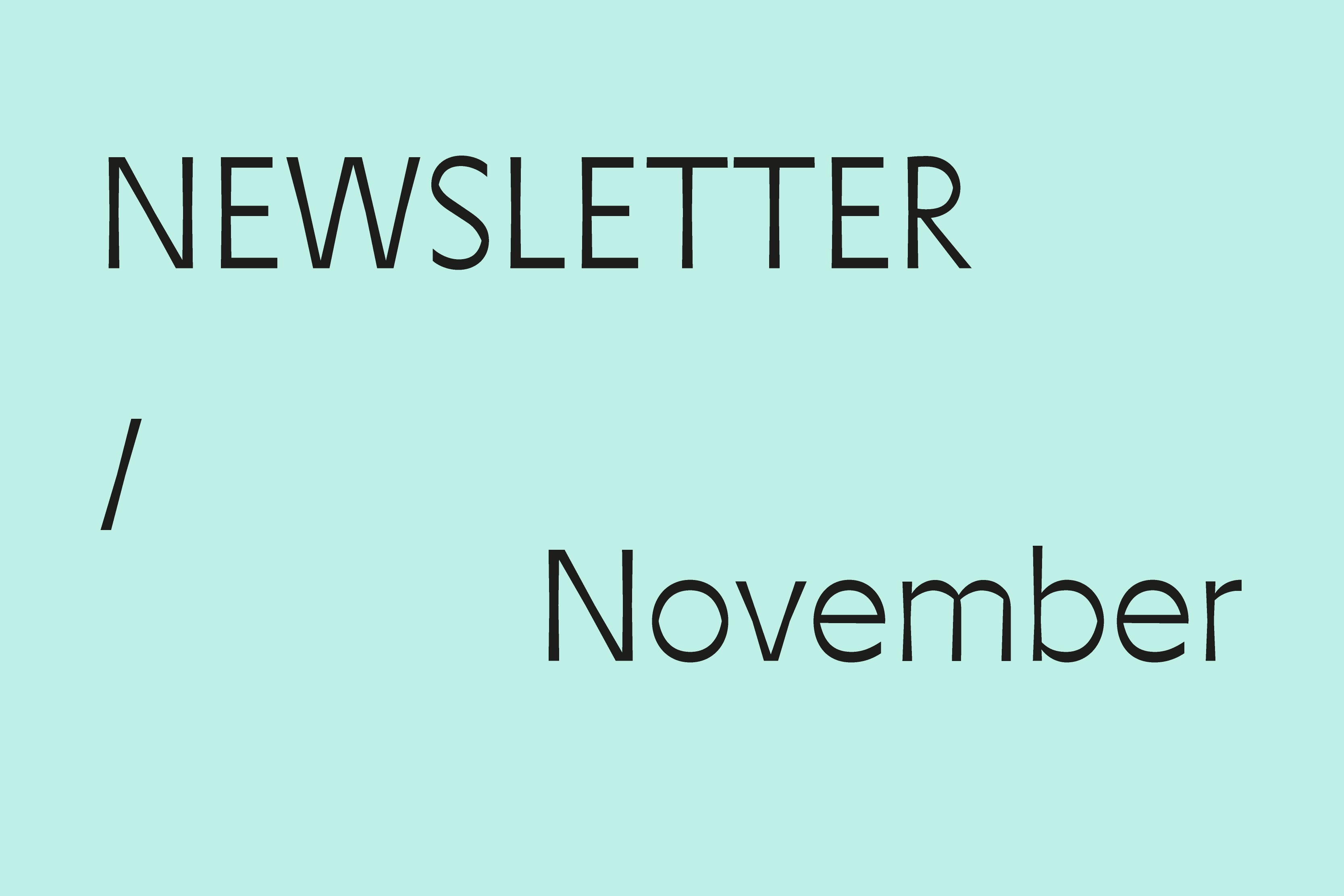 5 November 2021
November 2021
Sarieva's newsletter for November 2021 is out now.
View it in your browser here, including images and more info.
ARTISTS UPCOMING
Pravdoliub Ivanov

Porosity Playground
group show

24 October - 28 November, 2021

Curator: Notburga Karl

Artists: Sonja Engelhardt, Pravdoliub Ivanov, Notburga Karl, Thomas Trinkl, Carlos de Abreu, Dan Dryer

Kunstverein Bamberg
Kunstraum Kesselhaus
Untere Sandstraße 42
Bamberg, Germany
http://kunstraum-jetzt.de

Image: Pravdoliub Ivanov, Loop Escape, 2021
-
Nedko Solakov, Martina Vacheva

Diversity United. Contemporary European Art
group show

Curators committee

22 November, 2021 - 13 March, 2022

Tretyakov Gallery
10, Lavrushinsky per.
119017 Moscow
www.diversity-united.com
Photos: Diversity United. Flughafen Tempelhof Berlin. Foto: Silke Briel / © Stiftung für Kunst und Kultur, Bonn
-

Nedko Solakov

NOTA BENE
group show

17 October - 26 December, 2021

Curators committee

Etel Adnan, Juan Araujo, Kader Attia, Loris Cecchini, Chen Zhen, Carlos Garaicoa, Shilpa Gupta, Jorge Macchi, Sabrina Mezzaqui, Ornaghi & Prestinari, Michelangelo Pistoletto, Qiu Zhijie, Nedko Solakov, José Antonio Suárez Londoño, Pascale Marthine Tayou, Sislej Xhafa

Galleria Continua Les Moulins
46 rue de la Ferté Gaucher
Boissy-le-Châtel, France
https://www.galleriacontinua.com/

-
RECOMMENDEND EVENTS

FUTURE UNFORGETTABLE - PHASE III
UNDER DECONSTRUCTION
satellite exhibition gesture

Structura Gallery
Presentation of a work by Daniela Kostova
9 November - 4 December, 2021
9, Kuzman Shapkarev str., Sofia
Facebook event here

Image: Daniela Kostova, I Am Whatever You Want Me To Be, 2008
-

FUTURE UNFORGETTABLE – PHASE IV - V
Together Again
November 2021

FUTURE UNFORGETTABLE – PHASE IV.
> research text

Rene Beekman, "The History of Net Art in Bulgaria"
available at www.openartfiles.bg in November

FUTURE UNFORGETTABLE - PHASE V.
> video interviews

The series "Future Unforgettable - Institutions" presenting three conversations of Vesselina Sarieva with
Luchezar Boyadjiev (ICA, Sofia), Victoria Draganova (Swimming Pool) and arch. Lubo Georgiev

Available on the YouTube channel of Open Arts Foundation in the Future Unforgettable playlist
https://www.youtube.com/playlist

FUTURE UNFORGETTABLE - PHASE IV. - V.
> discussion, laboratory, environment
Phases IV. and V. of Future Unforgettable

Future Unforgettable - Institutions and Meeting Places
Participants: Vesselina Sarieva, Victoria Draganova, Luchezar Boyadjiev, arch. Lubo Georgiev, Rene Beekman

November 9 (Tuesday) 2021
Swimming Pool, 10 Tsar Osvoboditel Blvd., Sofia, 5th floor

6 p.m. – 8 p.m.
Discussion with the participants

3 p.m. – 6 p.m.
Screening of the video interviews "Future Unforgettable - Institutions"
More information here: https://futureunforgettable.com/phase-4-5

-

VIDEO ARCHIVE

FUTURE UNFORGETTABLE - Communities

The documentary video series "FUTURE UNFORGETTABLE - Communities", The process of its shooting and presentation is the main manifestation of the curatorial gesture of PHASE II of FUTURE UNFORGETTABLE.

The documentary video series was shot in the summer of 2021 and presents mapping of existing and emerging artistic communities in the cities Veliko Tarnovo, Gabrovo, Varna, Plodiv, Sofia and some areas around them.

Idea and concept of the documentary video series: Veselina Sarieva
Camera, editing, director: Vladislav Sevov

www.futureunforgettable.com

Watch the video series here

-


PUBLICATIONS

Nedko Solakov

The Kitchen Studio: Culinary creations by artists
Phaidon Editors, with an introduction by Massimo Bottura
https://www.phaidon.com/store/food-cook/the-kitchen-studio-9781838663315/
-

RECENT MEDIA

A look at the future of art with Vesselina Sarieva

Darik
listen to the interview
[in Bulgarian]
-
The exhibition "Future Unforgettable - Phase III"
interview with Vesselina Sarieva

Bulgarian National Television
watch the interview
[in Bulgarian]
-
A conceptual exhibition will be presented in a newly built establishment next to the Women's market
BTA
read the article
[In Bulgarian]
-

In Defence of Solid Material at SARIEVA Gallery

Art Viewer

link
-
ARTISTS EXHIBITIONS - ON VIEW

Rada Boukova
CORPS NOUVEAUX
group exhibition

curated by Marguerite Pilven

30 September - 20 November, 2021

Artists: Bruno Botella • Rada Boukova • Laurie Dall'Ava • Nicolas Darrot • Isabel Duperray • François Fleury • Paul-Armand Gette • Ann Guillaume • Michel Journiac • Jessica Lajard • Thomas Lanfranchi • Alwin Lay • Olivier Leroi • Martin McNulty • Robin Meier • Lucie Picandet • Inès P. Kubler • Nathalie Regard • Agata Rybarczyk • Jean-Luc Verna

CAC La Traverse - Centre d'art contemporain
9, rue Traversière
94140 Alfortville
France
https://www.cac-latraverse.com/

-

Luchezar Boyadjiev

Spirit Labor: Duration, Difficulty, and Affect
group show
Curated by Snejana Krasteva and Andrey Misiano

10 September, 2021 - 30 January, 2022

Curated by Snejana Krasteva and Andrey Misiano

Artists: Chingiz Aidarov, Vyacheslav Akhunov, Yuri Albert, Nikita Alexeev, Luchezar Boyadjiev, André Cadere, Eugenijus Antanas Cukermanas, Gino De Dominicis, Duan Yingmei, He Yunchang, Hamlet Hovsepian, On Kawara, Koh Nguang How, Vitaly Komar, Elena Kovylina, Andrey Kuzkin, Tetsuya Noda, Roman Opałka, Nam June Paik, Ghenadie Popescu, RASSIM®, Yoshiko Shimada, Mihai Stanescu, Fiete Stolte, Sun Furong, Melati Suryodarmo, Tehching Hsieh, Vyacheslav-Yura Useinov, Alexander Yulikov, Zhou Bin
Garage Museum of Contemporary Art
9/32 Krymsky Val st.,
119049, Moscow,
Russia
https://garagemca.org/en

-

Pravdoliub Ivanov

MIXED ZONE. DIALOGUES BETWEEN ART AND DESIGN
group show
May 12, 2020 - December 31, 2021
NEUES MUSEUM
STATE MUSEUM FOR ART AND DESIGN NUREMBERG
Entrance: Klarissenplatz
Luitpoldstrasse 5
90402 Nuernberg
Germany
https://www.nmn.de/en/

-

Nedko Solakov
After the Wall
group show

The collection is a part of New art from wall to wall, MoMA

November 2020 – 2023

MoMA, Floor 2, 208 The David Geffen Wing
11 West 53 Street, Manhattan
New York
https://www.moma.org/

-

Nedko Solakov

A Cornered Solo Show #1
solo exhibition

Curator: Clément Minighetti

October 9 - April 22, 2022

Mudam Luxembourg
3 Park Dräi Eechelen
L-1499 Luxembourg
https://www.mudam.com/

-

Kamen Stoyanov

XY_now, Q_now
group exhibition

Curated by: Mónika Zsikla

September 21 – December 31, 2021

Kamen Stoyanov participating with the neon work Forget it, we can´t afford this, 2011

Artists: Alin Bozbiciu, Szabolcs Bozó, Klára Hosnedlová, Jakub Hubálek, Simon Iurino, Zsófia Keresztes, Genti Korini, Tincuţa Marin, Márton Nemes, Kateřina Ondrušková, Mircea Popescu, Șerban Savu, Kamen Stoyanov, Gergő Szinyova, Ádám Varga, Artem Volokitin, Natalia Załuska

Q Contemporary
110 Andrássy Avenue
Budapest 1062
https://qcontemporary.com/

-

Valio Tchenkov

En Passant – im Vorübergehen
group show

10 September - 13 November, 2021

Artists: Matthias Gredler (Violoncello), Gregor Hübner (Violine), Jiyoun Lee (Zeichnung, Objekte), Karin Peulen (Kunst auf Papier), Valio Tchenkov (Malerei), KP Werani (Viola), Doris M. Würgert (Fotografie).
BELLEPARAIS-raumfürkunst
Schellingstraße 54 80799München
https://www.belleparais.com/

-

Martina Vacheva

US and THEM
Group show

1 October - 7 November 2021

curators: Nathalie Hoyos and Rainald Schumacher

works by: Albena Baeva, Mitch Brezounek, Aleksandra Domanović, Kasia Fudakowski, Nilbar Güreş, Nona Inescu, Vikenti Komitski, Maria Nalbantova, Tanja Ostojić, Mila Panic, Jovana Popić, Adnan Softić, Aksiniya Peycheva, Anna Uddenberg, Martina Vacheva, Borjana Ventzislavova.

Kapanа Gallery
29 Rayko Daskalov Str.
Plovdiv