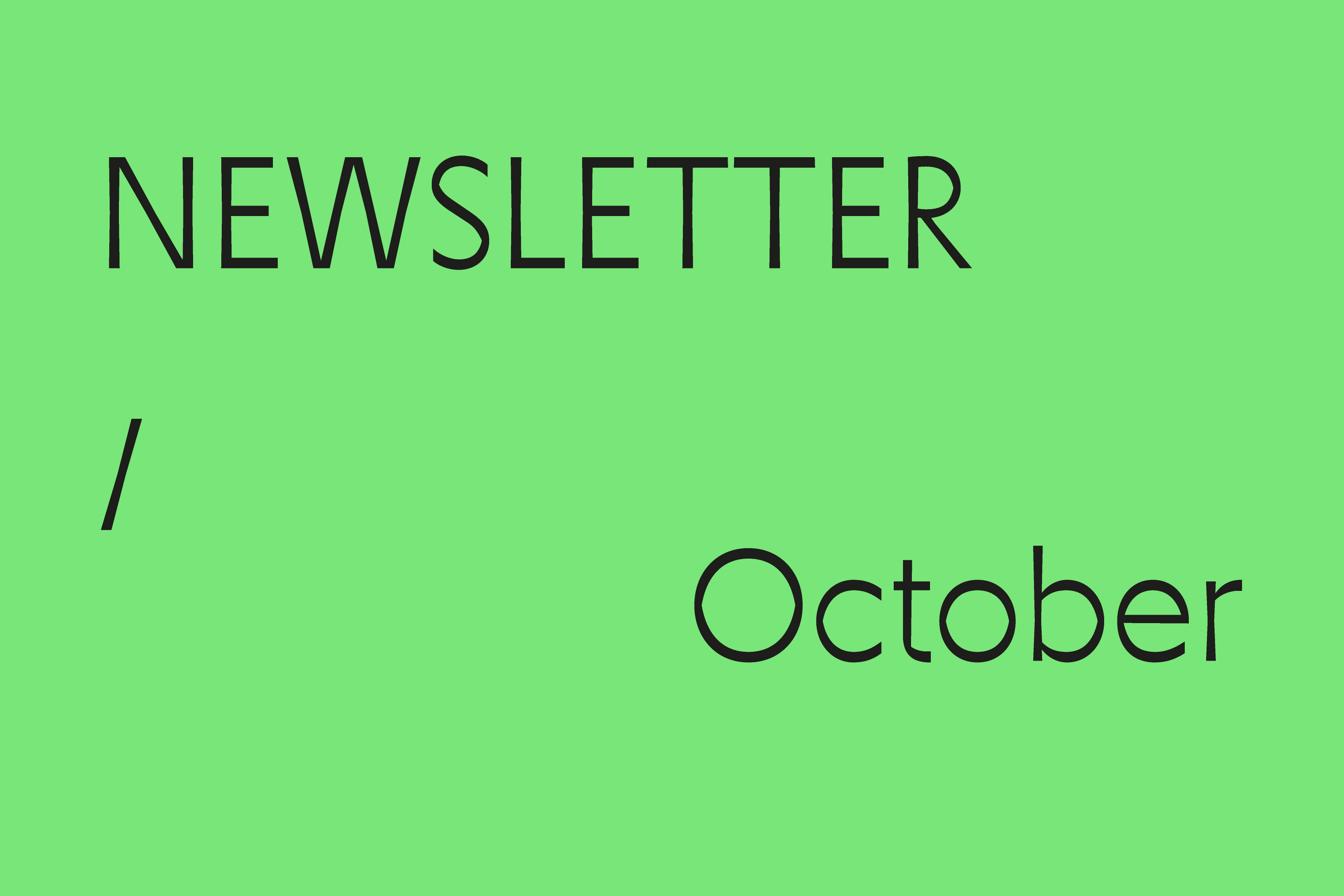 5 October 2021
October 2021
Sarieva's newsletter for August 2021 is out now.
View it in your browser here, including images and more info.
ARTISTS UPCOMING
Rada Boukova

CORPS NOUVEAUX
group exhibition

curated by Marguerite Pilven

30 September - 20 November, 2021

Artists: Bruno Botella • Rada Boukova • Laurie Dall'Ava • Nicolas Darrot • Isabel Duperray • François Fleury • Paul-Armand Gette • Ann Guillaume • Michel Journiac • Jessica Lajard • Thomas Lanfranchi • Alwin Lay • Olivier Leroi • Martin McNulty • Robin Meier • Lucie Picandet • Inès P. Kubler • Nathalie Regard • Agata Rybarczyk • Jean-Luc Verna

CAC La Traverse - Centre d'art contemporain
9, rue Traversière
94140 Alfortville
France
https://www.cac-latraverse.com/
-
Luchezar Boyadjiev, Pravdoliub Ivanov, Nedko Solakov, Martina Vacheva

SEE ME MOVING PLACELESS
Exhibition with the art works from the Art Collection Telekom

29 September - 21 October, 202129.09

Curators: Mira Gakina and Jovanka Popova.

Artists: Luchezar Boyadjiev, Yane Calovski, Jasmina Cibic, Danica Dakić, Igor Grubić, Nilbar Güreş, Petrit Halilaj, Flaka Haliti, Hristina Ivanoska, Pravdoliub Ivanov, Sanja Iveković, Hortensia Mi Kafchin, Alevtina Kakhidze, Šejla Kamerić, Bengü Karaduman, Eva Koťátková, Volodymyr Kuznetsov, Little Warsaw, Vlado Martek, Ciprian Mureşan, Dan Perjovschi, Agnieszka Polska, Slavs and Tatars, Nedko Solakov, Mladen Stilinović, Marko Tadić, Martina Vacheva.

Museum of Contemporary Art Skopje
Samoilova bb
Skopje, 1000
http://msu.mk/home/
-
Nedko Solakov

A Cornered Solo Show #1
solo exhibition

Curator: Clément Minighetti

October 9 - April 22, 2022

Mudam Luxembourg
3 Park Dräi Eechelen
L-1499 Luxembourg
https://www.mudam.com/
-
Kamen Stoyanov

XY_now, Q_now
group exhibition

Curated by: Mónika Zsikla

September 21 – December 31, 2021

Kamen Stoyanov participating with the neon work Forget it, we can´t afford this, 2011

Artists: Alin Bozbiciu, Szabolcs Bozó, Klára Hosnedlová, Jakub Hubálek, Simon Iurino, Zsófia Keresztes, Genti Korini, Tincuţa Marin, Márton Nemes, Kateřina Ondrušková, Mircea Popescu, Șerban Savu, Kamen Stoyanov, Gergő Szinyova, Ádám Varga, Artem Volokitin, Natalia Załuska

Q Contemporary
110 Andrássy Avenue
Budapest 1062
https://qcontemporary.com/
-
Kamen Stoyanov

Age of the Solastalgia
group exhibition
Curator: Erzsébet Pilinger
Kamen Stoyanov is participating with the film New Istanbul Dream, 2017
Ákos Birkás, Paul Horn, Mariann Fercsik, Gideon Horváth, Bartosz Kokosinski, Csaba Nemes, Kamen Stoyanov, Tibor W. Horváth
September 2 - October 30, 2021

Knoll Galerie Wien
Gumpendorfer Straße 18
1060 Wien
http://www.knollgalerie.at
-
Martina Vacheva

US and THEM
Group show

1 October - 7 November 2021

curators: Nathalie Hoyos and Rainald Schumacher

works by: Albena Baeva, Mitch Brezounek, Aleksandra Domanović, Kasia Fudakowski, Nilbar Güreş, Nona Inescu, Vikenti Komitski, Maria Nalbantova, Tanja Ostojić, Mila Panic, Jovana Popić, Adnan Softić, Aksiniya Peycheva, Anna Uddenberg, Martina Vacheva, Borjana Ventzislavova.

Kapanа Gallery
29 Rayko Daskalov Str.
Plovdiv
-
ON VIEW SARIEVA
FUTURE UNFORGETTABLE - Phase I
September - October 2021

IN DEFENCE OF SOLID MATERIAL
main exhibition

10 September – 29 October
Sarieva, Plovdiv

Rada Boukova, Luchezar Boyadjiev, Dr Gatev, Pravdoliub Ivanov, Vladimir Ivanov, Ivan Moudov, Maria Nalbantova, Stefan Nikolaev, Nedko Solakov, Radostin Sedevchev, Kamen Stoyanov, RASSIM®

curated by Vesselina Sarieva

Future Unforgettable Instagram account provides information on the concept, the artworks and the artists
www.instagram.com/futureunforgettable
https://futureunforgettable.com/
-

ARTISTS NEWS

Podcast by Luchezar Boyadjiev

«"Forget Beuys! Don't forget Joseph!". This is how the title of this episode of "Die Erde spricht / The Earth is Speaking" translates. It is a sound collage sculpted from the voices of eight Bulgarian intellectuals and artists of various media. Sofia-based artist Luchezar Boyadjiev orchestrated them into an equally entertaining and surprising collection of bon mots and statements. And one thing becomes clear time and again during this rigorous questioning: "Beuys" has the somewhat dubious status of a male art superstar of the twentieth century. "Joseph", on the other hand, is the inventor of practices and ideas that will always be able to inspire new rounds of questioning, methodologies and artistic practices that have serious social implications – either for specific locations and local contexts, or for art in general.»

More information here: https://beuys2021.de/en/beuysradio
Listen to the episode here: https://open.spotify.com/episode/7AK6QH9mEZt6uMVdnBb8Nd
-

RECOMMENDED EVENTS

Paved Paradise
solo show by Gabriele Edlbauer

October 1, 2021 - October 27, 2021

Curated by Valko Chоbanov

FLUCA – Austrian Cultural Pavilion
36 Otets Paisiy St, Plovdiv, Bulgaria

Facebook event here
-
FUTURE UNFORGETTABLE - PHASE II
On vacation…

Plovdiv Life Vest
group exhibition

Dinko Angelov, Mitch Brezounek, Martina Vacheva, Dimitar Genchev, Velizar Dimchev, Krasimira Kirova, Lyubomir Krastev, Valko Chobanov, Dimitar Shopov

September 28 - October 13, 2021

idea by Veselina Sarieva, with the assistance of Velizar Dimchev, curated by the artists

Gallery Cu29, Plovdiv

Facebook event here
-
FUTURE UNFORGETTABLE - PHASE II
On vacation…

Banner from "Project 01", 2010 by Svetoslav Michev
Kapana. Reflections.
exhibition gesture

September 28 - October 15
Kapana quarter, Hristo Dyukmedzhiev Street

Facebook event here
-
FUTURE UNFORGETTABLE – PHASE I
IN DEFENCE OF SOLID MATERIAL
satellite exhibition gesture
One Gallery, Sofia
18 September - 18 October

As part of the FUTURE UNFORGETTABLE project and in particular its first phase - IN DEFENCE OF SOLID MATERIAL in One Gallery will be realized a satellite exhibition gesture, presenting a work by RASSIM®, part of the series "Corrections, 1996-98", 2015 (One of the ten buckets of protein that the artist drank for the implementation of the project "Corrections 1996-98"", 2015)

Facebook event here
-
> screening and presentation
screening of the documentary video series "FUTURE UNFORGETTABLE – Communities"
FLUCA - Austrian Cultural Pavilion, Plovdiv
October 14

Facebook event here

> screening
screening of the documentary video series "FUTURE UNFORGETTABLE – Communities"
ReBonkers, Varna
October 22

Facebook event here
-
RECENT MEDIA

Veselina Sarieva: For me, survival is survival in a cultural aspect

BNR
listen to the interview
[in Bulgarian]
-
Exhibition from the series "Future Unforgettable" at Sarieva Gallery

Bulgarian National Television
watch the interview
[in Bulgarian]
-
"Future Unforgettable" - a new curatorial project at Sarieva Gallery

BNR
listen to the interview
[in Bulgarian]
-

ARTISTS EXHIBITIONS ON VIEW
Luchezar Boyadjiev

Spirit Labor: Duration, Difficulty, and Affect
group show
Curated by Snejana Krasteva and Andrey Misiano

10 September, 2021 - 30 January, 2022

Curated by Snejana Krasteva and Andrey Misiano

Artists: Chingiz Aidarov, Vyacheslav Akhunov, Yuri Albert, Nikita Alexeev, Luchezar Boyadjiev, André Cadere, Eugenijus Antanas Cukermanas, Gino De Dominicis, Duan Yingmei, He Yunchang, Hamlet Hovsepian, On Kawara, Koh Nguang How, Vitaly Komar, Elena Kovylina, Andrey Kuzkin, Tetsuya Noda, Roman Opałka, Nam June Paik, Ghenadie Popescu, RASSIM®, Yoshiko Shimada, Mihai Stanescu, Fiete Stolte, Sun Furong, Melati Suryodarmo, Tehching Hsieh, Vyacheslav-Yura Useinov, Alexander Yulikov, Zhou Bin
Garage Museum of Contemporary Art
9/32 Krymsky Val st.,
119049, Moscow,
Russia
https://garagemca.org/en

-

Pravdoliub Ivanov

MIXED ZONE. DIALOGUES BETWEEN ART AND DESIGN
group show
May 12, 2020 - December 31, 2021
NEUES MUSEUM
STATE MUSEUM FOR ART AND DESIGN NUREMBERG
Entrance: Klarissenplatz
Luitpoldstrasse 5
90402 Nuernberg
Germany
https://www.nmn.de/en/

-

Pravdoliub Ivanov

HUMORESQUE
humorvoll - grotesk - skurril
prints, pictures, objects
group show

curator: Toni Kurz

22 August - 9 October, 2021

Artists: Andrej Basanez / Peter BRAUNSTEINER / Jacques CALLOT / Honoré DAUMIER / Herbert FISCHER / Johann FISCHER / Erich FITZBAUER / Francisco de GOYA / Fritz von HERZMANOWSKY-ORLANDO / Pravdoliub IVANOV / Margret KOHLER-HEILINGSETZER / Karl KORAB / Harald MITTERMANN / Richard MÜLLER / Franz PART / Tita do REGO SILVA / Heinrich REISENBAUER / RIXDORFER / Norbert Christoph SCHRÖCKENFUCHS / Markus VALLAZZA

Kunstverein Horn
Kunsthaus Horn 3580 Horn, Wiener Straße 2
Austria
www.kunstvereinhorn.jimdo.com

-

Nedko Solakov
After the Wall
group show

The collection is a part of New art from wall to wall, MoMA

November 2020 – 2023

MoMA, Floor 2, 208 The David Geffen Wing
11 West 53 Street, Manhattan
New York
https://www.moma.org/

-

Nedko Solakov

Trees for memories
group show

Curator Mattijs Visser

June 3 - October 24, 2021

Villa Empain
Avenue Franklin Roosevelt, 67
1050 Brussels
Belgium
https://www.villaempain.com/en/

-

Nedko Solakov

An Incomplete & Unreliable Guide to Social Media War Room
group show

curated by Valentinas Klimašauskas

4 September - 9 October, 2021

Andreas Angelidakis, Jakub Choma, Olivia Coeln, Anna Daučíková, Paul de Reus, Anna Jermolaewa, Jakob Lena Knebl, Yarema Malashchuk & Roman Himey, Ulyana Nevzorova, Ocean Earth, Goda Palekaitė, Jaakko Pallasvuo, Agnieszka Polska, Artūras Raila, Daniil Revkovsky & Andriy Rachinsky, Nina Sarnelle, Nedko Solakov

GEORG KARGL FINE ARTS
Schleifmühlgasse 5
AT-1040 Vienna
www.georgkargl.com

-

Kamen Stoyanov

OSTRALE Biennale O21, Breathturn
13. International Exhibition of Contemporary Arts

Curators: Loose Associations (Nataša Bodrožić, Ivana Meštrov), Patricija Gilyte (Kaunas 2022), Krisztian Kukla (Art Quarter Budapest)
Production and coordination: OSTRALE- Center for Contemporary Art, Dresden

July 1 - October 3, 2021

Kamen Stoyanov is participating with the short films IN-VISIBLE, 30min, 2019 and UP AND TROUGH,10min, 2020

Robotron-Kantine
Zinzendorfstraße 5, 01069 Dresden
Germany
https://www.ostrale.de/

-

Valio Tchenkov

En Passant – im Vorübergehen
group show

10 September - 13 November, 2021

Artists: Matthias Gredler (Violoncello), Gregor Hübner (Violine), Jiyoun Lee (Zeichnung, Objekte), Karin Peulen (Kunst auf Papier), Valio Tchenkov (Malerei), KP Werani (Viola), Doris M. Würgert (Fotografie).
BELLEPARAIS-raumfürkunst
Schellingstraße 54 80799München
https://www.belleparais.com/