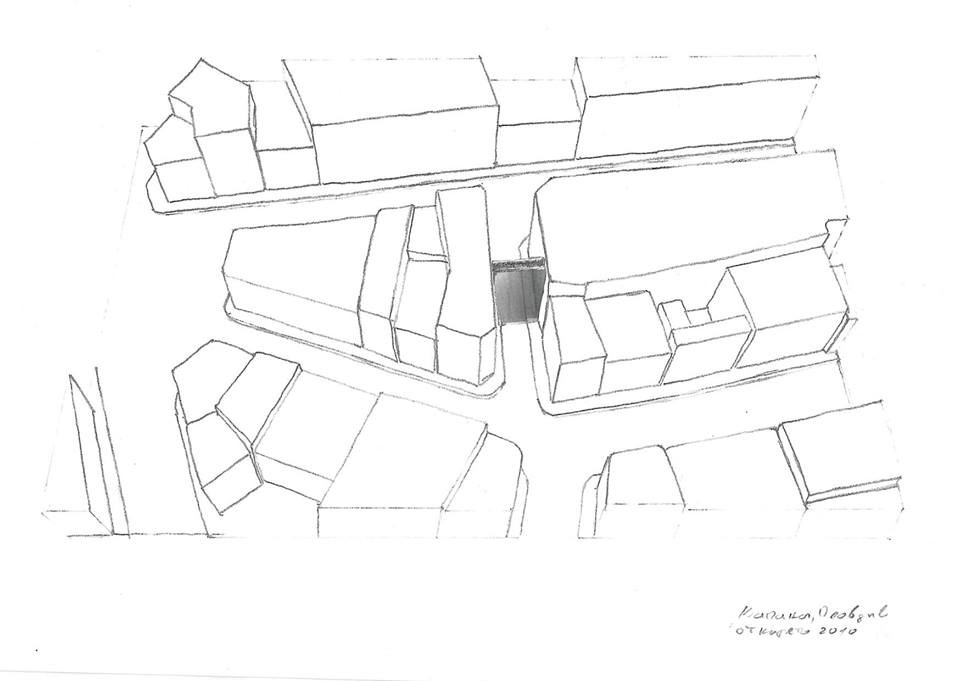 26 May 2014
Opening of Project 0 – "Zlatarska"street, Kapana Quarter – 7 June 2014
Opening of Project 0
Large-scale installation in public space by Kiril Kuzmanov
Curated by Vladiya Mihaylova
7 – 17 June 2014
Opening: 7 June 2014, 6 pm
Zlatarska street, Kapana Quarter
Main partner: Open Arts Foundation
As a culmination of the four year-long art Project 0 on 7 June 2017 in Plovdiv will be the opening of the large-scale installation – doubled mirror wall in the area of ​​over 50 square meters and a mass nearly six tons, which will intersect perpendicularly Zlatarska Street in the iconic Kapana Quarter. The author of the project, the artist Kiril Kuzmanov, implements the idea in collaboration with the curator Vladiya Mihaylova and Open Arts Foundation, Plovdiv.
The project began four years ago with the idea of ​​creating one of the largest works in public space in the country and was presented at the exhibition Project 01 / Background: Young Artists 2010 at Sariev Contemporary. Inspired by the specifics of the particular place – Kapana Quarter in Plovdiv, gradually various people and institutions related to the particular urban environment took part in it.
Along with the opening of the installation, an International Conference on Art and Urban Public Space will be held on 9 June (9:30 am – 7 pm) at the Center for Contemporary Art "Ancient Bath" in Plovdiv as a parallel program of Project O. Its goal is to continue naturally the platform concept and objectives of the project, to create vision of views and sharing of experiences. The conference will discuss issues that concern both Kapana Quarter and Plovdiv, and more general problems concerning the existence and organization of space in contemporary living, the experience and the dynamics in the surrounding environment.
Project 0 is completely non-commercial and is made up of fifty individual fragments, each of which is filed prior between 2010 and 2013 from various people from Bulgaria and abroad who own resource cost of the fragments. Project 0 is released as one of the first major works in the public space created with shared ownership and financing.
By making the installation on Zlatarska Str., process running since mid-May, the fragments will form a doubled mirror wall with a height of 10.40 meters and a width of 5.20 meters, which would cross perpendicular the street. The silhouette of the wall will follow the architectural details of the facades of the buildings on both sides of the street, its pavement and sidewalks. The work will be exhibited for 10 days, from 7 to 17 June, in the smallest passage from Zlatarska Str. between G.Benkovski Str. and Hristo Dyukmekdzhiev Str. Then the work will be dismantled and the fifty fragments will persist in different places at their holders in Plovdiv and Bulgaria, Brussels, Augsburg, Berlin, Vienna, New York and other parts of the world. The fragments will remain forever linked to the context of the Quarter and the project.
More information here