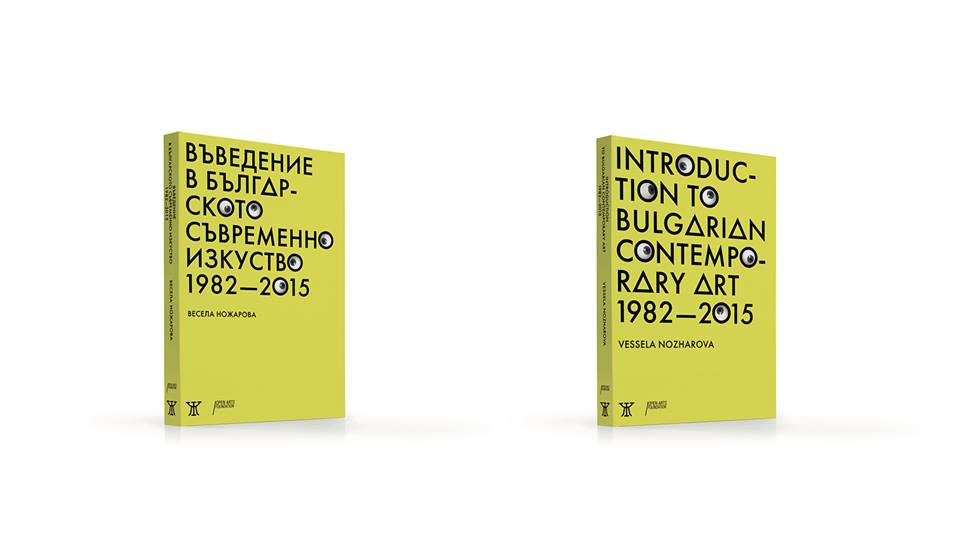 20 July 2018
Presentation of the book "Introduction to Bulgarian Contemporary Art" during Book Alley - Varna
Open Arts Foundation and Janet 45 Publishing
present

The book "Introduction to Bulgarian Contemporary Art"
by Vessela Nozharova
during Book Alley - Varna
with Vessela Nozharova (author) and Vesselina Sarieva (moderator and co-publisher)

1 August 2018 (Wednesday), 6 pm
Varna City Art Gallery, 1 Lyuben Karavelov str., Varna
Free entrance

"Introduction to Bulgarian Contemporary Art (1982– 2015)" is the first comprehensive history of Bulgarian art from the end of the 20th and the beginning of the 21st century. It is based on a cycle of lectures delivered in Plovdiv and Sofia by the author, within the frames of the Introduction to Contemporary Art educational platform of the Open Arts Foundation and Sariev Contemporary Gallery. The book aims to trace and present the history and specifics of Bulgarian contemporary art with its most important participants, artists, institutions and galleries. The book offers an all-round overview of the art scene in Bulgaria in a clear and accessible way. The book is published in Bulgarian and English.
More about the book here

-
Vessela Nozharova (b. 1974 in Blagoevgrad) is an art historian, curator and critic. She graduated in History of Art at the Academy of Fine Arts in Sofia. Her professional interest is exclusively in contemporary art, the activities of which include curating exhibitions, art criticism in a number of Bulgarian publications, as well as giving lectures on history and current issues in art. Behind her back are over 40 curatorial projects in Bulgaria, Austria, Belgium, Italy and Turkey. In 2007 she was the curator of the Bulgarian national participation in the 52nd Venice Biennial for Contemporary Art. Since 2015 she is curator of the Credo Bonum Gallery in Sofia.
Vessela Nozharova is the co-founder of the curatorial group Art Affairs and Documents Foundation. She lives and works in Sofia.

-

Introduction to Contemporary Art is an educational platform started in 2011 by Open Arts Foundation and SARIEV Contemporary in collaboration with the art historians Svetlana Kuyumdjieva, Vessela Nozharova and Vera Mlechevska. It aims to create a context and understanding of contemporary art in Bulgaria. The activities within the program take various forms - specialised educational course, open lectures, artist talks etc. Part of the platform is also Collectors' Forum, which presents the concept of art collecting and building collections through meetings and conversations with collectors and curators of collections. The events are held annually in Sofia, and in 2015 and 2016 in Plovdiv as well. So far the venues are SKLADA /+/, Vivacom Art Hall, Sofia City Art Gallery, National Art Academy, the Culture Center of Sofia University, Goethe-institut Sofia, National Gallery The Palace.