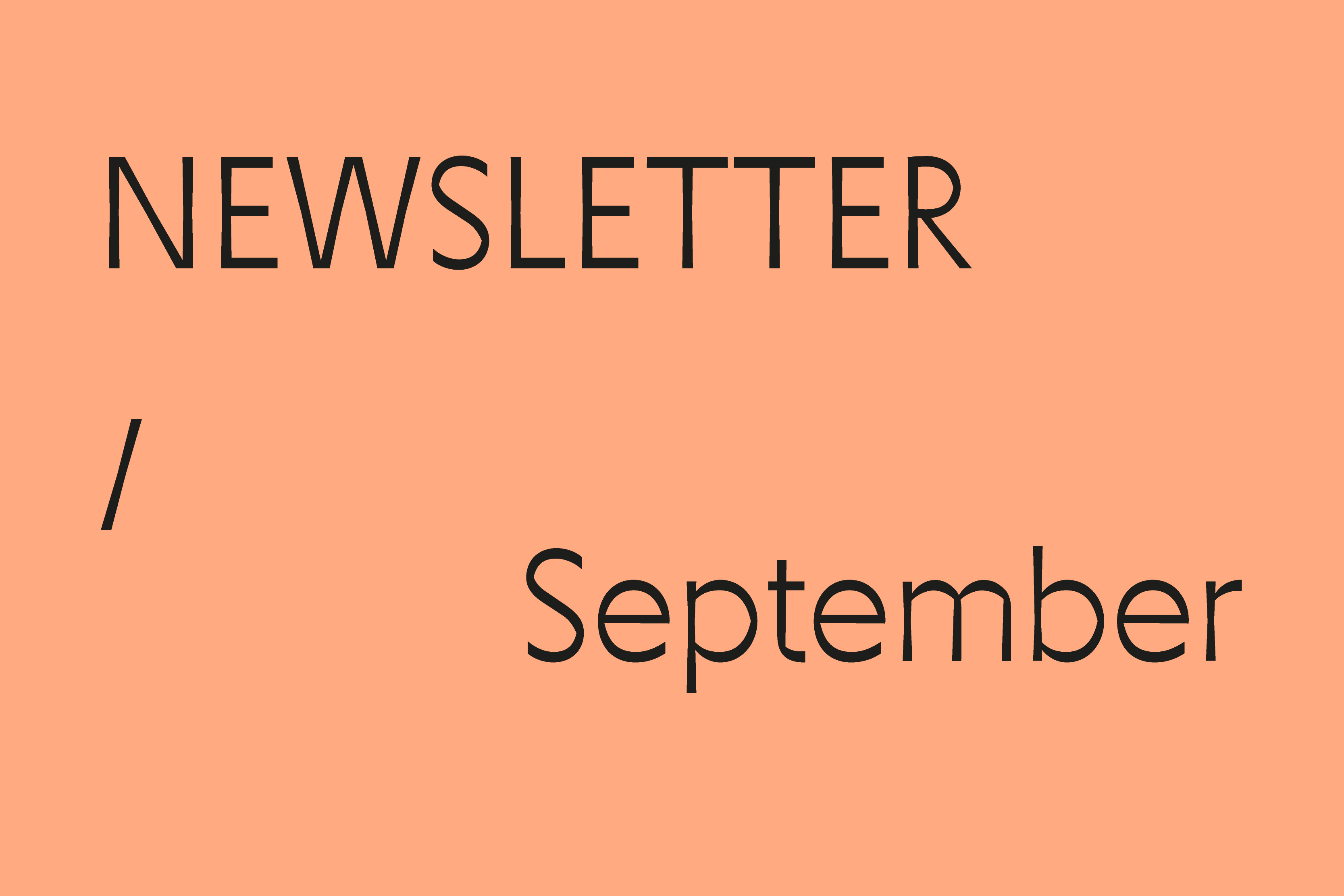 1 September 2023
September 2023
The newsletter for September 2023 is out now.
View it in your browser here, including images and more info.
Dear friends,
We are happy to welcome the new art season with an exiting and full program of events and shows!
In our main space in Plovdiv we just opened the first exhibition in Bulgaria by the Kosovo based artist Artan Hajrullahu – A House Without Walls.
In September Sarieva/Gallery is officially starting an exhibition program in the capital Sofia, at a new exciting building with an art collection curated by our owner Vesselina Sarieva. The official opening of the place called DOT Sofia is on September 29-30 with a solo show by the Bulgarian-French artist Stefan Nikolaev.
The pre-opening weekend of DOT will be on September 15-17. We are showing two works by Pravdoliub Ivanov, coming together under the title Transformation at the Level of the Eyes. You are cordially invited to attend the opening which will also include all sorts of interesting events!
Meanwhile the artists of the gallery Nedko Solakov, Kamen Stoyanov, Rada Boukova and Rudi Ninov are having exhibition openings in Sofia and Berlin. Recently Artforum shared an article dedicated to Nedko Solakov's art.
You can read the full information in this newsletter, which we have compiled especially for our audience and the exciting start of the new art season! Don't forget to follow our Facebook, Instagram and Website for updates on all those events.
ARISTS NEWS
Kamen Stoyanov
Alyosha and the cat film screening
Part of Summer cinema with Save Sofia
September 3, 2023, 20:00 h
Park Mladost 3, Sofia, Bulgaria
September 6, 2023, 20:00 h
Park North, Sofia, Bulgaria
-
Rudi Ninov
Places and Events
group show
curated by Stefka Tsaneva
Alice Anderson, Anouk Lamm Anouk, Claudia Comte, Heather Day, Sophia Domagala, Rachel Garrard, Max Frintrop, Stanimir Genov, Clédia Fourniau, Robert Janitz, Guillermo Mora etc.
September 13 – November 4, 2023
KÖNIG Gallery, Berlin, Germany
-
Rada Boukova
Exhibition of the selected artworks of Bulgarian women artists for the Art Collection of the European Parliament
group show
curated by Nadezhda Dzhakova
Bora Petkova, Boryana Ventsislavova, Daniela Kostova, Elizabeth Thallauer, Leda Stracheva, Leda Vaneva, Maria Nalbantova, Marta Djourina, Nevena Ekimova, Rada Boukova
September 20 – October 23, 2023
Sofia Arsenal, Sofia, Bulgaria
-
Nedko Solakov
Happy
group show
curated by Johan Gustavsson
Structura Gallery, Sofia, Bulgaria
---
ON VIEW
Artan Hajrullahu
A House Without Walls
September 1 – 30 November, 2023
Opening: September 1, 2023, 18:00 – 20:00 h
Sarieva/Gallery, Plovdiv
Artist talk: September 1, 2023, 17:00-18:00 h, Кабинет* (ex-artnewscafe)
Sarieva / Gallery is pleased to present the first solo show in Bulgaria of Kosovar artist Artan Hajrullahu. His artworks are deeply humanistic, representing idyllic scenes of local life in Kosovo augmented by the thoughts and fantasies of the author. They are at once documentary, nostalgic, naive, ironic, provocative, simple, kitsch, traditional and contemporary. They depict the typical Balkan objectivity and aesthetics of the past – modest furniture, wood-burning stoves, handmade blankets, lace tablecloths and watermelons, combined with symbols of modernity – television sets, rockets, automobiles and machines. Co-existing with the objects are images of family and community members – spouses, parents, children, brothers, sisters, aunts, mothers-in-law, colleagues, classmates, etc.
---
UPCOMING
Pravdoliub Ivanov
Transformation at the level of the eyes
September 15-17, 2023, 14:00 – 19:00 h
Sarieva/Gallery @ DOT Sofia
September 16, 14:00 – Artist talk with Pravdoliub Ivanov and the gallerist Veselina Sarieva
Part of Kvartal Festival
DOT Sofia, 46 Bratya Miladinovi Street, Women's Market, Sofia
-
Stefan Nikolaev
Home
solo exhibition and other related events
29 – 30 September 2023
Sarieva/Gallery @ DOT Sofia
DOT Sofia, 46 Bratya Miladinovi Street, Women's Market, Sofia
-
Opening of DOT Sofia in September
DOT Sofia is a venue combining remarkable architecture and art collection, offering luxury accommodation, cuisine, exhibitions and events in the heart of Old Sofia – at the curious Women's Market, 46 Bratya Miladinovi Street.
The building is designed by I/O Architects, Lydia Buranova is responsible for DOT Sofia Urban Residence, the restaurant KOMAT is led by Chef Alexander Gotsev, and the collection and art events are curated by Vesselina Sarieva of Sarieva/Gallery.
The previously mentioned in the newsletter events, featuring Pravdoliub Ivanov and Stefan Nikolaev, are part of the warm-up and official opening program. Stay tuned for the whole program of exciting events!
---
RECENT MEDIA
Nedko Solakov at MAXXI
Giorgio Verzotti, Artforum
text / in English
[Link]
-
Nedko Solakov at MAXXI
Giorgio Verzotti, Artforum
text / in English
[Link]
-
In the parallel universes of Pravdoliub Ivanov
Gergana Minkova, Kultura
text / in Bulgarian
[Link]
-
Artan Hajrullahu artfully brings the daily life of the past to Bulgaria
Koha
text / in Albanian
[Link]
-
The Artist at Work in July
Krassimir Terziev, Culture Center Sofia Univeristy
text / in Bulgarian
Mentions of Luchezar Boyadjiev and Pravdoliub Ivanov's solo exhibition I Don't Know What You Are Talking About at Sarieva/Gallery
[Link]
-
How populism changes the political map
Stalbishteto, Darik
video or audio / in Bulgarian
Podcast featuring Nedko Solakov. Mentions of Pravdoliub Ivanov.
[Link]