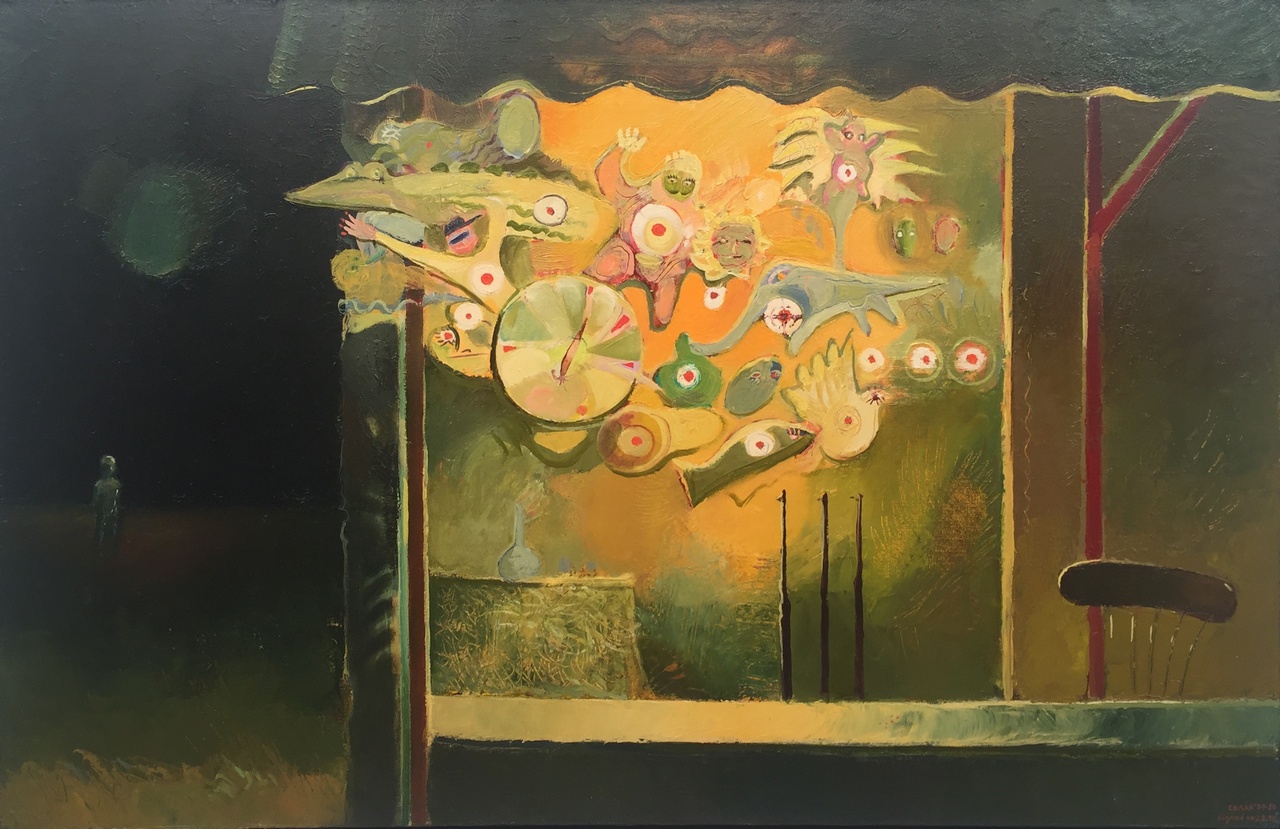 (almost) Paintings
6 September 2019 – 25 October 2019
SARIEV Gallery, Plovdiv is pleased to present the solo show "(almost) Paintings" by the gallery artist Nedko Solakov. The exhibition presents heretofore unshown paintings created between 1977-1981, while Solakov was a student at the National Art Academy.
The exhibition will take place from 6 September to 25 October 2019 in the gallery space and will be opened on 6 September at 6:30 pm in the presence of the artist. The exhibition can be seen in the framework of NIGHT/Plovdiv 2019 (13-15 September).
The exhibition text is by the renowned Bulgarian writer Georgi Gospodinov.
/
(almost) Paintings. Nedko Solakov
Bringing out your earliest paintings, unsigned and unshown until now, is an act of daring that few would risk. It's like inviting guests into your teenage bedroom, which still holds the chaos and the secrets of that time. But this is also what makes this exhibition such an incredible opportunity for us as an audience. Nedko has put his trust in us and allowed us to come very close, into that very personal space of beginnings, before experience has wiped away hesitations. Even though his experience and ability were apparent even back then. In fact, throughout his whole journey, Nedko Solakov has had the courage to turn his personal story into art, as in Top Secret or the later Fear, to name only a few.
In this exhibition, we enter into the studio of the past so as to see that even there, at the very beginning, Nedko was telling stories. We do not simply look at, rather we read and listen to Nedko Solakov's paintings. Not only because they include text, but because there are always stories hidden in the paintings themselves.
Here we find the stories of people dozing on the train, those exhausted knights of everyday life. (Exhaustion is that which extracts the body from the armor of ideology in the work of a number of artists from that period. The exhausted body lies beyond the socialist canon.)
There is something real and unreal, something almost real in these paintings, just as in the ghostly face of the landlady peering through the door of the young man's apartment, where the bright red high heels of a mysterious visitor give off a treacherous and magical glow. Here, in this series, we also find the man waiting for a woman at the airport, and in the waiting itself there is already a premonition of being jilted – which is what happens in the following painting entitled "Jilted".
There is also a child seen from the back, swinging in some primordial silvery-gray emptiness. There is also the shooting gallery from childhood, which every one of us has our own personal story about – most often a story about dreams and denials. Which, after all is said and done, is precisely what the shooting gallery offered, the contraband of a shiny and unattainable world in miniature. Even in this brightest of the paintings, we still cannot overlook the twilight against which the silhouette of the child stands out.
Just as in the other paintings of almost everyday life, we are pursued by a desolate, overhanging, thick, gray and silver inconsolable sky. The nothing-ever-happens-ness of the late 1970s, during which your own life was supposed to be taking place. And the melancholy, which is possible at that age when you are almost entering life. Nedko's early paintings capture just that melancholy, which back then was strenuously erased, with youth instead being depicted as "cheerfulness and audacity."
These paintings actually draw a (self)portrait of the artist as a young man. And the fact that they are gathered here together for the first time allows us to see how they are connected with one another in a natural way, how they tell a common story.
Why "(almost) Paintings"? Due to modesty? A sense of distance? These paintings in and of themselves are absolutely stand-alone, completed works. But it wouldn't be Nedko if he hadn't added that "almost," to make the viewer hesitate, to force us to wrack our brains, to conceptualize along with him, to think about unfinishedness and beginnings. These "almost paintings" from the past have only been signed recently (August 2, 2018) and dated with the respective years they were made and accompanied by personal stories written on the gallery walls which are connected to the paintings and the time when they were created. Thus, the "story certificate" along with the signature turns these still-not-yet-paintings into whole, completed paintings that already go beyond paintings. Paintings put off in time, which will be realized only now before our eyes, 40 years later.
In short, this exhibition shows us not only the directions that the artist would take from then on, but something equally as important – the directions he abandoned. And we will see how Nedko Solakov continues further on, passing into other levels. The hand, the stories, the outlooks that began here will remain. As will that particular sense of excitement that we have witnessed something very personal, something that takes us back to the beginning of our very own almost life.
Georgi Gospodinov
/
Since the early 1990s, Nedko Solakov (b. 1957, Tcherven Briag, Bulgaria; lives in Sofia) has exhibited extensively in Europe and the US. His work was featured in Aperto'93 (Venice Biennial); the 48th, 49th, 50th and 52nd Venice Biennial; the 3rd, 4th and 9th Istanbul Biennial; São Paulo'94; Manifesta 1, Rotterdam; the 2nd and 4th Gwangju Biennial; the 5th Lyon Biennial, Sonsbeek 9, Arnhem, the 4th and 5th Cetinje Biennial, the 1st Lodz Biennial; the 7th Sharjah Biennial, United Arab Emirates; the 3rd Tirana Biennial; the 2nd Seville Biennial; the 2nd Moscow Biennial; documenta 12; 16th Sydney Biennial; Prospect 1, New Orleans Biennial, Singapore Biennial 2011, dOCUMENTA (13), Kathmandu Triennale and 1st Riga International Biennial for Contemporary Art. He had solo shows at Museu do Chiado, Lisbon; Stichting De Appel, Amsterdam; CCA Kitakyushu, Japan; Museo Nacional Centro de Arte Reina Sofía, Madrid; The Israel Museum, Jerusalem; Centre d'Art Santa Monica, Barcelona; Kunsthaus Zurich; Castello di Rivoli, Rivoli; Sofia City Art Gallery; Galleria Borghese, Rome; Salzburger Kunstverein, Salzburg; BOZAR, Brussels; ICA Sofia and La Panacee, Montpellier. In 2003-2005 an extensive mid-career "A 12 1/3 (and even more) Year Survey" was presented at Casino Luxembourg, Rooseum Malmoe and O.K Centrum Linz, and in 2008-2009 the "Emotions" solo project was exhibited at Kunstmuseum Bonn, Kunstmuseum St. Gallen, and Institut Mathildenhoehe, Darmstadt. In 2011-2012 his retrospective "All in Order, with Exceptions" was presented at Ikon Gallery, Birmingham; Fondazione Galleria Civica Trento ("All in (My) Order, with Exceptions"), S.M.A.K., Ghent and Fundação de Serralves, Porto. His works belong to more than fifty international museums and public collections, among them MoMA New York, Tate Modern, London and Center Pompidou, Paris.
Upcoming group exhibitions in September and October 2019: "Grand Hotel Abyss," steirischerherbst'19, various venues, Graz (curator Ekaterina Degot), "Drawings from the Guerlain Collection," Albertina, Vienna (curator Elsy Lahner), "Cosmopolis #2," Centre Pompidou, Paris (curator Kathryn Weir), "Teleology of the Human. Biography, Destiny, Hope, Faith," Moscow Museum of Modern Art, Moscow (curator Viktor Misiano).
The show in the media:
Nedko Solakov shows his student paintings
Bulgarian National Radio, 5 September 2019
link
(almost) paintings. Nedko Solakov
Dnevnik, 6 September 2019
link
Eight paintings with eight tales from Nedko Solakov's "atelier of the past"
Dnevnik, 6 September 2019
link
Nedko Solakov shows his student works in the exhibition "(almost) Paintings"
Bulgarian National Television, 10 September 2019
link
In the soul of the artist: Great Nedko Solakov in front of "Tazi subota"
BTV, 5 October 2019
link
The exhibition of Nedko Solakov, finished 40 years later
Ploshtad Slaveikov, 8 October 2019
link
Nedko Solakov: without nostalgia
Kultura.bg, 11 October 2019
link
Nedko and (almost) Solakov
Literaturen vestnik, 16-22 October 2019
link
Nedko Solakov at SARIEV Gallery
Art Viewer, 25 October 2019
link