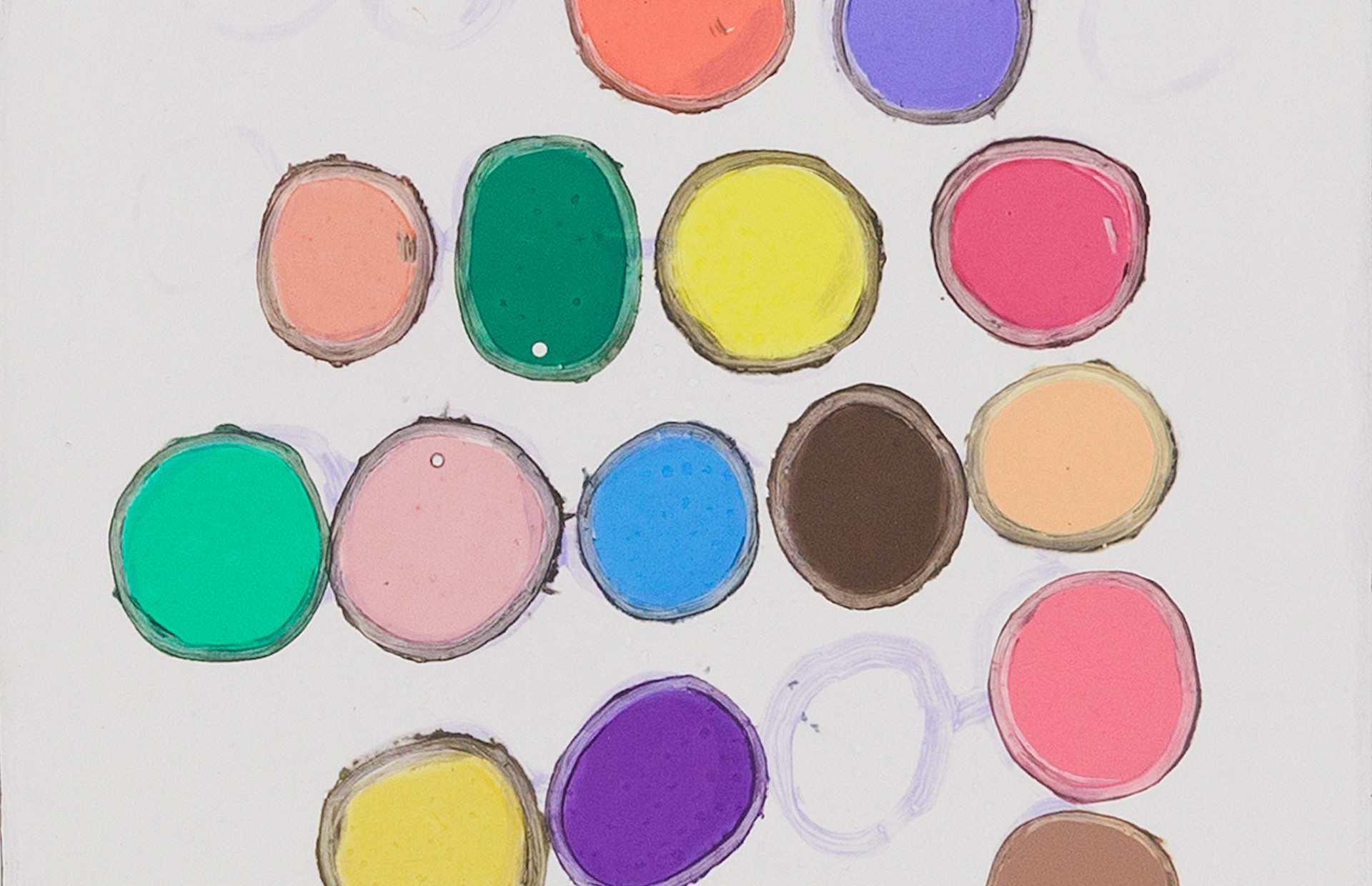 Colour Words in Prologue
main exhibition
FUTURE UNFORGETTABLE – PHASE VI
19 November 2021 – 30 December 2021
SARIEVA is pleased to present the first solo exhibition of the gallery represented artist Rudi Ninov Colour Words in Prologue.
Colour Words in Prologue is the main exhibition of Phase VI of the multi-genre visual art situation Future Unforgettable, curated by Vesselina Sarieva and realized in six thematic and temporal stages throughout the period September-December 2021 in various cities and exhibition spaces around Bulgaria and online.
The exhibition Colour Words in Prologue includes a series of paintings, drawings and sculptures made during the global pandemic at the author's studio in Frankfurt, Germany. It also features a ceramic installation of eighty spherical objects titled 'My Favourite Things', accompanied by a unique wallpaper work.
Rudi often works in-between several series of sculptures, paintings and drawings simultaneously over a prolonged period of time. The works are created in the same studio space allowing for a constant formal feedback between each piece, resulting in unintended relationships. Meaning is found in their apparent difference where each finished work is a propellent for the next, as a form of reaction.
Similar to a single frame on 35mm film slide, each painting presents its unique setting (space), light (colour) and characters (shapes). The bigger plot line is revealed within a group of works, thereby contributing to the effects of stillness, movement and duration been detected in the paintings.
The ongoing series of small paintings 'Untitled (Fêtes 1971)' made on discarded card from hardcover books, reveal the linguistic logic and syntax which navigates his ever expanding lexicon within the paintings. Diverse in composition and colour, the works evoke a variety of associations that can be related to unspoken language, heard sounds or simple musical visualisations.
Like syllables and words pinned to the wall, together with the other works in the show, they reveal Rudi's relationship to Abstraction from two distinct but adjacent perspectives; the formal and the personal. The work's small scale pulls the viewer within a private space, appearing in an intimate dialogue with the artist's free and experimental treatment of each individual space.
The formal is evident in his intelligent but seemingly nonchalant use of the paint medium. Rendered flat and in vivid colours, squares, rectangles, swirls and other elementary shapes seemingly brake in and out of an invisible but a fundamental grid which acts as the musical score line to the whole series. The works embrace an almost endless and open referentiality to poetry, cinema and other works of art.
One work within this series, a swirl composed of many small paper cutouts is a direct reference to the well-known work by Henri Matisse 'The Snail' 1953. Rudi says: "I saw this work for the very first time at the Tate in London when I was eleven. My family had just moved to London and there was a period of time at the start where my mother didn't have a job. In that time she made sure to take me to every free museum there was in the city. None of us spoke English so we literary kept walking and looking around. None of us was into Art, but we were constantly introduced to it. For whatever reason, that painting stuck with me and I've been going back to it in my thoughts throughout the years. During the pandemic I felt a great deal of humbleness and sincerity around me, and perhaps because of that I decided to materialise this experience of that painting as a little homage."
-
Rudi Ninov, born 1992 in Bulgaria, lives and works in Frankfurt, Germany. In 2021, he graduated from the well-known Städelschule Academy of Art in Frankfurt. He earned his BA in Fine Art at the Goldsmiths College in London, 2015. His works have been shown in a number of institutions and galleries around Europe and worldwide, including Kunsthal 44Møen, Møn; SARIEVA, Plovdiv; Galleria Continua, San Gimignano; Sotheby's, Frankfurt; Galeria Ginsberg, Lima; National Palace of Culture, Sofia; Azarian Theatre, Sofia; Vaska Emanuilova Gallery, Sofia, among others.
-
More about the sixth phase of Future Unforgettable can be found here www.futureunforgettable.com.
The archive of Future Unforgettable is available at Instagram and the YouTube channel of Open Arts Foundation.
Instagram: https://www.instagram.com/futureunforgettable/
YouTube: https://www.youtube.com/playlist?list=PLiwBr_QbugCyEz8O5rYdilRv3BYjE208s
-
Оrganizer: Open Arts Foundation and Sarieva
In 2021, the project is being implemented with the financial assistance of the Support Programme for Professional Art Organizations of National Culture Fund.
-
The title Future Unforgettable is inspired by the drawing from Krassimir Terziev's art project "Future Unforgettable", 2018, marker on paper, 28 x 35.5 cm., personal collection.
The name of the sixth phase of Future Unforgettable is inspired by Rada Boukova's work "The Sky is a Color", 2014.
Press:
"New works of the artist Rudi Ninov can be seen at SARIEVA in Plovdiv"