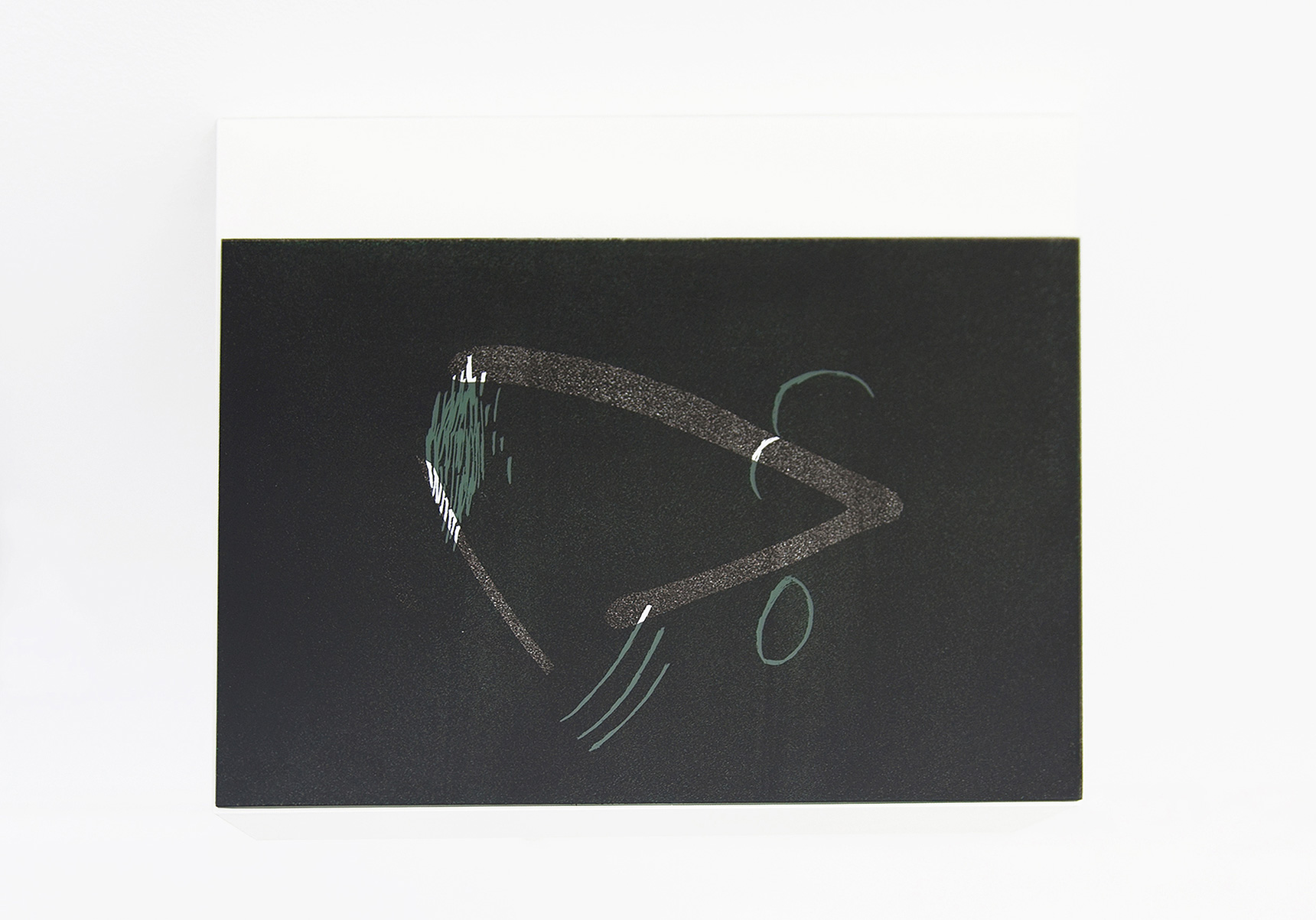 M
12 September 2014 – 30 October 2014
Curator: Bettina Steinbrügge

Opening: 12 September, Night of Museums and Galleries, Plovdiv.
8:00 p.m. Opening of the exhibition "M" at SARIEV Contemporary, 40 Otets Paisiy St.
8:30 p.m. Artist Talk, moderated by Bettina Steinbrügge
9:00 p.m. Presentation of the fanzine Black Pages


For the 10th anniversary edition of the Night of Museums and Galleries – Plovdiv, Sariev Contemporary is pleased to present Ute Müller and Christoph Meier's artistic project "M", curated by Bettina Steinbrügge. An Artist Talk moderated by the curator will follow the opening. Müller and Meier will also present Black Pages – a fanzine for contemporary art, which they run with fellow artist Nick Oberthaler.

-



An involuntary gesture, an enigmatic doodle, a space, a place without perspective, horizontal logic, points of view, a possible path, different observation times, an illusion, reality, a narrative, passion, surprise, suspension, physicality, doubt and certainty... a human space.
(Gianluca Collica, 2012)

We don't know what M is or is doing right now and if this even matters. We assume that it could matter. Or not. "M" will be an enigmatic riddle, an assumption about what could be if we only try hard enough to let loose. Viennese artists Christoph Meier and Ute Müller tackle aesthetic issues from a variety of angles, pursuing the everyday through thoughts and actions firmly rooted in life experiences and reality. The two artists reflect on the social meaning of structures.

Müller and Meier have collaborated on an installation conceived exclusively for the space of Sariev Gallery, which investigates the relationship between the pictorial and human space. The installation, consisting of paintings, architectural structures, drawings and sculptural references, defines a space where the viewer is immediately captured by the beauty of an installation that has its origins in the history of 20th century abstraction. Yet this is only a transitory emphasis, an instant of burning passion, which is then exposed to the artist's critique, revealing a tendency to question that same tradition.

"We do not see real life except by its reflection," wrote Constantin Brancusi in 1919. Nothing is static. Nothing is fixed. All forms are interchangeable and evolve, as experience evolves. Richard Serra called Brancusi's work a "handbook of possibilities". Serra and Brancusi enjoy a mutual fascination with stacking elements, with spreading and concentrating forms, and emphasizing weight and material. But the distinction between them is telling: where Brancusi plays with the function of the base of his sculptures, making them an integral part of it, Serra rejects the base altogether and uses instead the floor, the walls and the surrounding architecture.

A similar contrast is present in the work of Ute Müller and Christoph Meier. Müller uses painting and collage as a reflection, stripping away excess information in order to observe form and space with the utmost clarity. As Christiane Meyer-Stoll states: "The paintings challenge us to engage in an intense process of seeing, since only then do the transparency and the depth of the pictorial structure become apparent. They […] have a strong physical presence. This sharpens one's sense of distance and closeness […] and renders the perception both more acute and intimate. The notions of intimacy and physical involvement are further developed by Ute Müller in the context of exhibitions, where the direct participation of the viewer takes center stage."

In comparison, Meier has always favored industrial materials, such as rubber, lead or steel, which immediately distinguish themselves from organic matter. These are employed like paint, bringing out different qualities in each surface, and are eventually transformed into skins. Meier aims for configurations in space, recalibrating the architecture of the room. His sculptures dissolve the boundaries between painting, architecture and sculpture, and move towards a kind of verbal sculpture reminiscent of Richard Serra's film "Hand Catching Lead" (1968).

Both artists share the ambition of pushing the limits of their chosen medium, reminding us of Kurt Schwitters' MERZ architecture and its dichotomy of visible material and invisible content. The assemblage work, perpetually unfinished, ceaselessly changes its own rules as it develops. In this way, a single interpretive key is rendered obsolete the moment it becomes available, because its object transforms, raising new questions and opening itself to new interpretations. The MERZbau presents a chance to rethink an artist's project as performance and practice, as a social space where art, artist and the audience meet. The slices and openings perform on a microcosmic level what the avant-garde had attempted on large scale: the transformation of collective life through the radical interpenetration of the street and the interior, of individual private existence and public collective experience.

The result is a multi-perspective game on different surfaces, where the imaginary and the real are entwined, poetry and narrative are balanced by more physical, pragmatic needs, with man remaining at the heart of the matter, oscillating between illusion and reality.

Bettina Steinbrügge, Hamburg




-

Christoph Meier (b. 1980) lives and works in Vienna. He studied art in Glasgow and Vienna. Since 2004 he has realized a number of solo exhibitions and participated in numerous group exhibitions in Austria, Germany, France, Italy and the USA. Meier is the recipient of the Förderpreis der Karl-Anton Wolf-Stiftung, the Prize of Gallery Klatovy / Klenová, and the Staatstipendium für Bilden de Kunst. He is a co-founder of the Kunstverein Glasgow (kunstvereinglasgow.blogspot.com), Glasgow / Vienna (2008), and the fanzine Black Pages (www.blackpages.at), Vienna (2009).

Ute Müller (b. 1978, Graz) lives and works in Vienna. She studied at the Royal College of Art, London and the University of Fine Arts, Vienna. Müller has realized a number of solo and group exhibitions, and has been awarded the Viktor-Fogarassy-Preis, the Award of the City of Vienna and a number of fellowships. Since 2000 she has taken part in numerous group exhibitions in Austria, the Czech Republic, Germany, Korea, Portugal, Ireland, and the United Kingdom. In 2009, she co-founded the Black Pages fanzine (www.blackpages.at) with Christoph Meier.

Bettina Steinbrügge (b. 1970, Ostercappeln, Germany) studied Art History, English and Comparative Literature at Kassel University. Between 1998 and 2001 she worked at the Kunstverein Kassel. In 2000 she worked for the 4th Werkleitz Biennial. She has served as Artistic Director of the Halle für Kunst Lüneburg (2001-2007) and has been a member of the program team of Forum Expanded, a section of the Berlinale, since 2007. Between 2010 and 2013, Steinbrügge was the Senior Curator for Contemporary Art at the Belvedere Museum, Vienna. In 2014 she was appointed as Director of the Kunstverein in Hamburg.


Black Pages
BLACK PAGES is another social space, a project of Müller and Meier, and another Viennese artist, Nick Oberthaler. The three publish their own magazine, Black Pages, which will be available at artnewscafe, a busy informal venue serving as meeting place for Plovdiv's art scene that is situated right next to the Sariev gallery.
BLACK PAGES is a monthly artist-run fanzine with a circulation of 300.
BLACK PAGES comes out in A5 format, featuring a total of 20 black & white pages.
Each month BLACK PAGES invites one artist to create it and names the issue after his/her forename.
BLACK PAGES is Austrian. 50% Austrian artists, 50% from other countries.
BLACK PAGES likes equal opportunity: 50% female artists and 50% male artists.
BLACK PAGES is named after a song by Frank Zappa and follows his compositional method.
BLACK PAGES doesn't tell its artists what to do.
BLACK PAGES is produced very quickly.
BLACK PAGES has to be purchased before you can look at it.
BLACK PAGES likes artist collectives because there is always somebody to blame.
BLACK PAGES is like an exhibition and loves release parties.
In Plovdiv, BLACK PAGES will present 3 new issues and invite Bulgarian artists to join this very exciting project.


-
The exhibition is supported by the Austrian Embassy and the National Culture Fund.