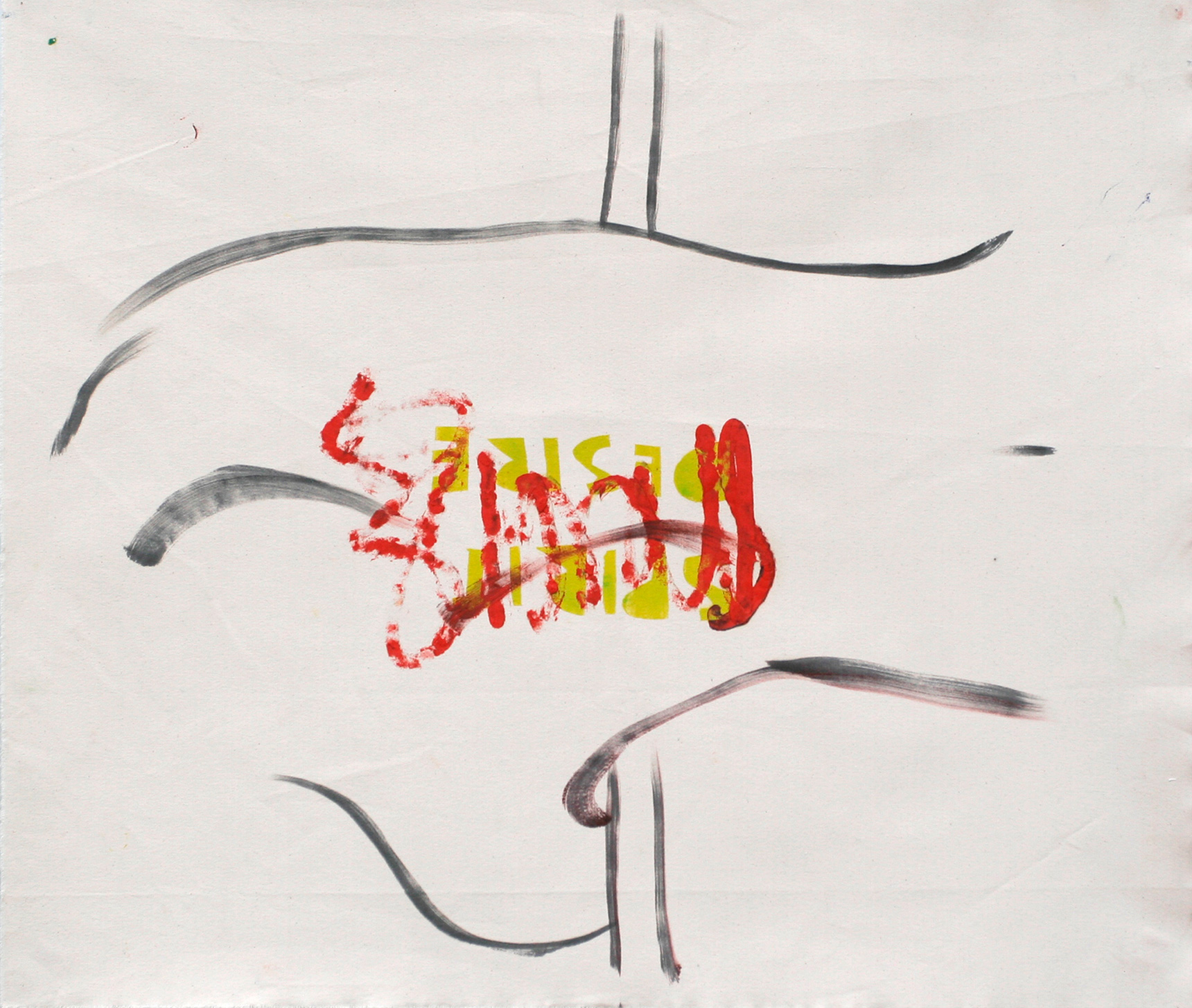 PAUL
28 February 2014 – 25 April 2014
Sariev Contemporary presents the second solo exhibition "PAUL" (28 Feb – 25 April 2014) by Stefania Batoeva.

Stefania Batoeva presents an environment of new works on canvas and plaster that mark an important stage in the artist's exploration of, and dialogue with, the subconscious. A loose but intense process of collection, distillation and spontaneous expression has driven Batoeva's practice in the last two years. In this process, traces of the artist's life develop on the surface of her works, where they encounter fields and layers of imagined states.

Exhibition text by Josephine Callaghan.



Lime Cobalt Black

Fingers lock up behind his head, pulling through limelight folds. The zing of Love, blown through the tinted furls of brush cloud. Drawings raze a tired stretch, bleached to a 6 line reduction. Stolen mannerisms of flex thrown down through the wash, memory muscle of the day caught unaware. Thin line registers a repeated pause beside a bed, raised inflections of continued conversation. Relax in the latent image.

Majorelle.
Bergé's rooms are compressed behind fronds. Red cement processions to outdoor cobalt rooms, accompanied by the still glaze of an eau de nil painted pool, invite solace from Europe in the near colonies. Painting as wall. Acid memoirs of a sponge splash wave. The optimism of colour.

Black block cuts in the white space of the gallery. These are blank breakages in colour space. Black paintings - an extended sheen is laid across a matt field, blocks give way to chinks of light. Stefania Batoeva has romanticized the initial era of Contemporary Art. Black as default, a thinking space and a time between actions – colour – evocation of light – editing a film – the cut. Within the still time space of the gallery black becomes textural, sensorial. Velvet to tarmac, transparency on a stretcher, black compacted into mass.

Josephine Callaghan






Stefania Batoeva (b. 1981, Sofia) lives and works in London and is currently completing her MA in Sculpture at the Royal College of Art. Recent solo exhibitions include Still No Masterplan at Almanac Projects, London (2013) and Stefania Batoeva at Galerie koal, Berlin (2013). Recent group exhibitions include AUTO COUTURE, Automotive Couture, London (2013); Biennale Online 2013; Scattered Showers - Forms of Weather, Frankfurter Kunstverein, Frankfurt (2013). In 2009 Batoeva was the winner of the Gaudenz B. Ruf Award for Young Artists, she was nominated for the Baza Award in 2010 and 2011, and for the M-tel Award in 2011. Works by Stefania Batoeva are in the collections of the The Vehbi Koç Foundation, Istanbul; The Esterhazy Foundation, Eisenstadt; Sofia Art Gallery, Sofia. Sariev Contemporary represents Stefania Batoeva since 2012 and has presented her work at ViennaFair 2013; Istanbul Contemporary 2012; Shanghai Contemporary 2012; Roma Contemporary 2012.