VLZ310, later (2019) / Vrana Park Museum, Sofia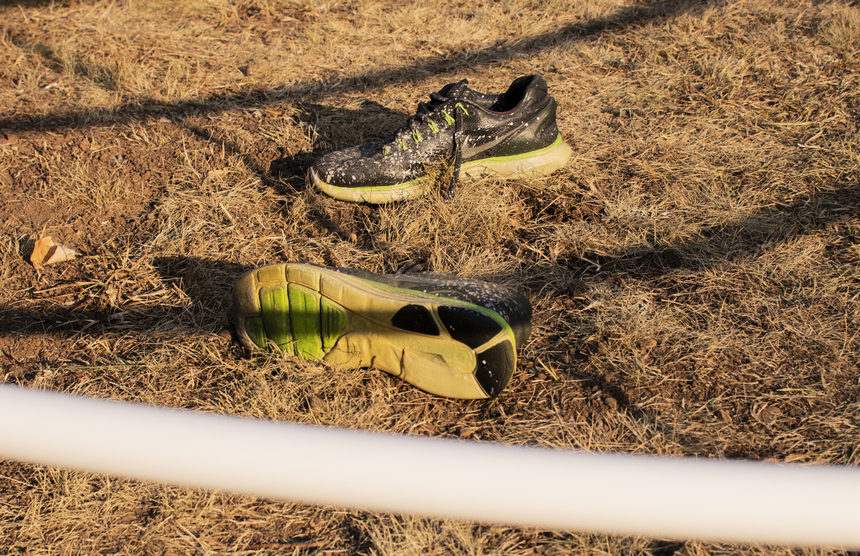 VLZ310, later (2019) / Vrana Park Museum, Sofia
10 September 2019 – 30 October 2019
Wilfrid Almendra is a French-Portuguese artist who lives and works in Marseille. This year, he is the first artist selected to participate in Sariev+Markov Artist Residency by the French curator Daria de Beauvais, senior curator, Palais de Tokyo and member of the selection committee of Sariev + Markov Artist Residency who visited Bulgaria in March.
Sariev+Markov Artist Residency, which first edition took place in February-March 2019 in Sofia, aims to give opportunity to professional artists selected by established curators to produce a sculptural work in Markovstudio, Sofia and present it in collaboration with Sariev Gallery in front of larger audience.
Within the Aritst Residency in Bulgaria, Wilfrid Almendra created a new work, the sculpture "VLZ310, later (2019)".
The sculpture project was first presented in June at Vaska Emanouilova Gallery, Sofia, and in the summer the sculpture was part of the exhibition "100 artists in the city - ZAT 2019" in Montpellier, France (curated by Nicolas Bourriaud)


Wilfrid Almendra, VLZ310, later (2019)
aluminum, aluminum cast, stainless steel, steel, copper, bronze, brass, ribbed sheet, iron, glass
12 х 2 х 0,95 m

"VLZ310" refers to a lawn mower model, which in the early 2000s was carrying the promise of a new era of handling ability and precision to consumers dreaming of a "Home and Garden" style of suburban happiness. In 2004, this reference was borrowed by Wilfrid Almendra to title a sculpture condensing the essential elements of this neoliberal vision of the garden, in an object holding out hopes for social status. The perfectly sleek blue steps of a swimming pool stood alongside a sharp stone low wall, and a decorative pineapple, connecting the historical motifs of colonial Portuguese decors to the contemporary middle class.
Here again, "VLZ310, later (2019)" suggests a garden environment as well as the symbolic, psychological, and material implications encapsulated by our desires for dwelling. Looking like a gate, this sculpture however stands ambiguously in-between an appearance of safety, porosity and transparency, away from the realm of aqua gym sculpted bodies. Its serpentine lines, as well as the collage of mundane and precious materials and motives, recalls the aesthetic of community gardens, where new forms of being and belonging are collectively carved through alternative practices and imagination. Materials and shapes are connecting and reinventing themselves sensually, while the presence of an invisible, undressed body is revealed by a few pieces of work clothes negligently set down. "VLZ310" takes the viewers "later", in these moments of transition from labor to work breaks, where desire is still very much at the heart of the systems producing values and classes.

-

The visit of Wilfrid Almendra in Bulgaria is at invitation of Sariev Gallery, as part of Sariev+Markov Sculpture Projects.
The first projects within Sariev+Markov sculpture projects are realised in partnership with French Institute, Sofia Municipality, Sofia City Art Gallery and its branch Vaska Emanouilova Gallery, Open Arts Foundation. The project is funded by the Culture Programme of Sofia Municipality.

Sariev+Markov Sculpture Projects is a joint initiative of Sariev Gallery and Markovstudio, which aims, through various activities (residency, educational module consisting of artist talks and lectures, workshops, open doors studio, as well as exhibitions and collaborations with public institutions) to establish a field for creating and presenting sculptural projects for the public space, as well as an environment for discussion and development of such projects, in Bulgaria and abroad.

More info about the project here
More info about the first edition of Sariev+Markov Sculpture Projects here

-
Working with various materials, Wilfrid Almendra creates works in which the harmonious eclectic of forms and matter originates from the deep observation, analysis and experience of the artist. Almendra is interested not only in the physical but also in the social and cultural origin of the materials. In his works, they express economic and class relationships, historical motives, political and cultural peculiarities of architecture, etc.
Among his recent solo exhibitions are: Clark House, Bombay (2018); Centre Bastille, Grenoble (2018); Palais de Tokyo, Paris (2017); Fogo Island Arts, Canada (2016); Chelles art center, Paris (2014); Passerelle art center, Brest; Fondation d'Entreprise Ricard, Paris and Parc Saint Léger art center (2013). His work has been included as part of many international group shows, including "Singing stones", Dusable Museum, Chicago, USA (2017); "Souvenir du XXIème siècle", Paris (2016); "MuThe Other Sight", CAC Vilnius (2015), "Let's Play", part of Playtime, biennial Les Ateliers de Rennes; "The Brancusi Effect", Kunsthalle Wien, Vienna; "Parapanorama", Palais de Tokyo, Paris (2014); "Fieldwork", Marfa gallery, Texas, USA; "Vue d'en haut", Centre Pompidou, Metz, (2013); "Skyscraper: Art and Architecture Against Gravity", Museum of Contemporary Art, Chicago; "Prestige", Culture Communication Center, Klaipeda, Lithuania (2012); "Making is Thinking", Witte de With, Rotterdam (2011); "Perpetual Battles", Baibakov Art Projects, Moscow; "Retour vers le futur", CAPC, art center Bordeaux (2010).
Watch video about the recidency of Wilfrid Almendra here