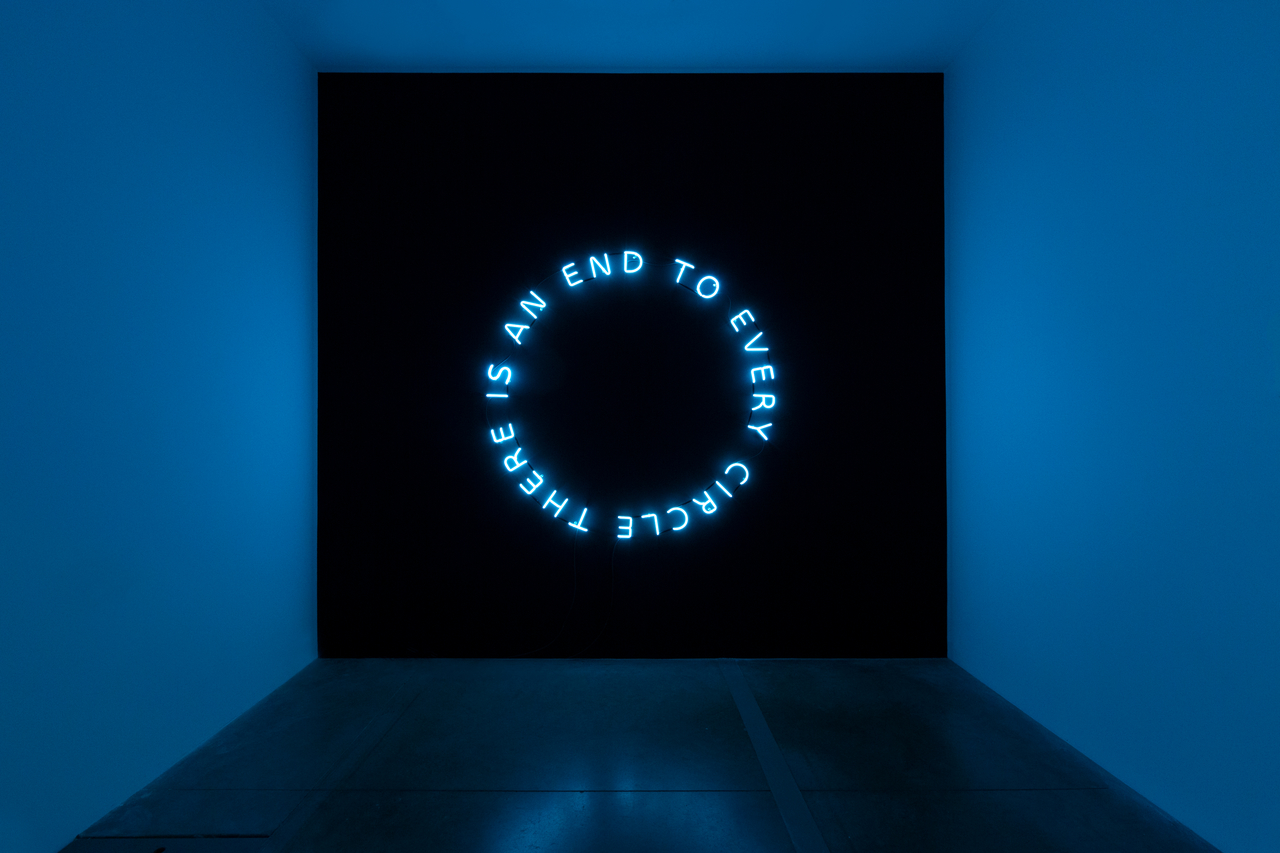 Neon (AG: νέον, "new") is a chemical element with atomic number 10 and atomic mass 20,1797 u, denoted by the symbol Ne. Although a very common element in the universe, it is relatively rare on Earth. Under standard conditions of temperature and pressure it is a colorless and odorless energy gas. Neon emits a distinct reddish-orange glow when used in high-voltage neon discharge tubes. It is commercially extracted by the fractional distillation of liquid air at very low levels of concentration. (Wikipedia)
-
at night our walls emit
on the outside perhaps glow dimly
crunchy as neon and a slight grip
the air fills in the imagination
the air breathes us
we buzz
the air – sensuous roughness
V.S., May, 2020
Let us turn to matter, disregarding the gaze and focusing on the manifestation. Exactly nowadays, when all of our social functions have died down, when we stalk the body and speak to it in whispers, negotiating relationships.
Let us talk about the artistic choice. About the chosen body of the artwork without us listening to the chosen language of its making, without reading its text. Let us talk about the illumination in art. Let us not talk about the physical sensation of glass, gas and electricity. A play of fragile, delicate glass, a play with the potentiality, with the voltage of electricity – that which creates. A play visible through the presence of the neon gas – ephemeral, extracted as a substance from the air.
Sensibility, eventually detached from conceptualism and its fixations, or sensibility that only seemingly embodies the reversal of values in various modernisms.
Inhabiting the alien domain of commerce, does this art of neon not inform us it is impossible for it to exist within its bounds.
Or caught between these eye-catching functional or historically programmed gestures, delicate as the neon gas with its property of giving light, does it not simply show how it exists in between. How to exist.
There is an end to every circle, written in a circle (Vikenti Komitski); Safe, I'm Safe, I'm Safe, I'm, in alarming red (Kalin Serapionov); No Way, in distinctly underlined handwriting (Stefan Nikolaev); On the Wrong Side, inverted as a mirror image (Pravdoliub Ivanov); Future Unforgettable, in a standard straight font (Krassimir Terziev); Much Too Little / A Little Too Much, blinking at us (Pravdoliub Ivanov); Ice Caps (Dimitar Solakov); Balkanton with a Dropped O (Stefan Nikolaev); Nothing is Just, casually handwritten (Mariana Vassileva). Or the images: High Voltage Fence (Kamen Stoyanov), the red-hot electric century-old tree (Ventsislav Zankov). Which of these two worlds do we inhabit, what is this dualism and this choice. Is it.
Can we grasp the property of doubt that these artworks exhibit. Doubt – wrongly perceived as confidence, an occasion for a life motif, an outwitting of reality, a joyous reversal, everyday philosophy, something else that will make an impression on our behalf. Is it not that the authors themselves put a big buzzing question mark above these artworks.
And why this fragility of the artwork in its own body, this invisible detachment from the instinctual, nowadays we can recognize a possibly much more valuable property of art – neon. A gesture that we characteristically recognize in artworks like Beam Throwing (Rada Boukova), Utopia 2 (Samuil Stoyanov), Don't Give Up (Pravdoliub Ivanov).
Could it be that the choice of humility, although resembling a revolt, is consciously implemented within the work by its author; is it that the artist approaches this medium in a rather sensuous and tactile manner than just in a practical one. With the awareness that this is the type of art that can easily be excluded from the contact or be damaged. Yet also an art that was never produced by the artist himself but by the dexterous neon manufacturer who fulfils all the wishes, commercial and artistic ones. In the end, is this not an art that is desired by its author. Imagined. Much too often presented with a pencil on a piece of paper or with a computer mouse on any type of screen. Is the artwork not situated precisely in/with/between humility and the impulse.
GLASS, GAS AND ELECTRICITY is an exhibition that perceives the ephemeral body of the artwork, senses the neon as gas, hears the buzzing sound of this matter and organizes a space for the visitors around the question what this circle is that ends in a cycle. The exhibition invites those who will see it, partially through the windows of Sariev gallery and in its entirety in the viewing room on the gallery site, to experience doubt.
The exhibition will present artworks of neon and project drawings by authors Rada Boukova, Mariana Vassileva, Ventsislav Zankov, Pravdoliub Ivanov, Vikenti Komitski, Stefan Nikolaev, Kalin Serapionov, Dimitar Solakov, Kamen Stoyanov, Samuil Stoyanov, Krassimir Terziev.
The exhibition follows a thematic retrospective vein with a rear view of Bulgarian contemporary art, while at the same time projecting its curiosity forward by choosing to present project drawings of artworks yet to be realized.
GLASS, GAS AND ELECTRICITY can be seen partly at 40 Otets Paisii Str, Plovdiv and entirely in the viewing room on the gallery site http://www.sariev-gallery.com from December 21, 2020 to February 2, 2021.
Rada Boukova, Beam throwing, 2014, switching on two neon letters O on the roof of the cinema Kosmos, Not available
"Beam throwing" consisted of only two shining 'O's from the Kosmos Cinema sign. The cinema had long been closed, its neon text gone dark. For the Night of Museums and Galleries Plovdiv in 2014 Rada Boukova's work was restoring just these two same letters
"Beam throwing" was part of "Crossing the Desert" - a complete work of six parts that were dispersed throughout the city for the Night of Museums and Galleries Plovdiv in 2014. The workspace was a city full of exhibitions but also entertainment. In fact, although the norm and expectations in regard to artworks in such an environment demand that they be sufficiently attractive and vivid to be noticed, these six works are not self-evident.
''...Is there anyone today who still remembers "Balkanton", the powerful Bulgarian state record company which produced Bulgarian (socialist-style) versions of world pop hits? It was a means of taming dangerous influences. Stefan Nikolaev's work produced confusion between "now" and "then", between the original and the copy. The concepts are interchangeable. I am somehow convinced that "Balkanton" and its pre-1989 practices, in a period when socialist Bulgaria cared little about copyright, is the ancestor of the present comfortable situation of pirate record stores. This is no longer a state production, yet the clandestine distribution is no secret.''
Iara Boubnova, 2004
Samuil Stoyanov
Utopia 2, 2010
switched off neon lamps, white PVC foil
120 x 35x8 cm

Text on the wall:
The Tatlin's Tower was not built due to the lack of raw materials, technical equipment
and doubts concerning its expedience.

Inquiry / Запитване
My interests revolve around the impulses towards overcoming the present and creating an environment for facilitating humanity's pursuit of harmonic existence. As history has shown us, such an idealistic existence ultimately turns out to be an immense system of dogmatic strictures that evolve into tyrannical dictatorship regimes corrupted by individual and social weaknesses.
It is the idea of a future equality among humans, as well as a unity of politics, art and thought, that a century ago inspired the Russian painter and architect Vladimir Tatlin to devise (by state order) the emblematic project "Monument to the Third International" (1919-20). Utopian in its youthful zest, absurd in its economic indicators and raw material requirements, the project exerts an impact on XX century architecture and art. Inspired by his Russian colleague and predecessor, the American minimalist artist Dan Flavin constructed "Monument 1" based on Tatlin's view (1964). It represents a very powerful and much simpler museum artwork which has no claims of making a home base for the Communist International. It is also an artwork of change and influence in relation to the world – by its property of emitting light. Flavin's work is vulnerable, poetic and aggressive.
In my own replication of "Monument 1" entitled "Utopia 2" (2013), I have reduced the size even more and "shut off" the light. It presents a kind of household constructivism, consisting of ready-made/purchased lamps, which virtually anyone can concoct without even having to use electricity. I believe the extinguished light "unmasks" the utopia, yet the artwork itself is not intended to ironize the "impulse" but to suggest a different direction.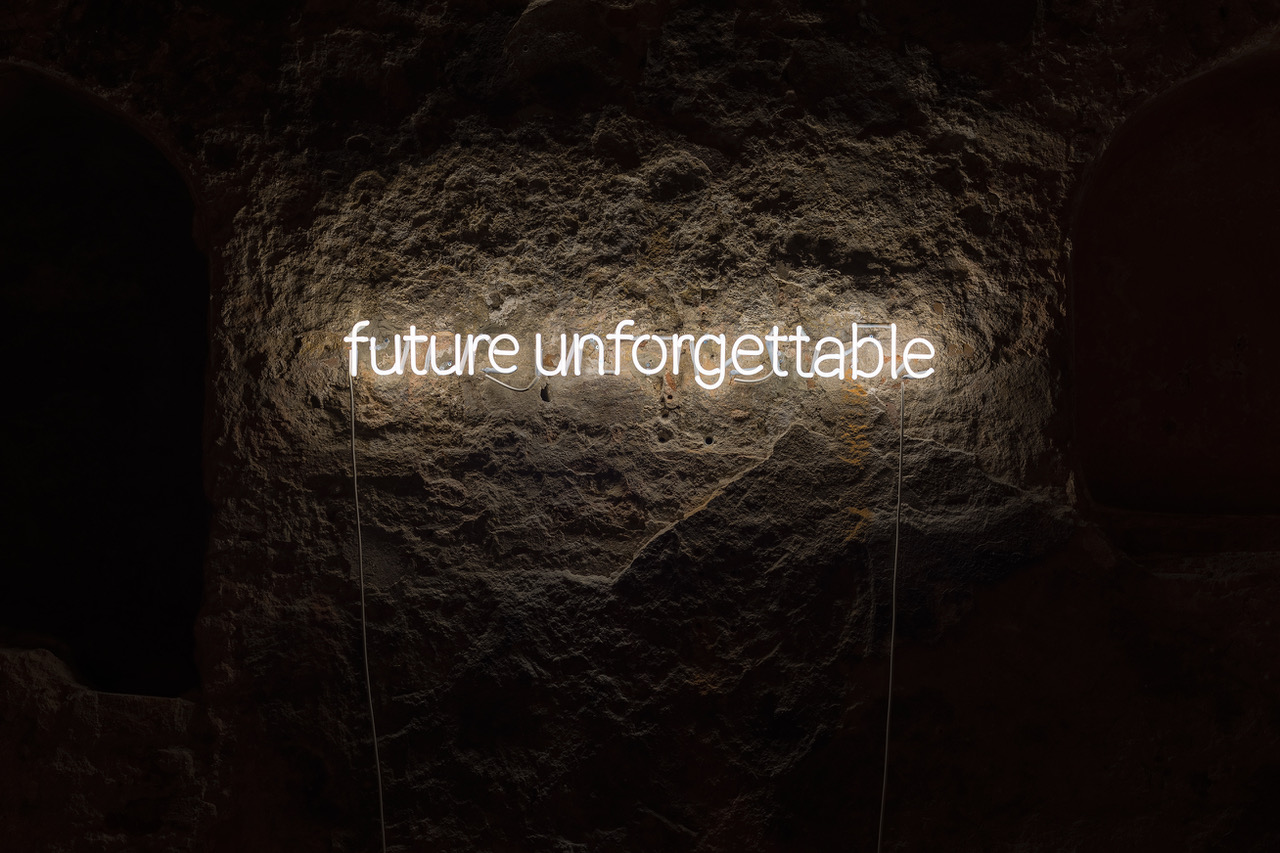 Krassimir Terziev, Future Unforgettable, 2019, white neon, 11 x 98 cm, AE 2/5 + 1AP, Inquiry / Запитване
[...] in fact, if we are to accept the art of Krassimir Terziev as a journey, it's a journey that moves at its own nonhistorical pace, using many of the primal sources and signs of what we acknowledge as the Great Time (after Mircea Eliade, The Myth of Eternal Return). At each moment of the journey, the question is raised about the depleting – or already depleted – possibilities for a future. This is a journey that certainly does not end with the shutting off of the monitors; there's also nothing superhuman there in Kubrick terms. A journey that always ends with the return to the artist's grounding I, -- forwards to the present and back to everything that was once a future.
Svetlana Koyumdjieva "Travelling back to the future", in: Krassimir Terziev. Future Unforgettable, Versus Art Project, Istanbul: 2019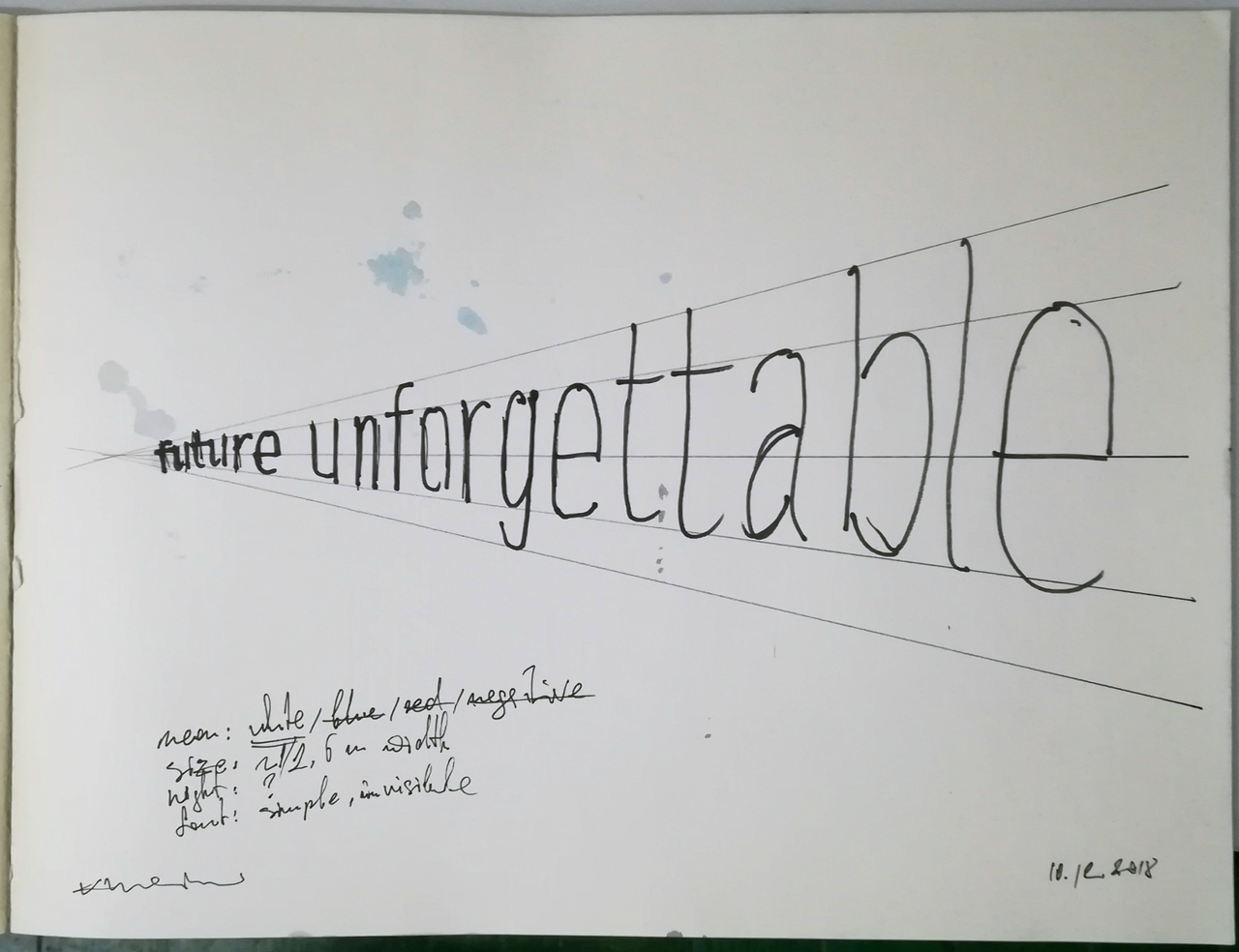 Krassimir Terziev, Study for 'Future Unforgettable', 2018, marker on paper, 28 x 35.5 cm
Inquiry / Запитване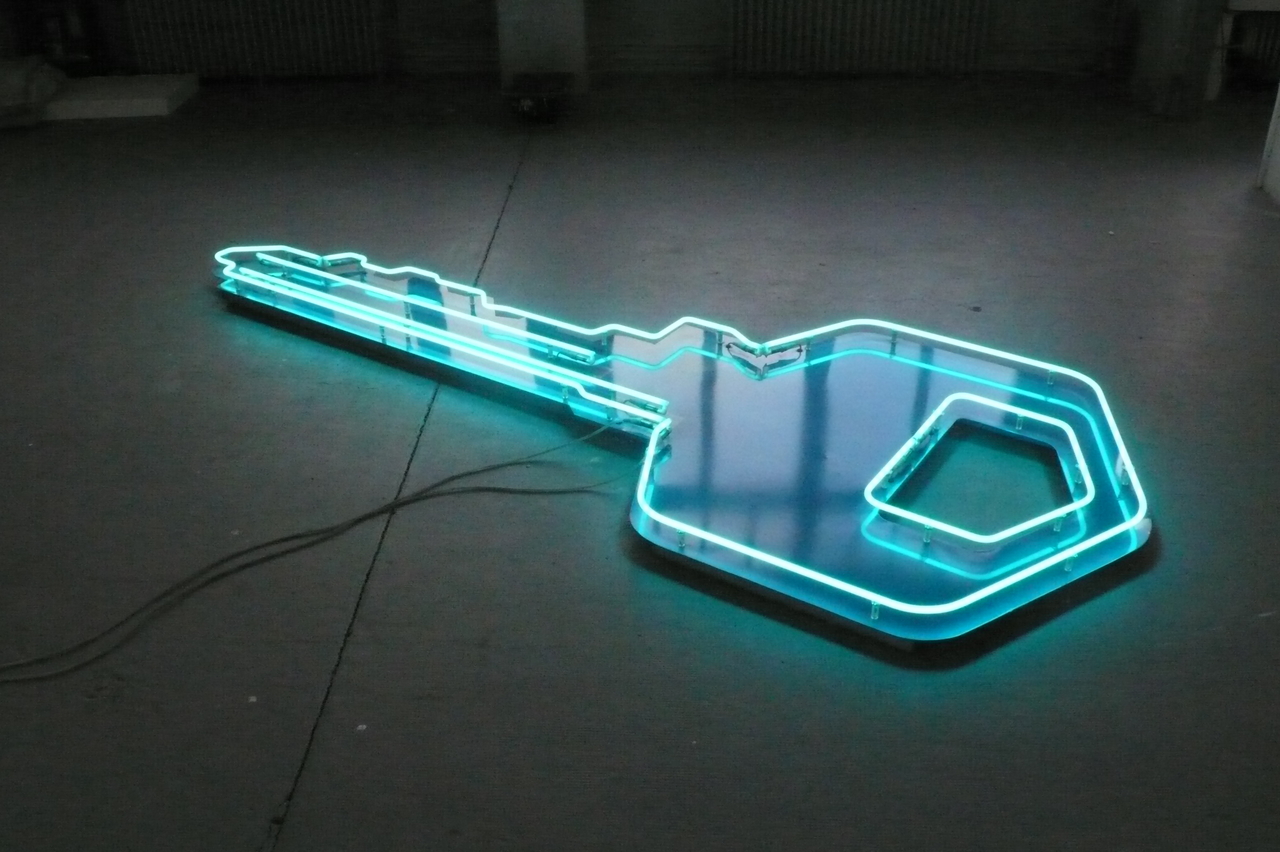 Rada Boukova, De l'illusion, 2010, neon, aluminum, electric cable, transformer, 250 x 120 cm, Not available
A neon key diffuses a blue light without variation, the sizzling of the electrical connection resonates in the enclosed space. A key is used to open and close, but figuratively speaking, is also a tool for understanding or explanation. When the eyes turn away from the luminous object, by an optical phenomenon, the world turns pink for a few seconds.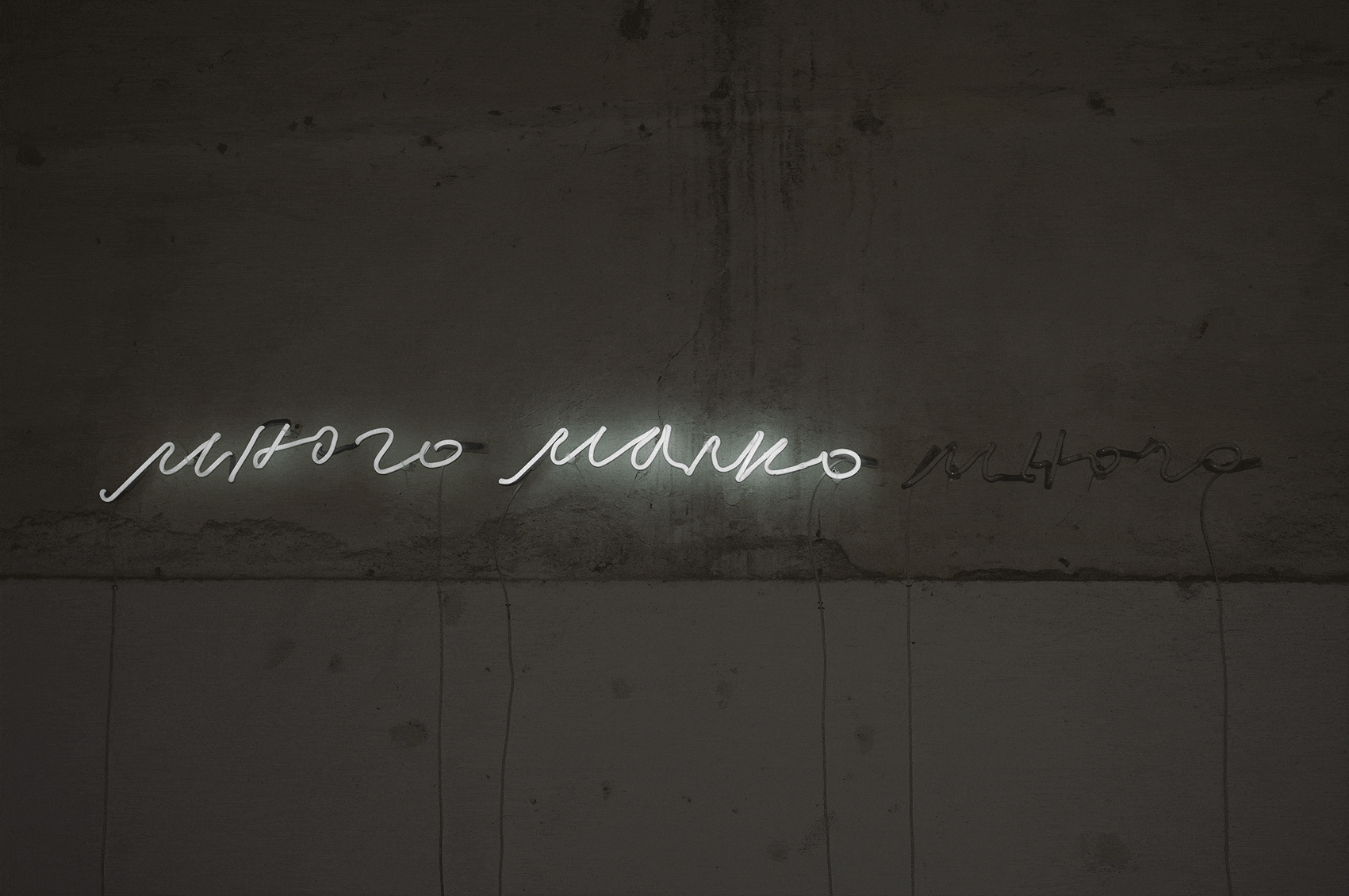 Pravdoliub Ivanov, Little (Much Too Little /A Little Too Much), 2009, installation, neon, automatic switch, 170 x 16 x 5 cm, Edition 5+2AP
Inquiry / Запитване
The project is based on a hardly translatable words constructions using the words Little and Much in reversed way. The two phrases are so often used in their contrast meaning that somehow express all of our hopes and disappointments. The blinking neon words change the two phrases by living the word Little constantly lighting.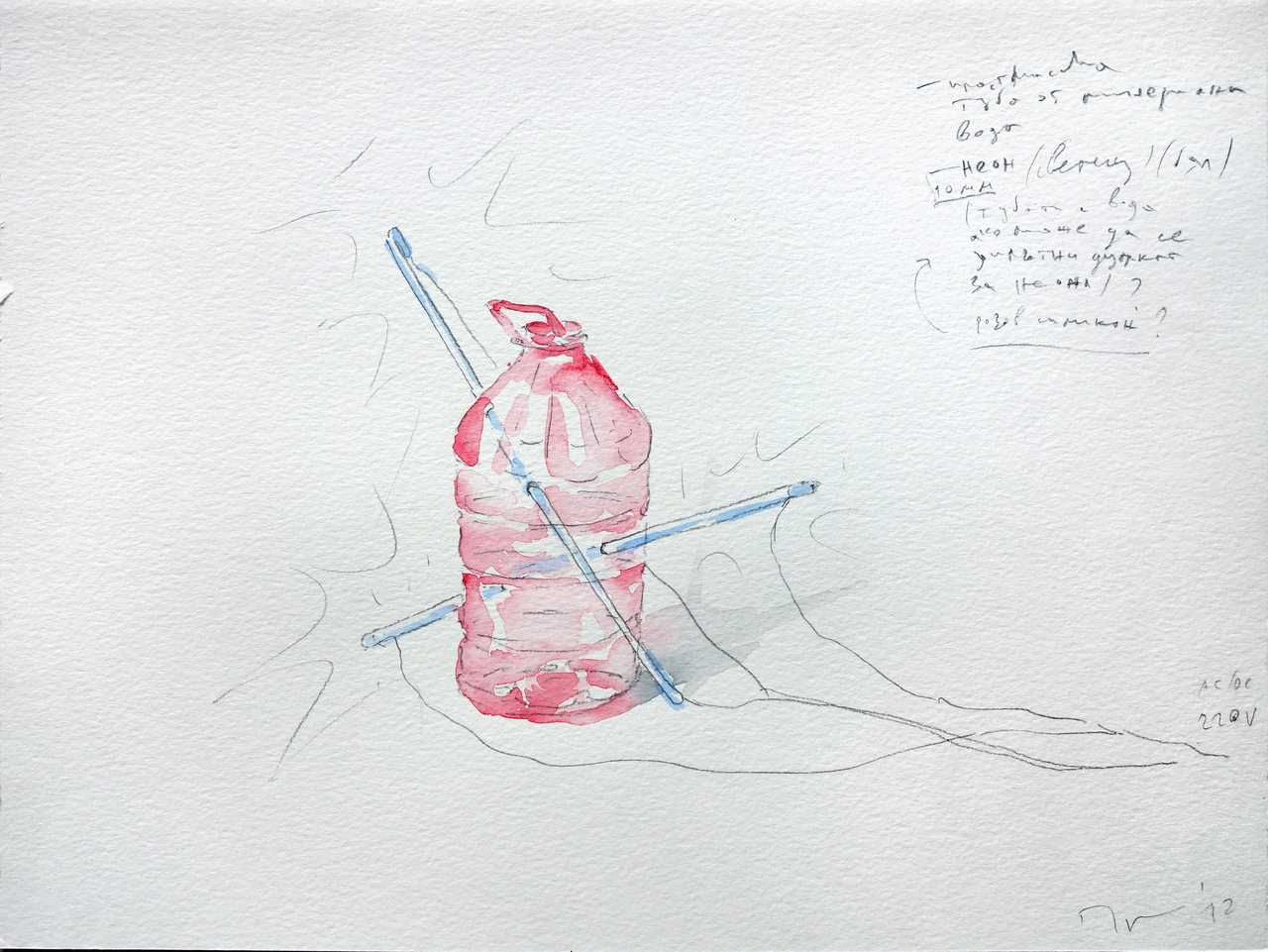 Pravdoliub Ivanov, Untitled, 2012, Draft project, watercolor, pencil, 23 x 31 cm, Inquiry / Запитване
Project drawing for not realized artwork.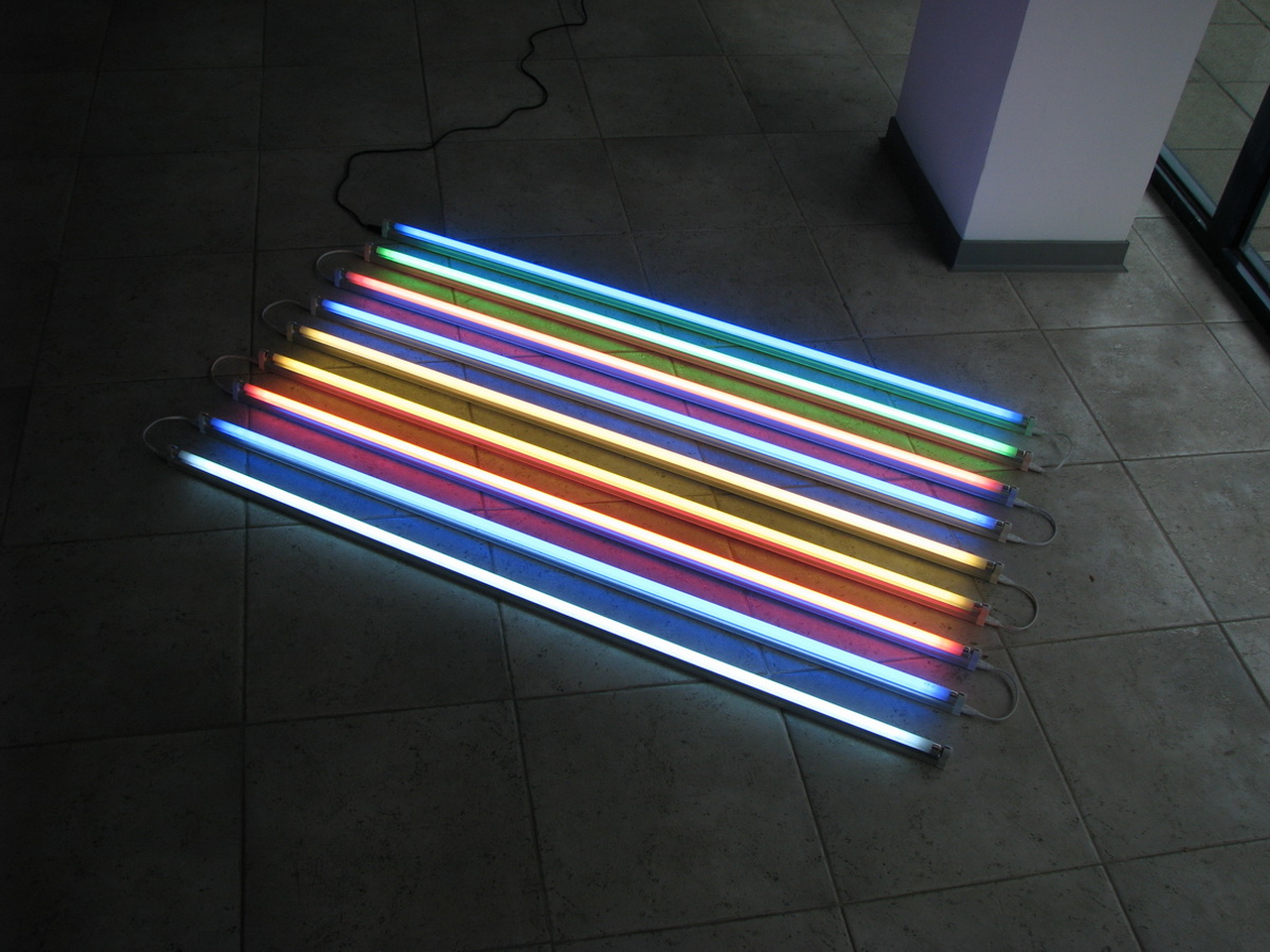 Vikenti Komitski, Another neon piece of art, 2011, neon lamps,, dimensions variable, Edition: 3, Inquiry / Запитване
Stefan Nikolaev
No Way, 2014
neon
65 x 40 cm
Edition 5 + 2 AP
Edition number 1/5
Kamen Stoyanov, Project drawing to the work Yes, 21 x 29.7 cm, Not available
Kamen Stoyanov, Yes, 2012, Neon, 60 x 40 cm, Inquiry / Запитване
The artist´s head made of neon shakes left and right. It is placed opposite Wittgenstein's bas-relief at the entrance of the house. It represents an image of the philosopher who explored the logic of language. Therefore, it expresses clarity as opposed to Stoyanov´s head which produces ambiguity. The artwork Yes deliberately provokes the visitors in different ways. How is one to interpret this sign? Is it an artistic play or is it a reference to the fact that the house itself is a Bulgarian cultural institute? Bulgarians shake their heads left and right to indicate a "yes". This gesture is the exact opposite to the gesture for "yes" of other European nations.
Text by Boris Kostadinov
* The work was produced for the exhibition "The Keyhole of Mr. Wittgenstein" in House Wittgenstein, Bulgarian Cultural Centre, Vienna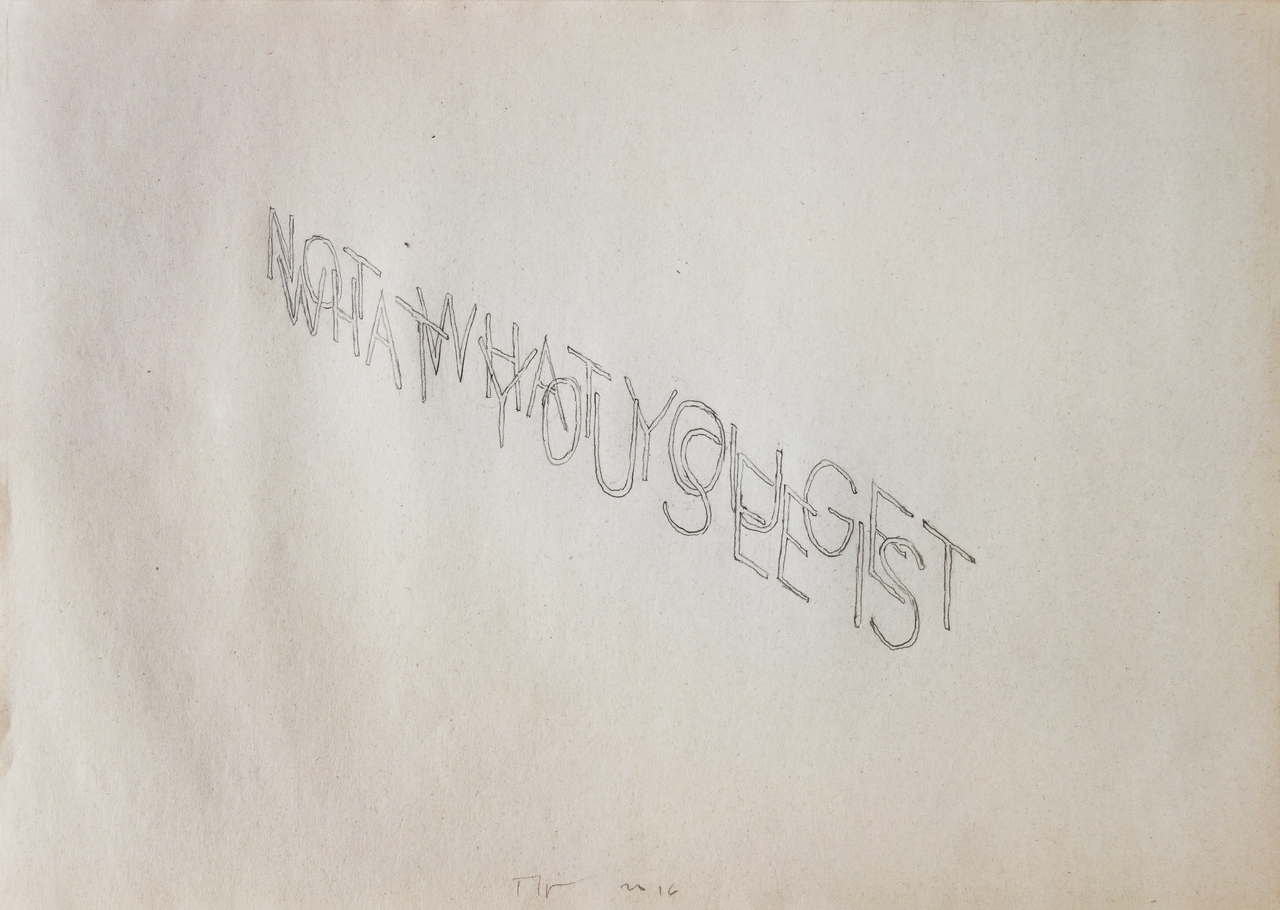 Pravdoliub Ivanov, What You See, 2016, Draft project, pencil on paper, 21 x 29.7 cm, Inquiry / Запитване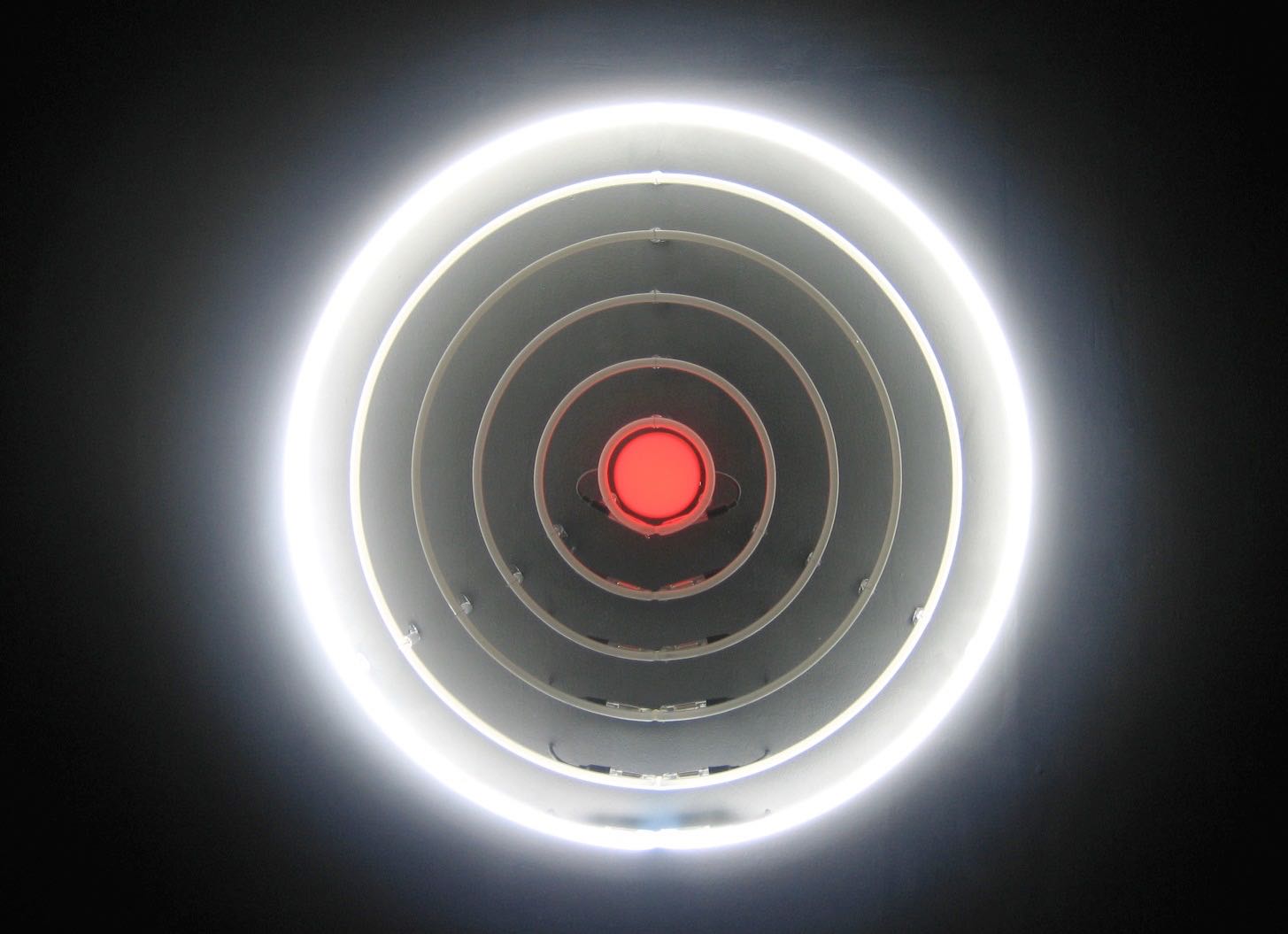 Stefan Nikolaev, Lucky you, 2005, Neon, aluminum box, electrical material, diam. 100 cm, dimmer, ediYon of 3 + 1 AP, Inquiry / Запитване
''... the cigarettes remain one of the artist's favourite ''patterns''. Having become something of a pretext rather than a subject, its evocation offers a somewhat refined and optimistic vision of what contemporary sculpture can become when it borrows codes from luxury marketing or artistic design, so as to convert them into items of pop minimalism.
The title of the work Lucky you (neon) refers to a desire repressed by the hygienic "progress" of our society, thus representing an unfulfilled desire that emerges in the background. A desire to inhale, a desire for passionate embraces and fits of anger that are hardly contained by the sober lines in his works: "Luxury, calm and voluptuousness" ... yet the smooth surface of neon harbours a thirst for overflowing.''
Nathalie Leleu, 2006
Mariana Vassileva, Nothing is Just, 2006, neon lights, 12 x 140 cm, Edition 5 + 2 AP, Inquiry / Запитване
Nothing is just,
nothing is just what we see,
nothing is just for itself...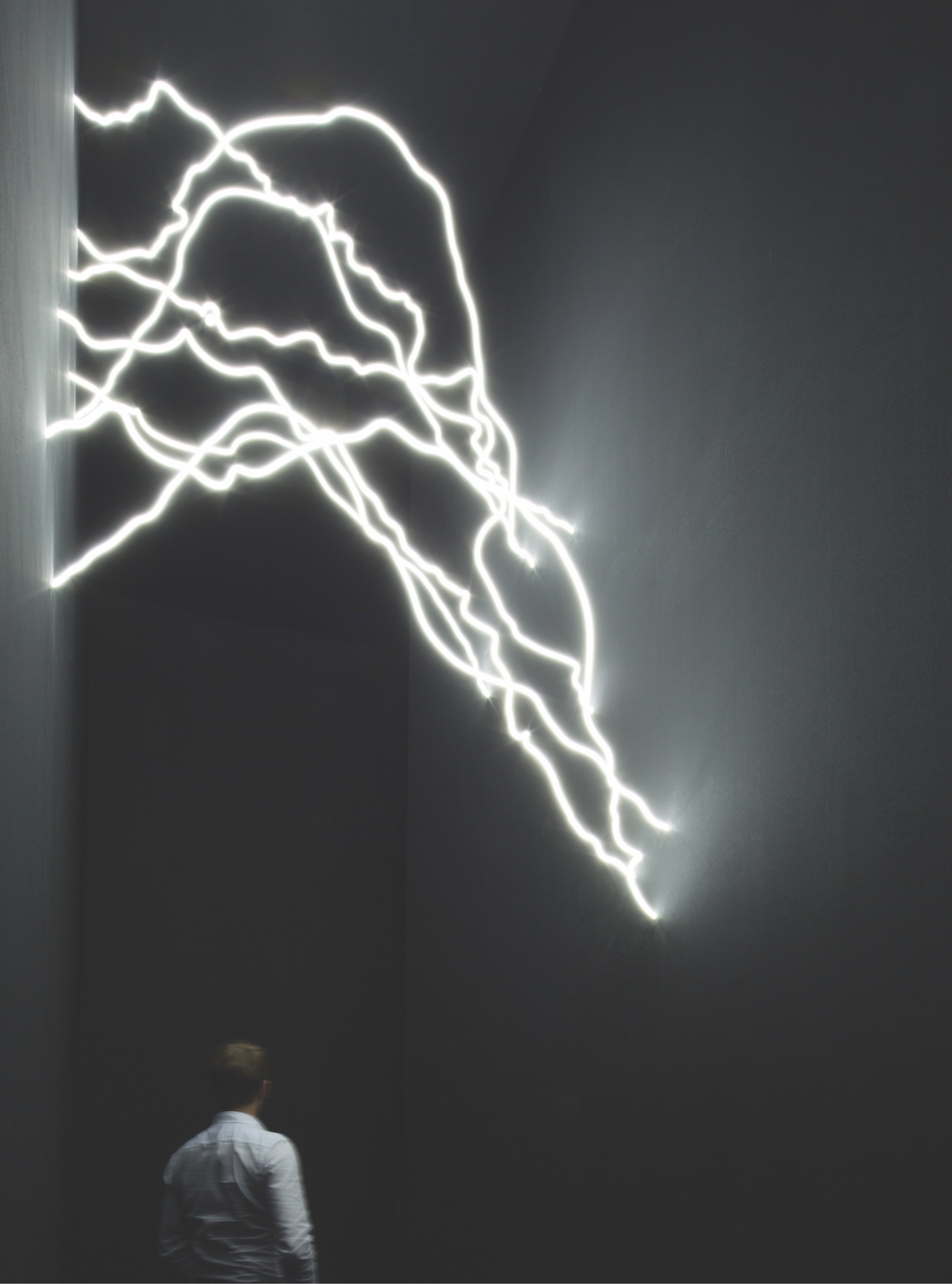 Mariana Vassileva, INBETWEEN, 2015, neon lights, 150 x 200 x 60 cm, Existing in different versions, photo credit: Kunstmuseum Wolfsburg, Inquiry / Запитване
Herbarium of light.
There are horrific things that break our sleep, point towards new directions,
illuminate our path in a new way.
A convulsively good beginning of the end,
when two walls cannot come together, one comes into touch with the energy in between.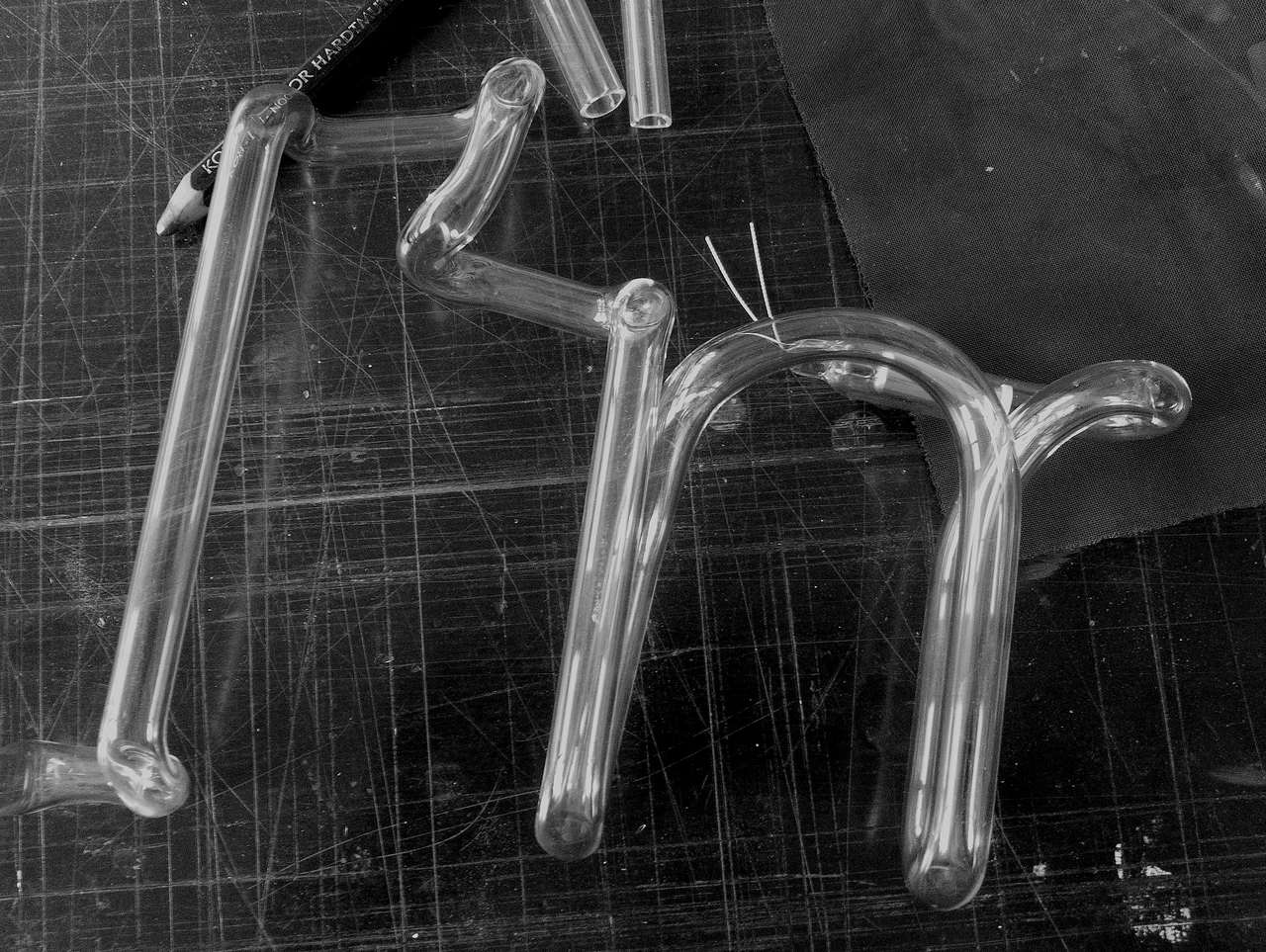 The phrase was "borrowed" from the postings in the social networks. It appeared after the recent terrorist acts and has unfortunately become an ever more often used status line.
In the context of Facebook to be, "safe" sounds comforting and somehow self-satisfactory. Outside though there appears another nuance – it is as if we are publically saying to ourselves that we are (kind of, thank God…) ok in the physical space.
That is where there emerges a kind of a discourse between the meanings of the status in the social network versus in the physical space. In Facebook, it is personal while in the physical space the viewer is anonymous. In this way, we can analyze the reception within the change of context. That is not simply a physical registrar of people but a specific kind of stating materiality and existence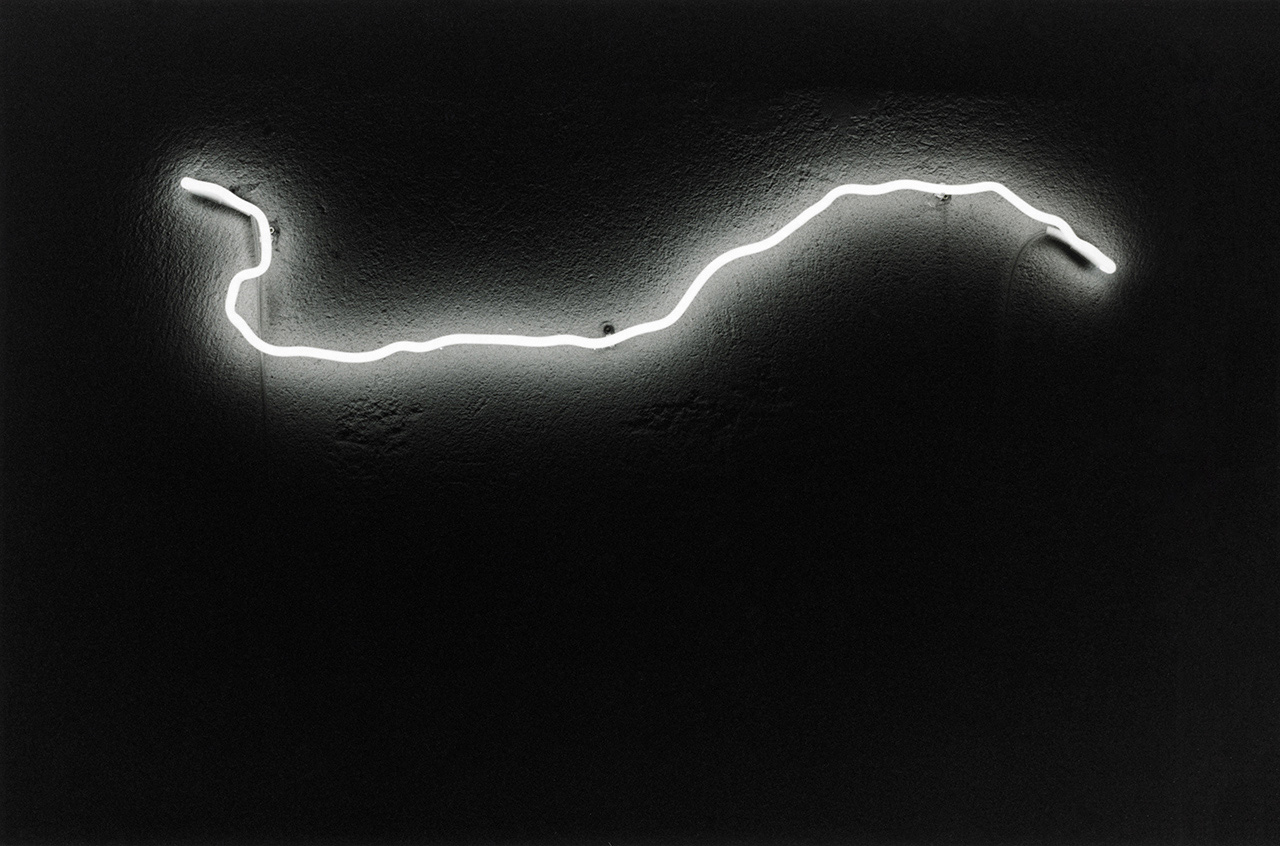 Pravdoliub Ivanov, Border By Memory, 2006, neon, 25 x 110 cm, Edition of 5 + 2AP, Collection European Investment Bank, Sofia City Art Gallery, and private collections, Inquiry / Запитване
Border By Memory is an image of my attempt to draw the line of border between Bulgaria and Romania by memory. The drawing and respectively the neon are a very approximate and not correct picture of that border. Every mistake of my hand was "loss to" or "enlarge" this or that of both countries. The title itself is like a clue for understanding the work and its references to the memory and history of that border in its dramatic transformation during the last century, affecting many lives.
Dimitar Solakov, Ice Caps, 2019, neon sign, 18.5 x 80 x 5 cm, 3+1AP, Inquiry / Запитване
The piece is a commentary on the deteriorating state of the Earth's ice caps. Their continuing shrinkage is greatly accelerating the global warming and all negative consequences stemming from it.
Dimitar Solakov, project drawings for the works
Permafrost, Ice Caps and not realized work
Biodiversity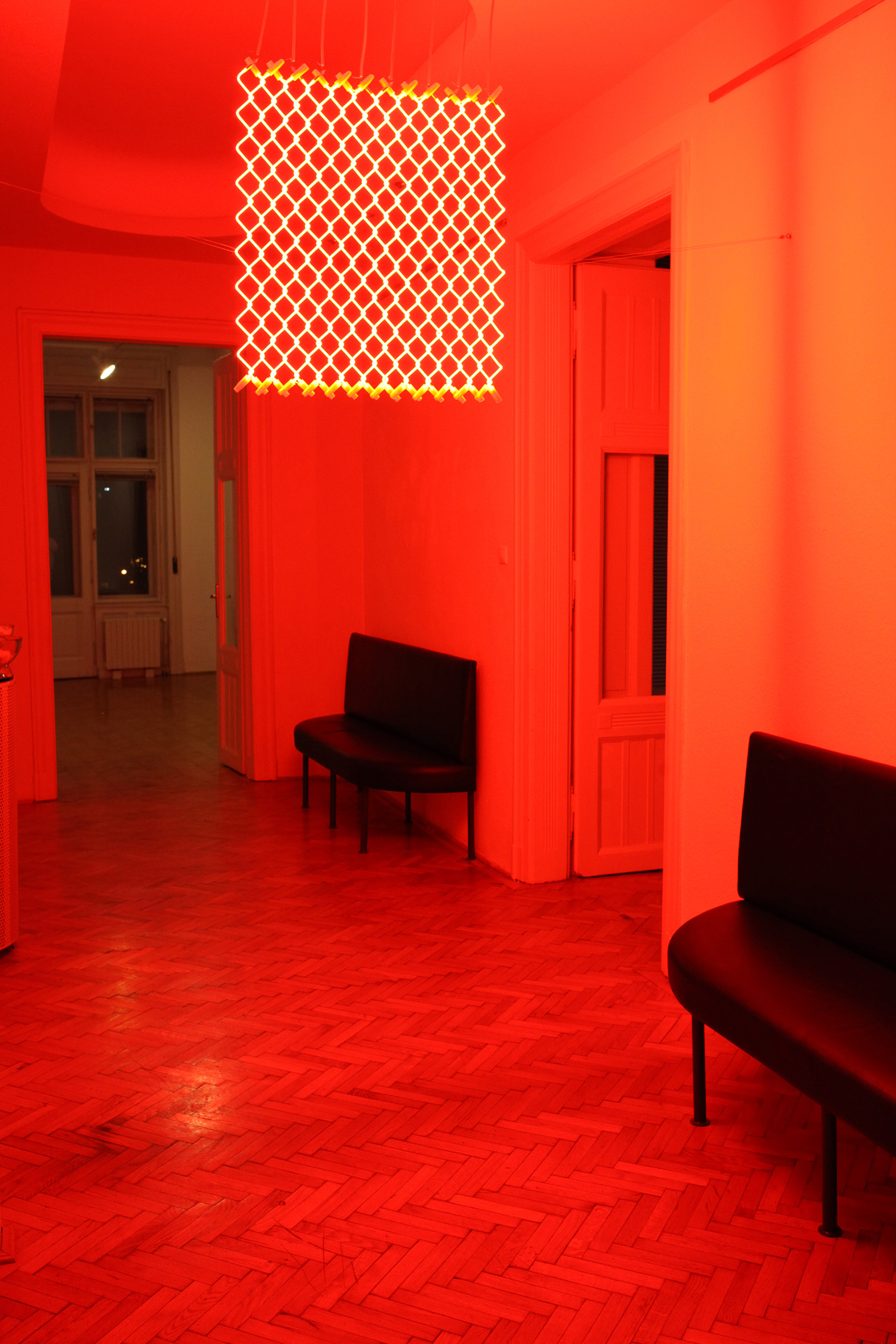 Kamen Stoyanov, High Voltage Fence, 2015, neon, 80 x 80 cm, 3/5+1AP, Inquiry / Запитване
High voltage Fence blinds the viewer and confronts him/her immediately with the question of marking and overcoming a border. The work embodies the danger in many ways. On the one hand the high voltage electricity sounds frightening, but on the other the fence itself is an extremely fragile piece of glass done with an impressive effort and precision.
Samuil Stoyanov
Invisible Light 3, 2020
Project drawing, 80 gr yellow paper, 21,6x27,8 cm
Text on the project drawing:

Solid concrete cube (60x60x60 cm) is poured on a lighting fixture/ light fitting with two fluorescent tubes (90 cm). The tubes are "bare" - without a transparent or opal cover. The lamp is powered by electricity and glows until its life "finishes" or someone breaks it.
Notes:
Side view
Anterior incision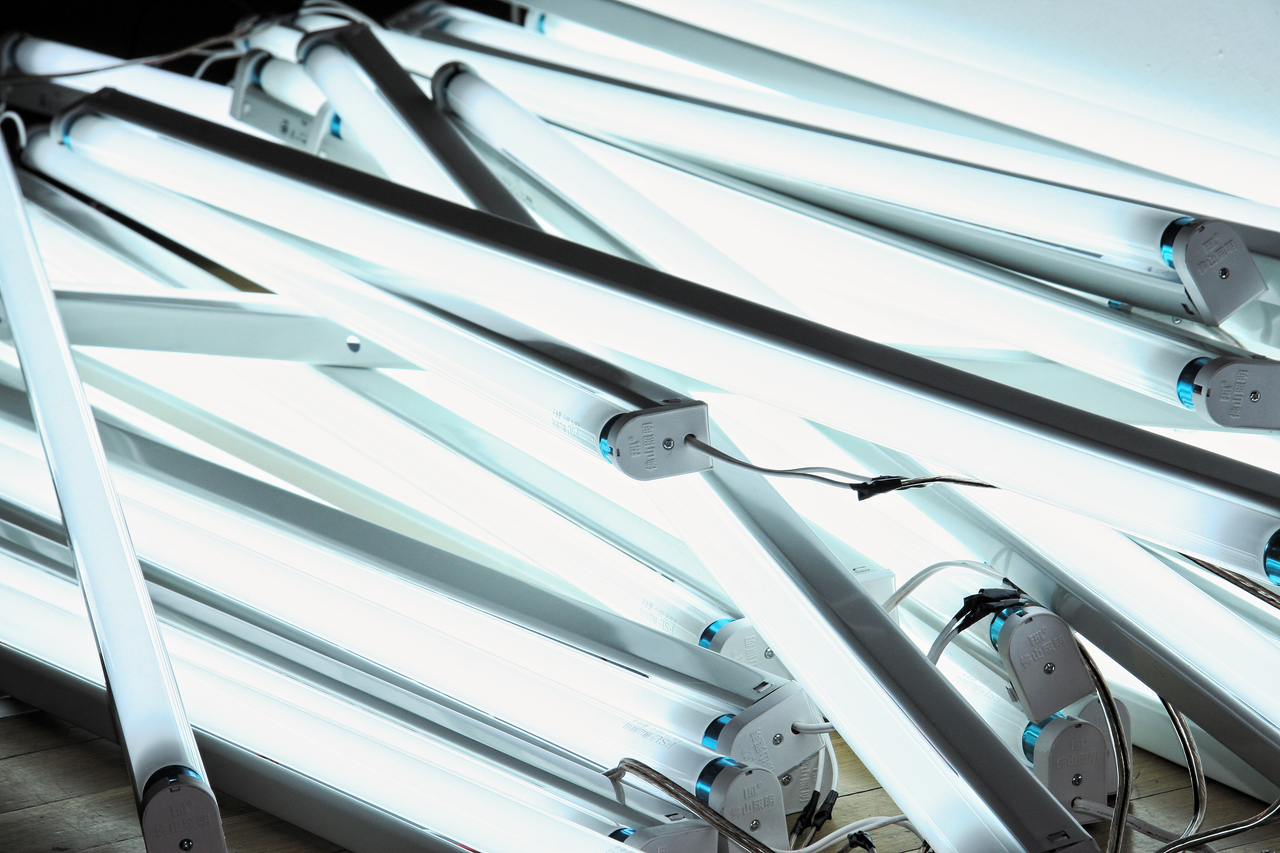 Detail, Pravdoliub Ivanov, Don't Give Up, 2006-2020,, luminescent tubes, cables, dimensions variable, Inquiry / Запитване
| | |
| --- | --- |
| | This pile of useless, discarded neon tubes is a work about the hope and courage when darkness falls and no one needs us anymore. |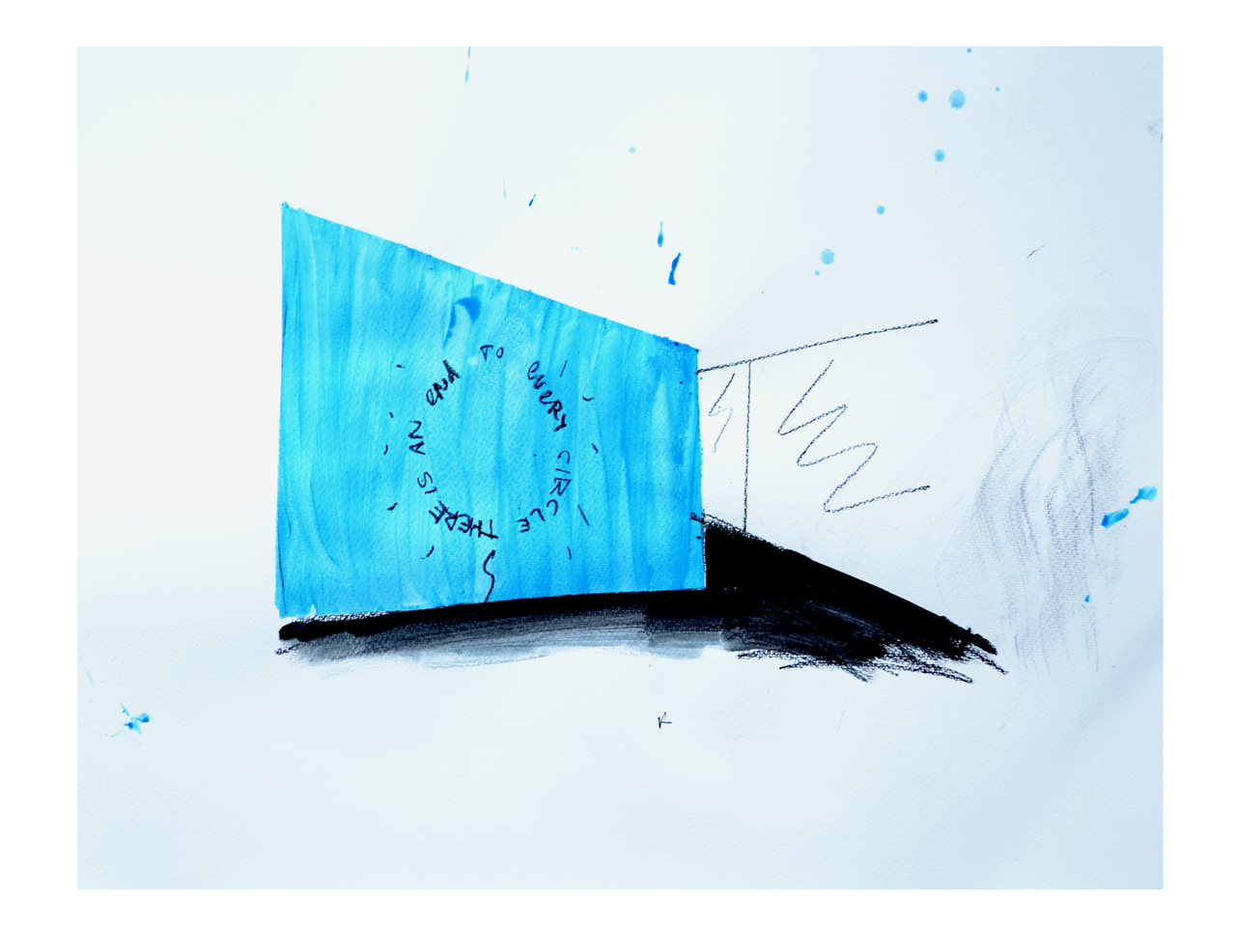 Vikenti Komitski, Studies for To Every Circe There Is An End, 2020, charcoal and gouache on 250g paper, 50 x 70 cm, Inquiry / Запитване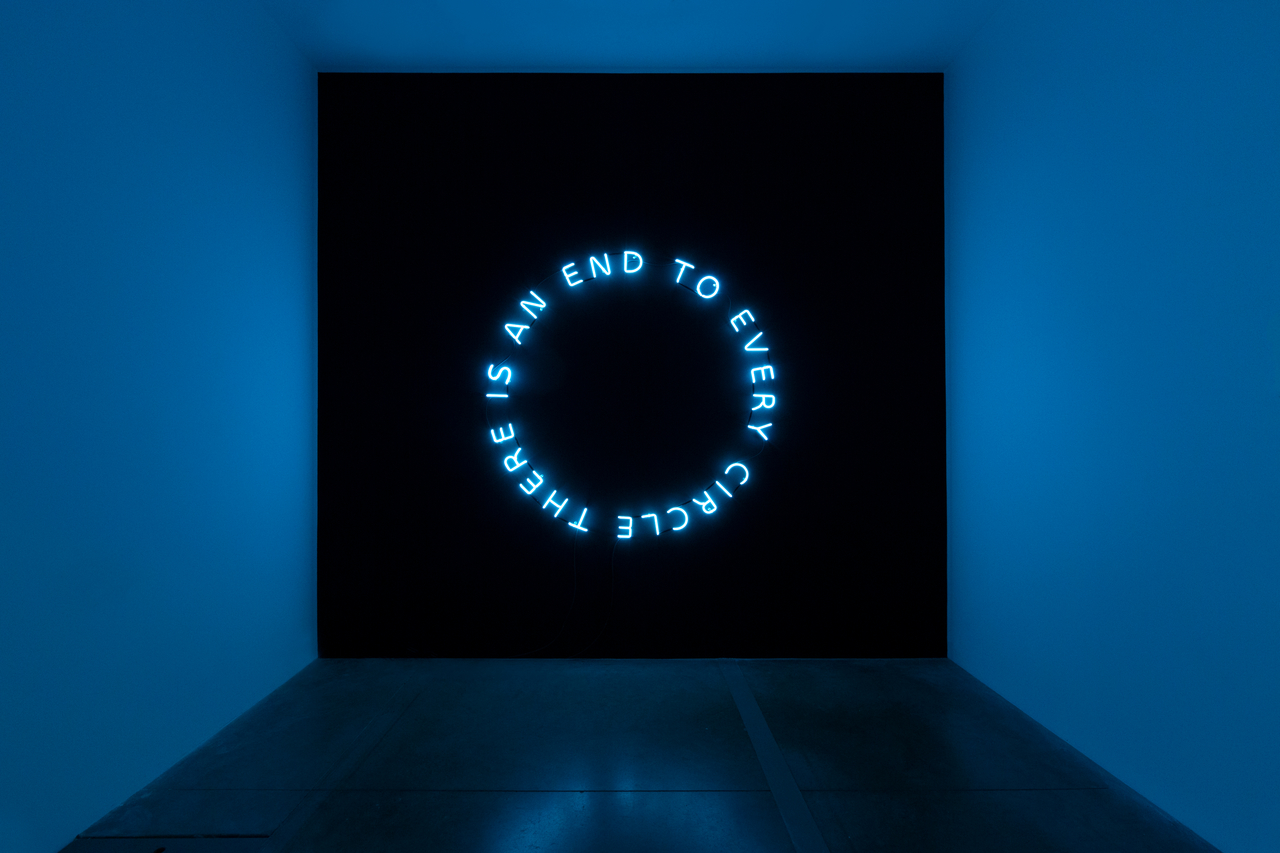 Vikenti Komitski, The End of The Circle, 2019, neon sign, 150 cm diameter, Edition number 3/3, Inquiry / Запитване
The work is really simple, a single sentence, written in a circle. It can be read over and over again because it has no beginning or end, that is, you can start reading wherever you want and stop where you want. But there is a contradiction. All this sentence tells you is that there is an end (and if there is an end there must be a beginning too). This dialectical opposition between its content and form is the mechanism that makes this work function. The paradox here does not disturb the meaning, but creates it. Like a snake eating its tail it is supposed to transcend duality. Things are not complete, or whole or perfect, without the opposition of wholeness and perfection integrated inside them.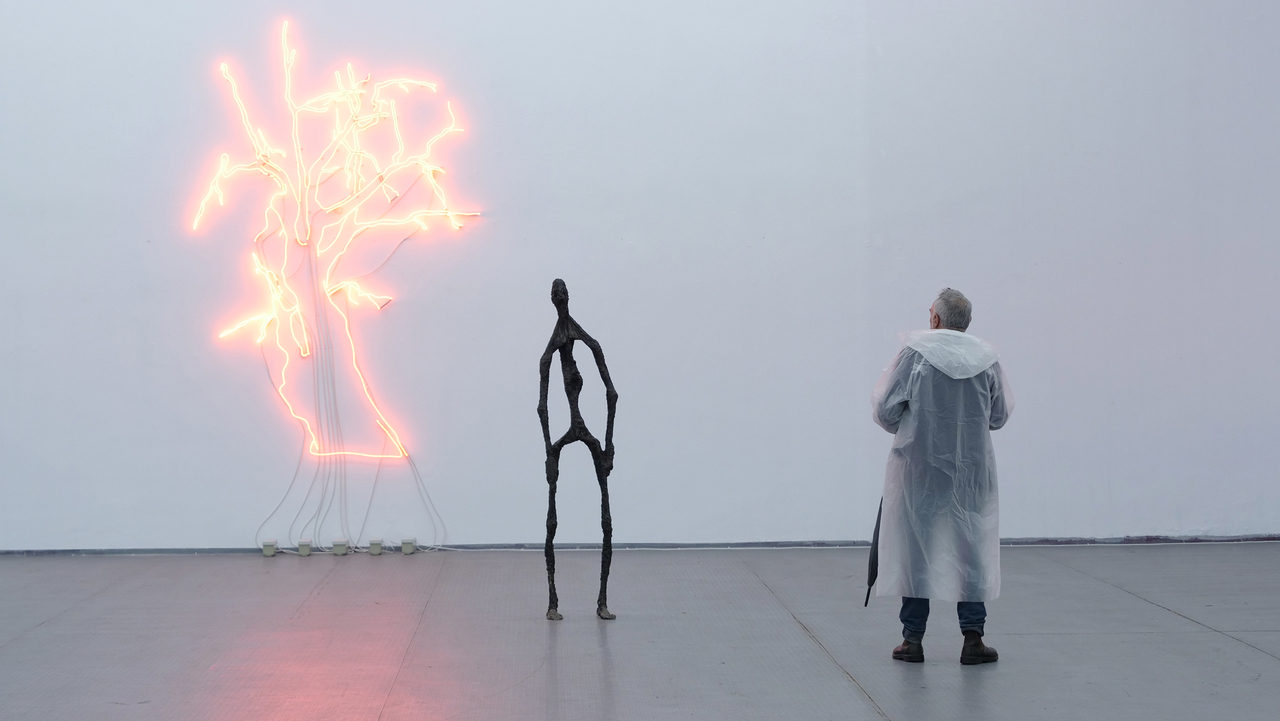 Ventsislav Zankov, Untitled, 2020, neon, 300х180х15 cm, 3+1AP, Inquiry / Запитване
I had mentioned that the work is most likely a modern reference to Moses and the Burning Bush, yet in this case there is no one to speak or answer - there is only the buzzing of the transformers. The artwork is untitled and was part of my solo exhibition Before me (2020) in Raiko Alexiev Gallery, Sofia.
The exhibition presented some of my large-format paintings and sculptures made of cast iron. They constitute a visual symbiosis of two themes, two crises intertwined in human behavior - ecological and social, the latter of which was brought about by the coronavirus pandemic - that evolved into an existential crisis and a question about the human.
The tree as a central motif can be understood as a metaphor of psychic domains and visions of loneliness and isolation in a certain natural context.
For example, the trees represented in large-format paintings are not part of a forest, but rather single entities, barren crowns, strenuously plunged into a gloomy sky. Nature morte / Still life. Next to them, placed outside the context and the framework, stands a technological neon tree that glows in blood red and resembles a system of blood vessels. The micro becomes macro and deepens the anxiety.
-
GLASS, GAS AND ELECTRICITY
text, selection of the works and structure: Vesselina Sarieva