Interview & Backstory with Tsvetomira Borisova
Cool S - Solo Exhibition, following the Artist's Studio Residency at Sarieva Gallery
In 2020 Sarieva/Gallery announced an open call for a resiency aimed at artists of all ages. The invitation aimed to support the re-opening of the art scene and the work of the creators while the gallery is preparing to welcome visitors again after the COVID-19 epidemic. The support included: providing a work space in the gallery for the artist and a budget for materials. Sarieva Residency is a laboratory that changes the perception of gallery space and provides opportunities for artists to have experience in a new environment that provokes and supports them to create. During this unique residence, the artist also has the opportunity to interact with the city and its area and to meet with specialists and people to contribute to the development of his work and his journey. The first selected resident, who transformed the gallery space into their own studio was Maria Nalbantova. In 2022, followed the residencies of Tsvetomira Borisova, Elena Tchergilanova and Melania Toma.
In February 2022 Sarieva Gallery announced an Open Call for its inaugural Artist Residency programme, in collaboration with the Open Arts Foundation. After careful consideration, the selected artist for the Studio Residency at Sarieva Gallery was Tsvetomira Borisova, the initiative itself supported financially by the National Culture Fund, Bulgaria.
Tsvetomira was born in 1991 in Sofia, Bulgaria and graduated from the New Bulgarian University with a Bachelor's Degree in Ceramics (2016). She works with mixed media, drawings, clay sculptures, constantly adapting and diversifying her techniques, always intuitive and open-minded in her approach. Previous participations include Market of Desire, Sofia (2021), Future Oracles, Sofia Art Week (2021), Period at the Institute of Contemporary Art, Sofia (2019) as well as a series of group exhibitions – ABC Affair, Lovecrafting, School of Kindness & Wild Wild Æest at Æther Sofia and Æther Haga (2018-2021).
You can discover more about the concept of her solo exhibition and the mission of the residency here.
In our conversation below we discuss her time at University, the transition into a professional artist, the strengths and process of her studio residency, and a word of advice for those seeking to develop in the arts.
---
S: Could you share a bit about your education, how you felt at University, and did it prepare you in any way for the professional world? Did it help with the creation of a specific practice and its implementation outside the educational institution? What observations and critiques do you have about the arts education in Bulgaria?
T: My only experience is at the New Bulgarian University and its ceramics studios – I would say quite a positive one, as in the studios you are really encouraged to experiment with all kinds of materials, techniques and styles – there are many open-minded lecturers, and also the University has ensured that its students have a well established material base, it is equipped sufficiently enough to allow you to work comfortably. From that point of view I am quite happy with the education I received there. The place has given me the freedom to develop myself, and in particular in a direction that is interesting for me. I don't have a specific style yet, so I have created many different works through the years – in terms of concepts, aesthetics, etc. and nobody has found that process of discovery as a weakness or a problem.
Has it helped me professionally…? I've studied under Monika Popova. She is a very hands-on and dedicated teacher, always devoted to her students. She constantly shared with us different opportunities, internships, open calls for travelling, all kinds of programmes, which could fund our practice. She's helped us in establishing links and contacts too, however when it comes to exhibitions, we primarily worked within the University gallery. It has always been our personal responsibility to discover new spaces, and if we'd like to go out of this tight academic circle, to do our research on our own. It's difficult for me to reflect on whether or not this has prepared me for all the different processes, like making exhibitions, communicating properly, writing statements and so on, but I think that you intuitively learn with time. Maybe it would be good if those aspects were taught more incessantly as an individual subject, but one is usually able to understand and incorporate them through the process of working.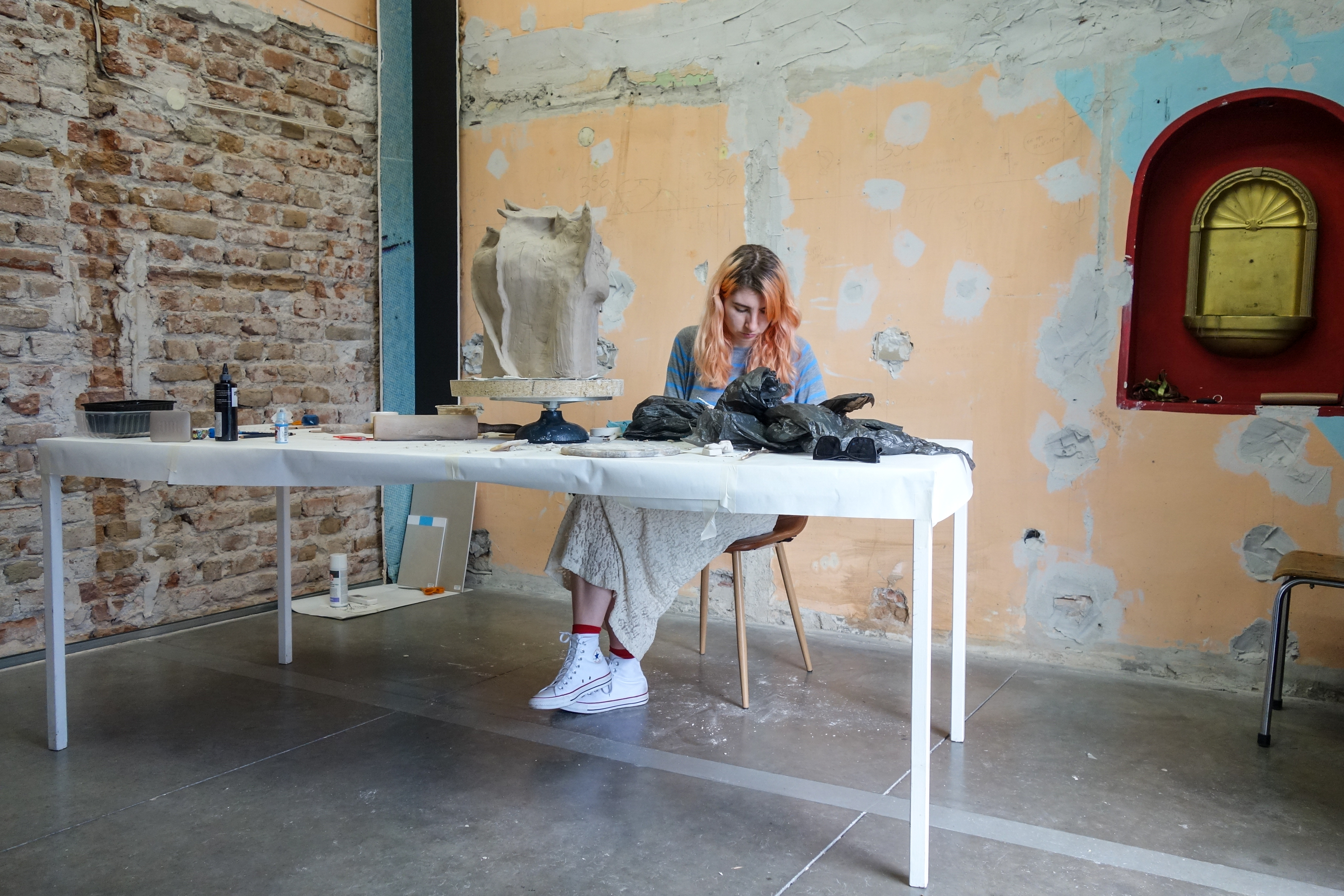 S: And was there a specific transition between the educational system, while you were in this bubble, and the outside world? Was there a reality strike, which somehow takes something from you, or you're left with less access than before? The transition between the two is always interesting.

T: I personally haven't had such a transition, as after starting my Master's Degree in Ceramics there, contrary to what was expected, I stopped spending that much time in the studios. Especially around the time I withdrew from the course, I wasn't attending the spaces whatsoever and was already more interested in working outside the boundaries of the University. So my transition was quite gradual and smooth. I've never had this feeling of 'it's over, i've graduated, and now what?'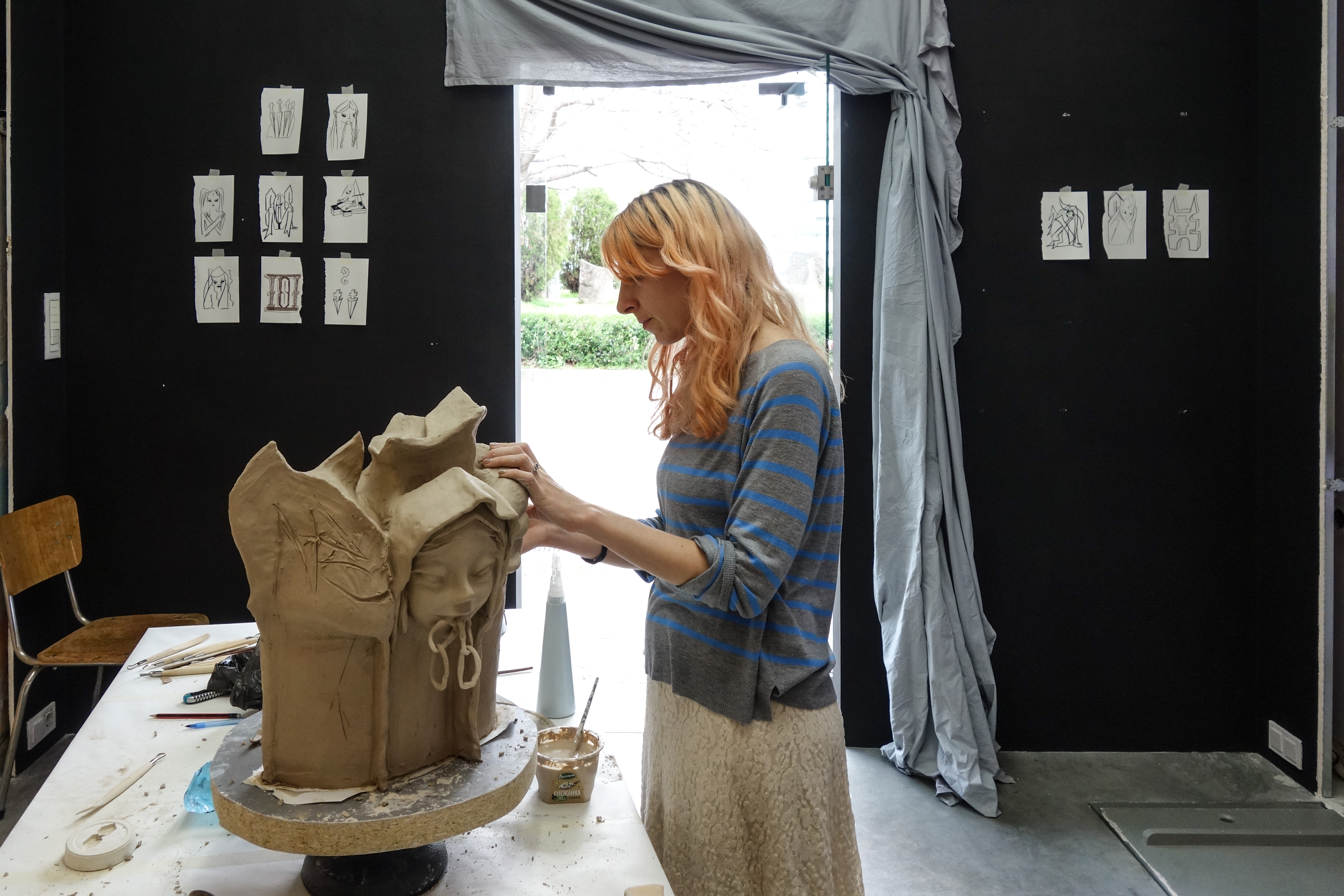 S: Would you like to talk about a specific work, which you created in the gallery? It doesn't need to be the biggest or the most important sculpture, it could be something personal again.

T: My favourite thing is definitely the vitrine.
S: The vitrine with the cord and clay on it?
T: Yes, 100%.
S: When you walked into the gallery for the first time, how did you feel in the space? Did the idea for the Cool S come about from within the space or was it preconceived, before the residency started?
T: I've generally liked this 'S' symbol for a while now. I can't remember exactly how it sprung into mind, but it wasn't very recently, nor was it a long time ago – about half a year to a year. I remember learning to draw it very well and it being called 'The Cool S'. When I saw the symbol again, even though I had forgotten about it, I still knew what it was called and could search for it easily. Cool S is first of all beautiful as a symbol and a graphic, second of all it looks like a logo for something, but nobody knows for what, and third, I like the sound of it, so I'd been considering to make something with it, but hadn't planned it for the residency at all – I arrived without a solid idea. Even though I wanted to make an exhibition, I didn't know how to approach it yet. Things really did evolve quite organically. I was given a great amount of freedom in terms of concept and end results, and was allowed to work at peace – all because I was already working noticeably hard from the get go. As for this Cool S – when I start working, I usually wrap the desk or table I'm working on with loads of paper, to be able to write and scribble on it, to make a mess – and it is easier to clean everything afterwards. That's the first thing I did when I arrived – we set the table up, I wrapped it and when I sat down I had to start making drawings. At that point I had already scribbled the Cool S on the table, possibly while being on the phone and thinking about many things – and I thought it came so naturally to me that it could be the theme of the show. After that I thought about how much I liked the city of Plovdiv – I say this in every interview – but I wanted to meet with people, to walk around and go to places, but simultaneously I had this work to do – and it made me feel like being in school again, but it's May and you want to be outside and have fun, but your class finishes in 20 minutes and you still have work to do. And this small space with only this one glass door as a natural light source and a link to the outside world, it was like a small scene – looking at how people pass by the gallery or hearing people from the cafe – it was a constant distraction and allure as well, the outside, therefore I named this web in the vitrine the 'Main Distraction'.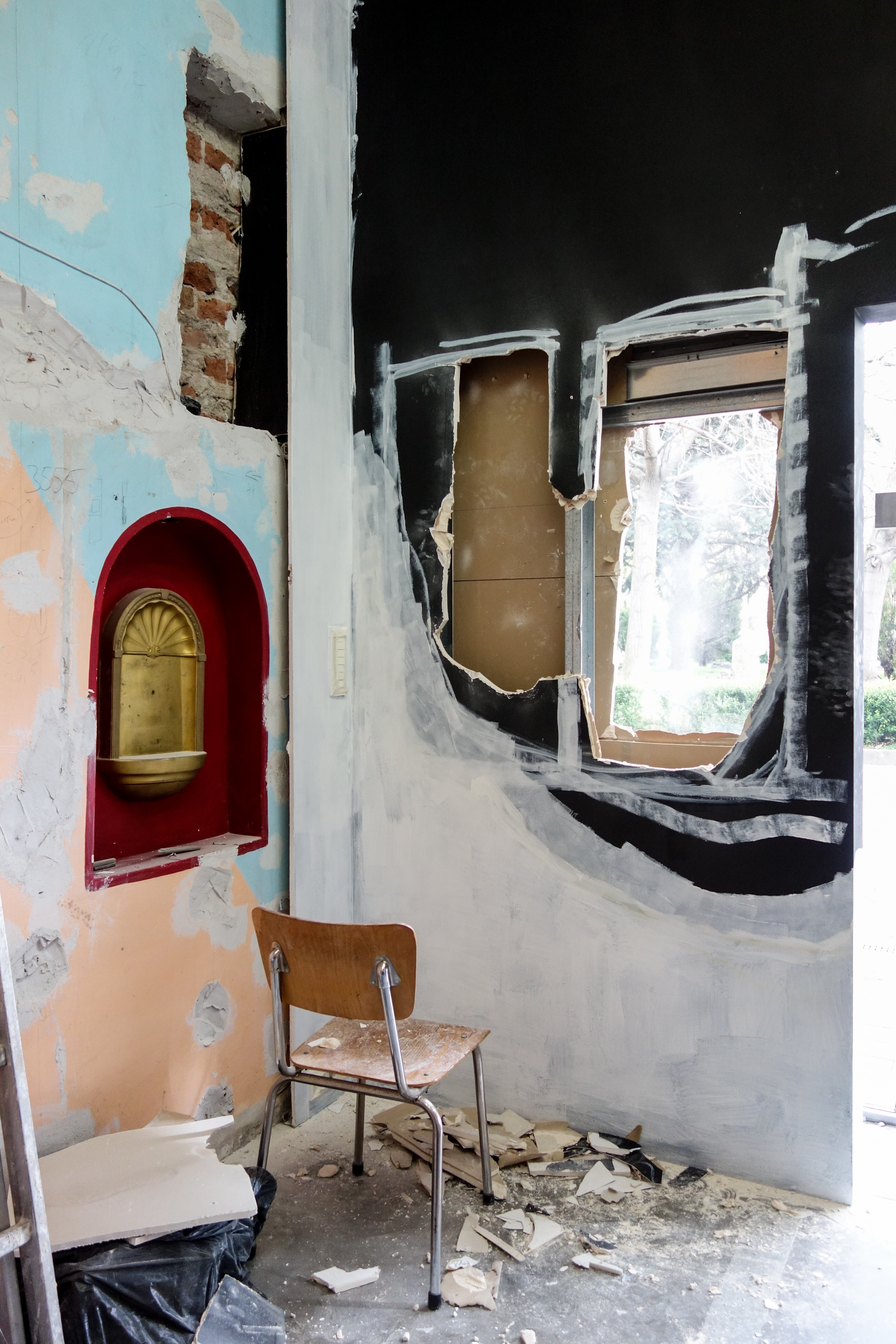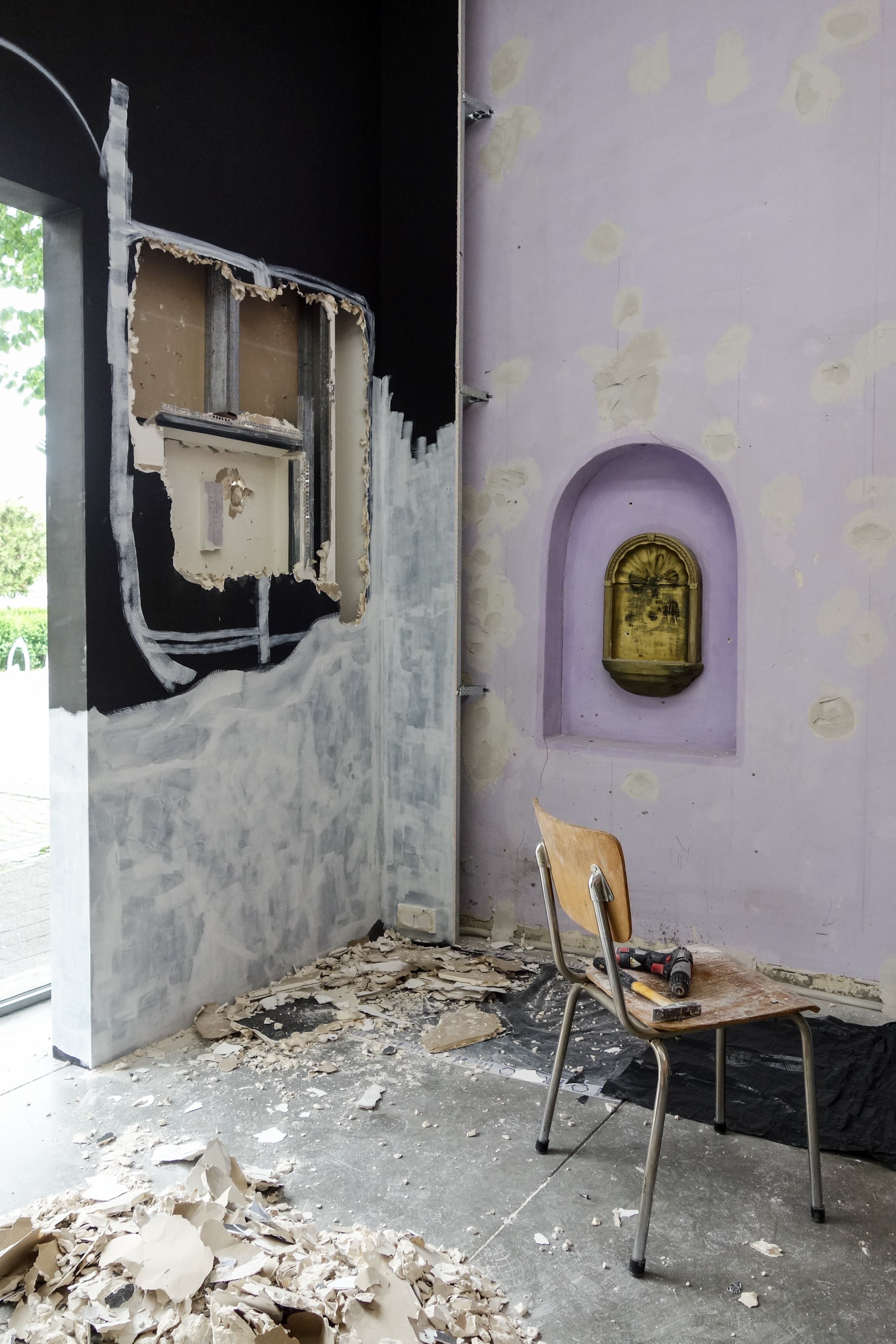 S: To ask objectively, what do you think was successful in your application for the residency? Even if it isn't posed as a personal question – what do you think makes an application for a residency successful? Afterall you've written something, you've made a structure, an idea, you've sent in a biography and was selected out of it. What do you think was seen as a strength in your application?

T: I think it is quite easy, and the most thorough answer would be that if you do what you actually like, things will happen for you.

S: You mean in a natural way – not to force an application, not to force yourself to say all the right things, correct?

T: Yes. For example, a few years ago I made an exhibition with my then boyfriend in our apartment in Sofia, which wasn't supported by a fund, neither by any gallery – both of us just wanted to have an exhibition and therefore made it happen in our living room – it ended up looking perfect. We then wrote to loads of people, including Sariev Gallery as well, we had written quite a formal invitation. And we actually did receive a response – 'Thank you, we wish you luck!' I really wasn't expecting a response. When someone sends out invitations to people, who are working seriously in the arts, it's like how musicians hand out their cassette tapes. You are most likely not going to receive a response – here you're hoping for some magic spark to occur, which triggers a response, but usually you don't get one. Getting a response is like winning the lottery. But what's funny about all of this? For this residency I applied with the porcelain shapes from the initial apartment exhibition, which also turned out to be the most liked pieces from my application portfolio. What I'm trying to say is that I didn't feel demotivated by the lack of audience back then, and I continued working anyway. In that process from then until now, there have been many other demotivational attempts, both professional and personal, but you have to carry on doing what you like, and things will eventually start happening in the right moment. Maybe my selection was indeed a matter of the right moment, therefore I never suffer if I'm not selected, it's just a matter of time. You don't know where the person has just come back from or what has piqued their interest recently, you don't know their vision. The easiest answer is to do what you do and to work consistently. Nobody should be worried to turn the tables either, to run their own initiatives and invite others, to show interest towards other people. We're best at interrupting our own development sometimes.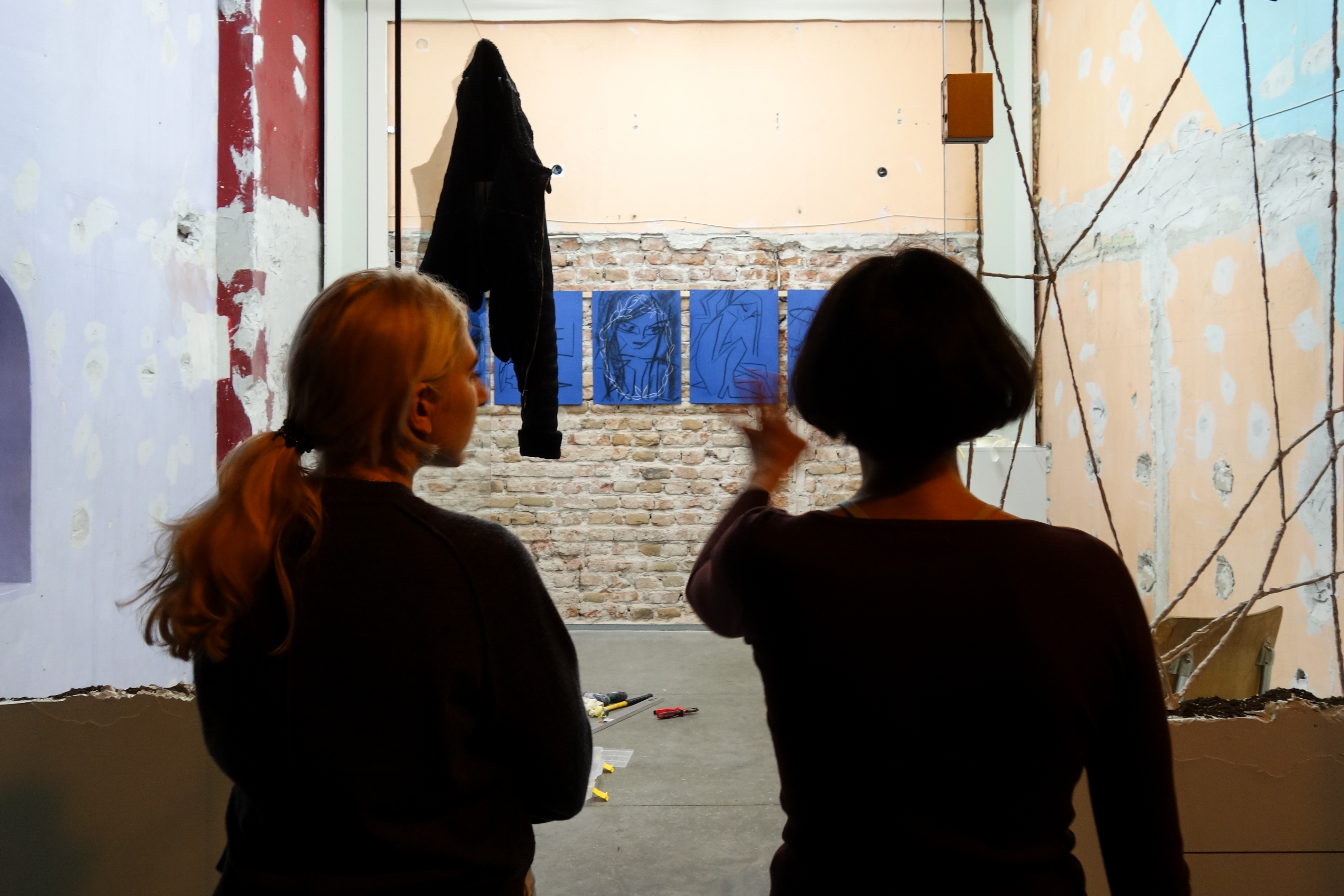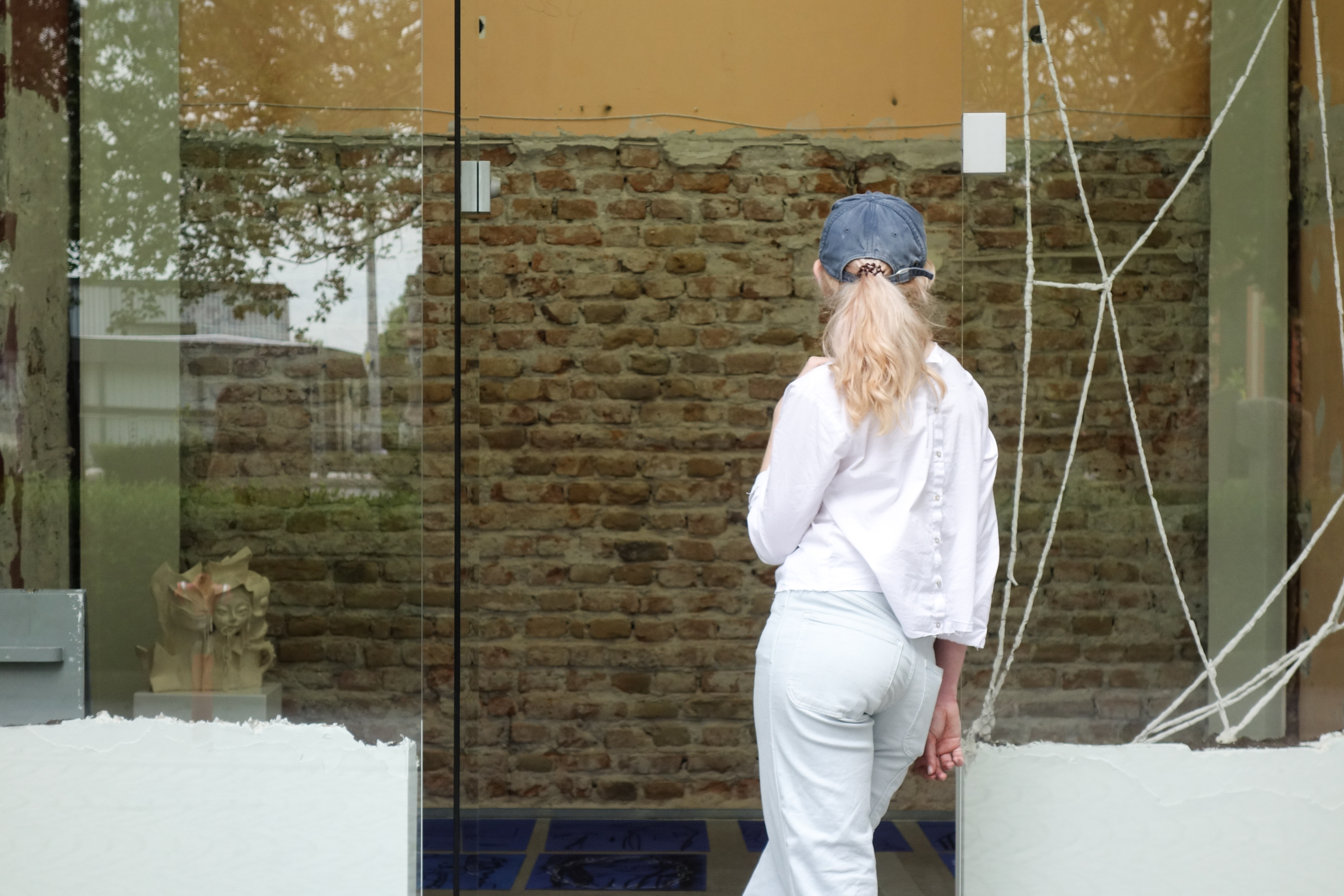 S: Let's talk about your time at Sarieva Gallery as a curatorial space. What were some of its strengths?

T: I think the gallery is an open space for ideas, including those directly focused on its structure too. In my case an opportunity presented itself to experiment with the gallery, which I took full advantage of. I love working with the space as a concept. Of course, there are many galleries, which would pose their limitations and scold you for something insignificant, like a nail in the wall, but I think the beautiful thing is when the artist and the gallery embark together on this deformation. The fact that we tore down another wall made the whole exhibition what it is.

S: Do you have any other practical advice for new, emerging artists?

T: It's important to meet with many people and to openly share what you're working on, to represent yourself as someone who is actually practising their craft. In the past few years I had to constantly work other jobs, and that always took time, and it is difficult, because if you have work, you don't have much personal time or external communication, while on the other hand – if you don't have work, you lack money, freedom and you start to lose those connections again, you become more withdrawn, you lose the social aspect – it becomes very weird. Some people can handle it perfectly, but for me it's difficult. When I've been asked before what I do, I would say I work in an office, but I've studied Ceramics and that is what I want to do. It all changed when I firmly stated that I make sculptures and I draw – when you put things on the table, that's when you start being taken seriously. People are like machines for solving problems – we love it, we just need a very particular problem. When you say you are an artist, you now have to work, you've now made a pledge. You could be producing even one work per year, it doesn't matter – you now have expectations for yourself.